Interior air quality management continues to grow increasingly relevant in the automotive world, and growing consumer demand suggests IAQ is becoming a new area for innovation, and probably regulations.
As presented in DVN Interior on 27 March, road transport emissions are a major source of urban air pollution, with nitrogen oxides (NOx) and particulate matter (PM) coming from vehicle exhausts, plus non-exhaust emissions such as brake dust, tire dust, and road dust. Ever-smarter technology means ventilation options, efficacy and type of cabin filtering technology, time of day and route selection, and individual exposure in the interior can be monitored.
Corpus of Understanding Progresses
There's still a public misperception that once you go inside and close the door, you're protected from the exterior air pollution. That's not so, and researchers and data are confirming the importance of IAQ management, reinforced by degradation of exterior quality.
According to Emissions Analytics, the worst filtration systems are 60% effective and the best are 99%, but even at these levels of efficiency in-cabin pollutant concentrations can be anywhere between 80% lower and four times higher than at the roadside. And it's not necessarily correlated with vehicle price.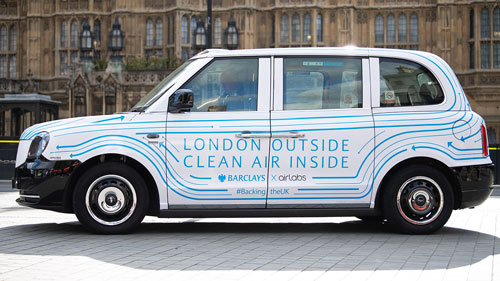 A study carried out by Airlabs, which develops tools to measure, map and mitigate air pollution, showed vehicles driving in central London during working hours were averaging a 72 μg/m3 concentration of NO2 within the cabin—almost twice the 40 μg/m3 World Health Organization guideline, and 70% higher than at the roadside.
As published recently in Atmospheric Environment Journal, scientists at the University of Birmingham have found that if vehicle ventilation is set correctly, drivers and passengers are exposed to up to 49% less PM2.5 and 34% less nitrogen dioxide (NO2) than the on-road levels. The lowest exposure to particles and gases is when the windows are closed with recirculation and air conditioning switched on, though of course recirculation means the air will grow stale.
NAQTS (National Air Quality Testing Services in the UK) says the company's tests show 80% of fine particle emissions can be kept out by switching air-conditioning to recirculation mode. But this comes with a downside; CO2 concentrations from occupants' exhalations can quickly reach 1,000 ppm—more than double the background level. This can affect cognitive functions—decision-making and concentration—and in the context of driving a car, that becomes very important. With two people in a car for 30 minutes with recirculation mode on, you would typically see concentrations getting to above 5,000 ppm, so more than 10 times background levels.
China considers IAQ regulation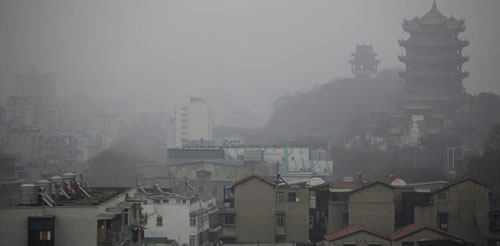 Right now, there's no legal requirement to pass incoming air through any form of filter. But China is considering mandatory in-car air quality regulations to protect the health of occupants, in a move that could put its industry ahead of the world competition. New vehicles will be required to clear an in-car environment test after their doors have been shut for hours, most likely measuring level of contaminants including formaldehyde and benzene. New in-car air quality rules in the world's biggest auto market will also push auto interior parts suppliers to develop new products to meet these new requirements.
In 2011, China's environment and quality watchdogs published a guideline for passenger vehicles in-air quality but stated the standards were just recommended and not compulsory.
In 2019, it accelerated an independently designed strict emissions standard for gasoline cars after using European-like emissions rules for years, leading to a technology acceleration. The same effect is expected if China regulates IAQ, Global automakers and suppliers will need the technology to sell in China, and then to the world.
In the same logic of occupant health, officials there also want to test electromagnetic radiation levels as electric vehicles and combustion-engine cars use more electronic devices.
Volatile Organic Compounds (VOC)
Interior components and materials release VOCs that affect IAQ. Rubber, leather (surface coatings), vinyl, and urethane-based foams are examples of some materials that outgas and negatively affect IAQ.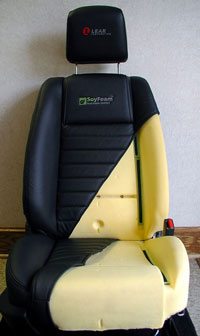 Ford, with Lear, uses soybean-based bio-foam for the seat cushions of all vehicles sold in North America for almost a decade now, claiming a 67% reduction in VOC emissions versus petroleum-based foam. They also recently patented a system that would enable autonomous vehicles to find warm environments and open their windows to vent VOCs if detected levels inside the car are too high.
VOCs have a smell, and odor specification is mostly driven by Chinese consumers, who definitely do not go for what some Western markets favorably perceive as "that new-car smell". China is also the dominant country with legislative restrictions for interior VOCs. Decreasing the VOC levels in a vehicle interior results in not just a healthier experience for the driver and passengers, but also a more pleasant one.
New Developments: Hyundai Motor Group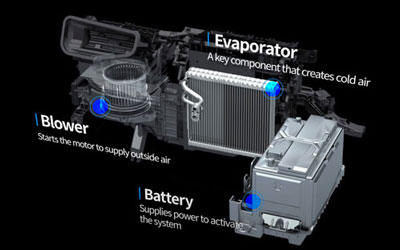 Hyundai Motor has developed an "After-Blow" system as well as other new IAQ management strategies they're calling Multi-Air Mode and Fine Dust Indicator. These will initially be introduced on selected models in Korea and then expanded to upcoming Kia, Hyundai and Genesis platforms worldwide. The automaker has put up a video describing the new systems.
The After-Blow system dries the condensate on the AC system evaporator, which the company says suppresses mold growth in the air-conditioning system and prevents development of damp odors in humid climates. After a vehicle's engine is turned off and the condensate on the evaporator drains naturally for around 30 minutes, the system activates for 10 minutes to dry the evaporator and any condensate left over in the air passages. The air-conditioning system automatically allows influx of outside air during this time to prevent humidity building up.
The system uses an intelligent battery sensor (IBS) to monitor the battery and stops the system when the battery is low, soothing any concerns about battery discharge. It also deactivates when the air-conditioning system is not in use for a certain length of time, or when the outside temperature is low.
The Multi-Air Mode uses multiple vents for air-conditioning and heating to regulate airflow around the cabin. Hyundai says that when this system is activated, air is dispersed to multiple slots in the driver's and passenger seats in addition to the normal air vents. The result, it says, is that overall wind volume remains the same, but the dispersion of the air currents reduces direct air contact with the occupants.
And the Fine Dust Indicator system measures air quality inside the vehicle in real time and delivers this information to the driver. An indicator displays the concentration and pollution level of ultrafine particles (PM2.5) inside the vehicle using integer numbers and colors, which the company says provides better visibility to the user: blue for 0-15 μg/m3 , green for 16-35 μg/m3 , orange for 36-75 μg/m3 and red for 76 μg/m3 or higher.
If the level of ultrafine particles exceeds 36 μg/m3 while the function is active, an air-cleaning mode will run automatically to purify the air in the vehicle.
Existing systems
Volvo introduced a multifilter system in 2014, claiming a 70% efficiency rate and intakes that close automatically when outside air quality is poor.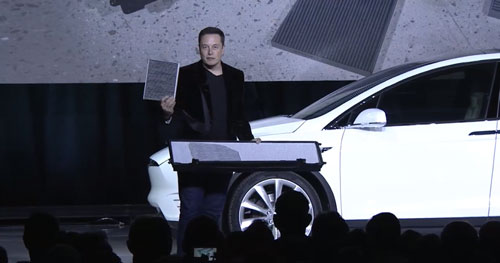 Tesla equips its largest models with a large HEPA filter, which it says can almost eradicate even the highest concentrations of ultra-fine particles from incoming air
New Development: Tata, BreezoMeter In-Cabin Air Quality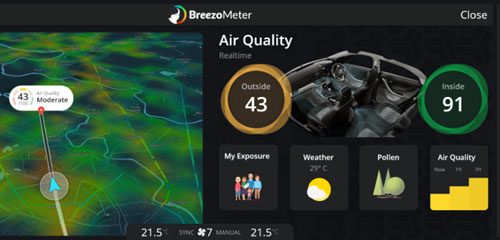 Tata Motors, together with Tata Motors European Technical Centre (TMETC) and Tata Elksi (Computer software company) have joined forces with air quality data specialist BreezoMeter, based in Haifa, Israel, to provide in-cabin pollution management. Tata Motors is India's largest automaker, offering an extensive range of integrated, smart and e-mobility solutions. TMETC, meanwhile, is a subsidiary of Tata Motors, launched in 2005 as a UK-based center of excellence for automotive design and engineering.
The move will further enhance the goal of all organizations to help strengthen the future of in-cabin air quality and management.
The goal will be to allow drivers to see real-time information about air quality in their vicinity on dashboard, enabling them to make better health decisions based on the air pollution levels and individual sensitivities. Alerts will make the driver aware when they enter an area with poor air quality.
BreezoMeter is the first location-specific, real-time global air pollution, pollen and active fires data provider, and provides an air quality map that highlights the best, and worst, parts of any city, helping drivers plan the most non-polluted route. It can also be used to automatically activate the windows, sunroof, A/C and filtration systems to keep the vehicle clear of pollutants. BreezoMeter is accurate to 5 m, is updated hourly, has global coverage and provides a four-day forecast.
Studies reveal that average drivers spend around three years of their life on the road in a setting where both vehicle and passengers are regularly exposed to environmental hazards. A recent increase in awareness concerning personal health and car safety, during a time of heightened environmental challenges, requires smarter and safer cabins.
The Tata Group provides tech-enabled innovative products to anticipate and provide vehicles and connected mobility solutions for global customers. It is with this mission in mind that the company joined BreezoMeter.