Car makers are aggressively rebranding themselves as "mobility providers" while paradoxically, motoring media are focused more than ever on a thrill-of-driving approach, celebrating the fastest and most expressive sports cars.
The car manufacturers and their whole value chain of suppliers are making a paradigm shift to the user experience, while media are still hyperfocused on the extreme driving element of this experience! There's a realistic balance somewhere in between, where passengers are willing to get a driving experience which has to be far above what you get in any public transportation system, whatever it is a train, a plane or a boat.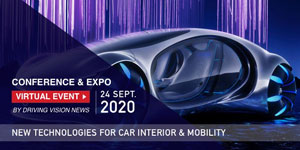 The CASE megatrends are progressively transforming the driving experience into a "passenging" experience, and that's where interior and driving assistance technology are of increasing importance. That's where car interiors are becoming a new product differentiator, allowing occupants to have a complete new set of activities—relaxing, working, phoning, reading, watching movies… the car becomes a mobile lounge, thanks to a wide range of new technologies.
Functional surfaces, interior air quality, interior materials, safety, HMI, displays, interior lighting, seating, and electronics are among the relevant topics to be addressed at the inaugural DVN-I Smart Interior Conference and Expo to be held online this coming 24 September, providing an ideal opportunity to go deeper into these topics. Sign up here, see the docket here, and find a video teaser here. We hope you will find this newsletter interesting, informative and useful. Have you not yet subscribed? Here's your link
Sincerely yours,