Flex-N-Gate, headquartered in the U.S. state of Illinois and with an extensive network of factories and offices, supply advanced structures, metal and plastic bumpers, interior trim, lighting, chassis assemblies, and other automotive systems to virtually every automaker in the world.
Over 23,000 employees work at 68 facilities located in the U.S., Canada, Mexico, Brazil, Argentina, the U.K., Spain, France, Germany, and China. The company was founded and continues to be led by American billionaire Shahid Khan.
Flex-N-Gate maintain keen competencies in integration. They produce more than 90% of automotive vehicle exterior locations where production volume sensor integration is possible, and they're already a leading sensor integrator ready to answer the calls of its OEM customers as they prepare for mass production.
They also have been making impressive development efforts in new kinds of lighting systems for when autonomous vehicles are ready for purchase. For example, an animated multicolour grille and emblem, integrating a multi-functional ADB and using lightweight materials. There's a show-'n'-tell of it online.
Flex-N-Gate's Demonstrator
At CES last January, Flex-N-Gate demonstrated a production-intent sensor integration solution with special attention to the competing goals of robust thermal management, minimal lens intensity loss, wide field of view, and easy manufacturability. Several features equip the demonstration vehicle:
• Integration of Ouster OS1 in the headlamp
• ADB
• Animated light bars and badge lighting
• Lightweight fog lamp
Ouster OS1
Flex-N-Gate seamlessly integrated Ouster's OS1 lidar technology into the headlamp. It's a multi-beam, high resolution, high reliability, compact and lightweight (<400g) flash lidar that Flex|N|Gate found easy to integrate.
Headlamp lens intensity loss is minimal, thanks to an AR coating tuned to the OS1's specific wavelength, IR-transparent polycarbonate, and a 10-year hardcoat.
Data from two lidars are
fused into a single point-cloud for a 210° FOV. It's a solid-state thermal solution that is robust, silent and requires no fans. Flex-N-Gate predict further cost reduction using a lidar heatsink specifically optimised for the headlamp.
ADB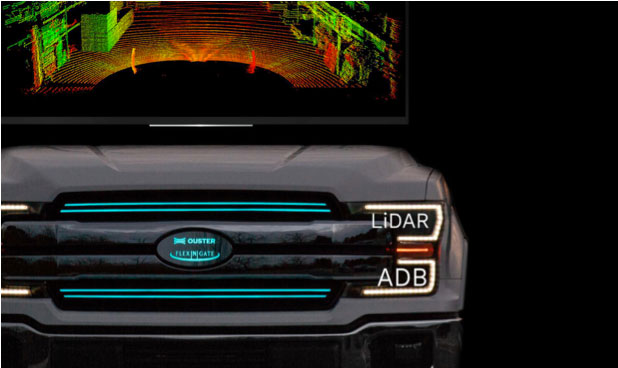 The single lighting module provides high-resolution ADB and enhanced light-on-road functionality, increased driver visibility on both high and low beams, beam-steering and corner-light control. Foreground lighting is provided by an auxiliary source.
Animated light bars and badge lighting
Four animated light bars with customisable animation have individually addressable LEDs; uniform blending derives from Flex-N-Gate's patented technology. Badgelightingfrom a customisable back-lit badge illuminated in white (for front position) and turquoise (for autonomous mode) is achieved using multiple strings of LEDs for each colour.

Lightweight fog lamp
Flex-N-Gate's lightweight fog lamp uses a thermally conductive plastic for a 12% component reduction and a 46% weight reduction compared with anodised die cast aluminium.
The material's high thermal conductivity manages heat well, its high modulus handles structural loads, its low CLTE provides dimensional stability, its electrical conductivity dissipates static charge, and its low EMI shielding enhances electronic integration. Moreover, this material is fully recyclable and supports high production rates.
Interview: Joel Roach, Director of Lighting Engineering
DVN: In 2012 Flex-N-Gate bought Ford's ACH (Automotive Components Holdings) unit, which made lighting products. What was the attraction of ACH at that time?
Joel Roach: [Flex-N-Gate owner Shahid] Khan, an engineer by training, remains actively involved in all aspects of our global business, including our technology offerings. He relentlessly seeks opportunities to serve our customers and enhance our position in the automotive supply base. In some cases, we achieve his vision through acquisitions, and ACH is a perfect example. Its lighting products businesses and strategic customer relationships aligned well with our strategies in exterior plastics and module businesses.
DVN: What are the lighting activities of your company today, and how do you assess your company as versus competitors like Koito, Marelli, Valeo, and Hella?J.R.: We supply exterior lighting for the automotive market and we are increasing our offerings to an persistently expanding customer base. Our core lighting operations in America support additional lighting manufacturing capabilities in Mexico and Spain. We have added lighting capabilities to those of our technological centre In France. We leverage our core cross-functional strength by integrating lighting into the front grilles, rear liftgates, and exterior components we design and supply. Today, we integrate sensing devices in our lamps and with our other exterior structural components. We focus on our abilities and as technologies arise, we amplify our strengths. We distinguish our abilities from our competitors in that we provide robust, manufacturable solutions that push emerging lighting technologies into new and pioneering vehicle locations.
DVN: You equipped your demo-car with ADB. Do you know when NHTSA will allow this technology in US?
J.R.: As automotive component supply industry participants, we all share the same crystal ball. We actively monitor the ongoing discussions/debates while concurrently advancing the art and science of our offerings to assure implementation readiness when NHTSA releases a decision.
DVN: You talked of high-resolution ADB. What technology do you use—matrix, µLED, TI DMD…?
J.R.: We engage in active development projects with each technology. We are evaluating the market place to determine how our customers would seek to utilise each technology to either illuminate the road or offer a new form of UI/UX. Given our target market, matrix likely offers the greatest near term potential.
DVN: Considering performance and regulation, how do you evaluate vehicle lighting in the American market versus Europe?
J.R.: Europe continues to lead North America in road illumination performance and regulatory adoption. The North American market (regulatory and third party) continues to prioritise concern for oncoming driver glare over the beneficial impacts on down-the-road illumination. IIHS top safety credentials carry considerable weight in many OEM customer-implementation strategies. In our view, US regulatory reluctance in ADB needs to be re-examined; allowing ADB implementation should lead to immediate and sustainable benefits in glare reduction and illumination improvement. Admittedly, the current regulatory framework also enables faster implementation of brand identity and ground-effect type lighting in components such as grilles, mirrors, emblems, and badges.
DVN: What is the market penetration of LEDs in American car lights, front and rear, and how do you foresee it in the next five years?
J.R.: There is an all or nearly-all LED version of every lamp we presently make. We have seen a steady increase in take rates towards these LED versions as well. These trends, on our view, will continue and even accelerate in the next five years. Better economics supported with improved optical and thermal performance of LEDs will support these trends.
DVN: Are you aware of the feedback of US consumers regards to lighting?
J.R.: We hear US consumer feedback concerning lighting. Some of those concerns arise in your earlier questions. ADB takes a significant step above the auto-high beam features that many consumers currently enjoy. North American pickup truck consumers in rural areas and their urban counterpart SUV drivers have an enduring love affair with non-passenger vehicles; ADB technologies—which reduce glare and improve down-the-road illunmination—offer valuable features to such drivers. The ability to create a unique appearance with the emergence of more accent lighting and continued evolution of signal lamp styling will feed the time-honoured North American appetite for individual expression.
DVN: How do you see the new lighting functions to improve safety like guidance lines, danger signals, curve indications, and communication with vulnerable road users?
J.R.: Safety improvements of this nature remain in the development stage, engaging still-open questions like what will consumers value, and what will laws permit. We are active in several emerging technologies that offer the communication capabilities that will dominate these developments. We remain live to finding the most effective ways to implement and scale these technologies in the production automotive supply industry.