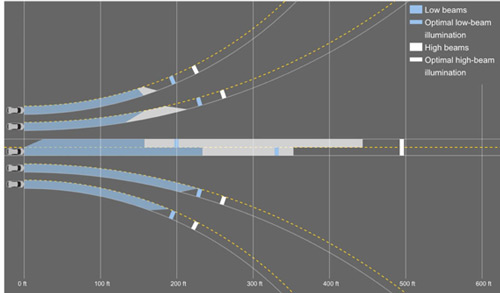 The U.S. Insurance Institute for Highway Safety keeps close tabs of what's offered in the way of vehicle headlamps in the U.S., and how well or poorly they work. The institute's latest findings echo those of 2018: many more vehicles are available with headlamps that illuminate an adequate distance ahead without excessive glare this year than before, but base models with good headlampsremain rare.
"Many carmakers still treat high-quality headlights as extras, rather than essential safety features," says IIHS Active Safety Testing Manager David Aylor. "Leather seats and sunroofs are nice, but you need high-quality headlights to avoid hazards."
About half of all fatal crashes in the U.S. occur in the dark, and more than a quarter occur on unlit roads. IIHS has been testing and rating headlight performance since 2016, but newly this year, headlamps that earn at least an "acceptable" rating must be installed across all the vehicle variants for sale, not just on high-trim vehicles or as extra-cost options, for a vehicle model to qualify for the highest IIHS award, Top Safety Pick+.
Only six of the 156 models rated so far by IIHS come with headlamps rated "good" as basic standard equipment. On another 31 models, "acceptable" headlights are the lowest-rated ones offered—a 7 per cent increase over 2019's figure. The 2020 results could change as the Institute evaluates additional models and manufacturers release midyear changes.
Out of the 37 models with standard-equipment "good" or "acceptable" headlamps, 23 earn the Top Safety Pick+ award; the other 14 fall short on other crashworthiness or collision-avoidance criteria. And 30 of the tested 2020 models can only be purchased with "poor" headlamps, compared with 36 in 2019.
Manufacturers have also continued their more rapid progress in offering good headlights as options. In 2016, the best available headlamps on just two of the 95 tested models—2 per cent—earned a "good" rating. In 2020, lamps rated "good" are available on 55 of 156 evaluated models, so that figure is up to 35 per cent.
Even when good lamps have been offered as an option, though, makers don't necessarily equip many vehicles with them, and buyers often must pay for very expensive option packages or bundles just to get the better lights. Aylor says "We try to rate all the headlights offered by each manufacturer, but sometimes it's a struggle to find some of the optional, high-end systems at local dealerships. If we have trouble finding them to test, how can consumers be expected to find them to purchase?".
IIHS rates headlamps on the distance they illuminate the road as the vehicle travels straight and on curves. The tests evaluate low and high beams. "Good" rated low beams illuminate the right side of a straight road out to at least 100 metres; "poor" ones might reach out to 67 metres, if that.
IIHS engineers also deduct points for headlamps that produce excessive glare, while extra credit is awarded for systems that automatically switch between high and low beam. Lamp aim is checked but not adjusted before testing, to incentivise automakers and dealers to pay better attention to it.