DVN's three main targets are to inform; to promote, and to network.
Here's how we worked toward those targets at last week's DVN US Workshop:
To inform
Three talks opened the workshop: Wolfgang Huhn from DVN; Michael Flannagan from UMTRI, and
John Bullough from Mount Sinai.
Four lectures from automakers (Wolfgang Huhn, session chair): Michael Hamm from Audi; Hans-Christoph Eckstein and Lingxuan Zhu from Lucid Motors, Shammika Wickramasinghe from Rivian (unfortunately hindered by a technical problem) and Paul-Henri Matha from Volvo Cars.
Five presentations by tier-1 suppliers (Luciano Lukacs, session chair): Michael Kleinkes from Forvia-Hella; Brant Potter from Valeo; Hossein Nafari from Mind; Hyunsoo Lee from Hyundai Mobis, and Andre Baptista from Marelli AL.
Six presentations from light source suppliers (Gerd Bahnmüller, session chair): Will Chung from Samsung; Thorsten Anger from Lumileds; Mahad Abbasi from Seoul Semiconductor; Brandon Seiser from Texas Instruments; Cole Cunnien from Kyocera SLD Laser, and Michael Boroson from OLEDWorks.
Eight lectures from tier-2 suppliers (Michael Hamm, session chair): Hassan Koulouh from AML Systems; Markus Winkler from Doctor Optics; Siraj Varikkodan from BlueBinaries; Christophe Bremer from Suss; Tani Gu from Ningbo Sunny Automotive Optech; Thomas Geistert from Elmos; Jim Lorenzo from Covestro, and Julien Muller from Ansys.

And there was the highly interesting and singularly relevant Regulatory session (chair: Bart Terburg), which included a panel discussion with top experts in regulation.
To promote
20 exhibitors presented their technologies and innovations: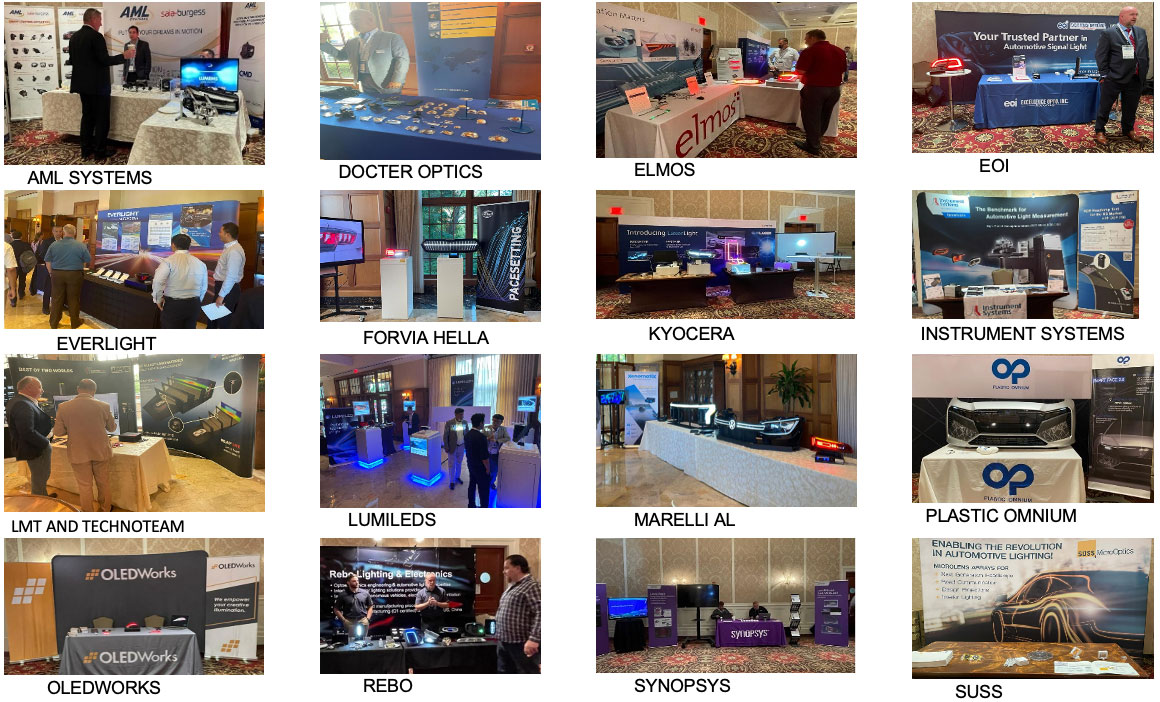 To network
One dinner, two lunches, and multiple coffee breaks: