The online 21st DVN Workshop will be the last one for Geoff Draper, who will retire at the end of this year. During the Workshop we will formally thank Geoff—not just from DVN ourselves, but also from the whole of the vehicle lighting community of automakers, suppliers, universities and research institutes, worldwide regulators and authorities.
Geoff has been one of the towering luminaries in the vehicle lighting world. His curriculum vitae includes a variety of patents and a tremendous amount of work at Lucas—where in the late 1960s and early '70s he was central to the creation of the world's first ADB headlamp, the Lucas Autosensa; then at Carello, Magneti Marelli, and Koito Europe (as Technical Director in Belgium).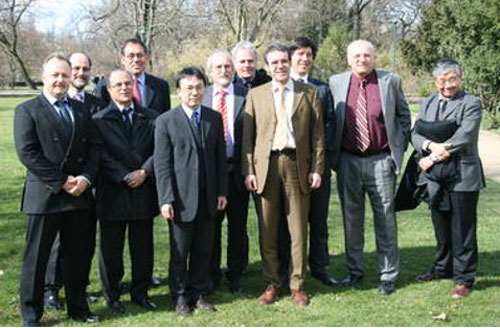 From 1989 he has led GTB's Harmonisation and Front Lighting groups, the CIE TC-4-45 effort toward a performance assessment method for headlamps, and the SAE Pedestrian Visibility Task Force. At the end of this year he will step down as GTB President, an office he has ably held since 2008—during which time he has organised and shepherded through to fruition the gargantuan task of modernising, streamlining, and restructuring the UN Regulations on vehicle lighting.

Geoff is also a member of the ISAL Steering Board (photo, 2009, 4th from left), Honourary President of the ALE Forum in China, and was voted DVN Personality of the Year in 2017.
For DVN, Geoff's greatest work has been to chair most of the DVN Workshop sessions and panel discussions on Regulatory matters.
We asked Geoff for a bit of a retrospective on the working relationship between DVN and GTB, and he kindly shared these thoughts with us: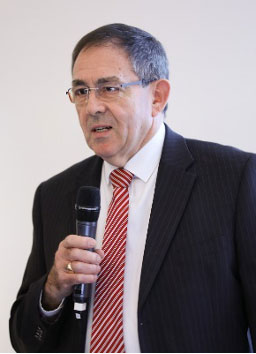 "As my twelve-year tenure as GTB President will end in December, I recall the great support that DVN has given to me and to GTB. I was elected in November 2008 in the depths of the global financial crisis and at that time, the GTB members were having difficulties to support its activities, financially and practically, and they emphasised the need to increase global awareness of the value of GTB membership.
After discussions with my good friend Hector Fratty, we started a coöperation between GTB and DVN that has proved to be mutually beneficial. DVN provides an effective platform for GTB to promote its activities and engage with the extensive DVN global membership. In return, GTB keeps DVN members informed of regulatory developments.
"There are many examples of the benefits of the DVN/GTB coöperation that have resulted from 16 Regulatory Sessions and the numerous reports and articles that have been published in the weekly Newsletter.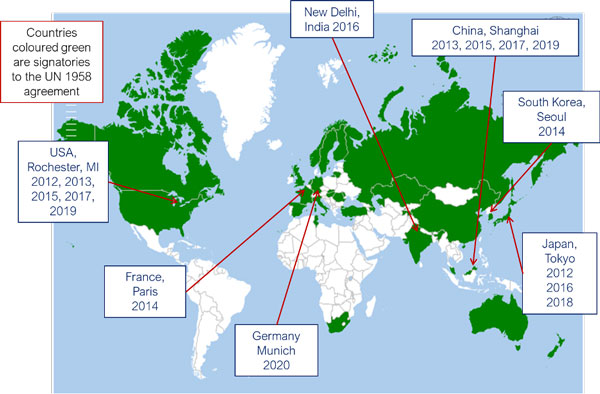 DVN US Workshop January 2012: The contributions of Nathaniel Beuse, David Hines and Markus Price of NHTSA during the regulatory session started a new relationship between GTB and NHTSA.
DVN Shanghai Workshop April 2013: The Executive Director of the Japanese Automobile Standards International Centre (JASIC) and the Director of the European Car Manufacturers Association (ACEA) presented their views and joined a panel session This was an excellent opportunity to network with Chinese stakeholders. GTB also took the opportunity to announce that the Chinese and Taiwanese lighting expert groups had joined the GTB membership.
DVN US Workshop January 2015: NHTSA joined the Regulatory panel session followed-up by a Q&A session by teleconference with a global audience of 98 interested experts. This further strengthened relations between GTB and NHTSA.
DVN Activities and planning led to a decision in March 2017 by GTB to launch a Strategy Group of senior executives. Currently the global group has 26 member companies and is funding research to support GTB proposals
2018 DVN Tokyo Workshop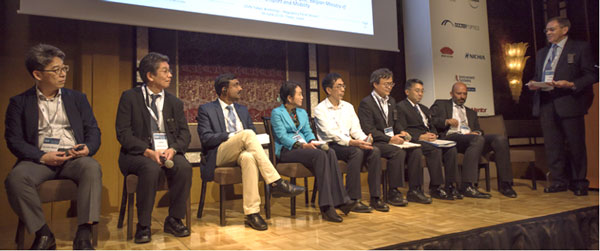 The regulatory sessionhad input from senior government and industry representatives of Japan, China, Korea, India, USA, the European Commission, and the GRE Chairman. This resulted in a clear agreement on the need to develop global technical requirements.
DVN's February 2018 joint forum with GTB in Torino produced a draft GTB vision for 2020-2030 that is now being developed by the GTB Strategy group.
A January 2020 DVN Survey of Opinions on how to remove barriers to innovation brought forth a range of responses; the results are analysed in detail in the DVN Study on New Lighting Functions 2020–2030.
"I will lead my final Regulatory Session at the upcoming DVN Workshop where we will have presentations on the status of regulation in the USA, progress of the GTB Strategy and Scientific Groups and I will provide a reality check concerning innovation and regulation.
Thank you Geoff! The vehicle lighting community will miss your involvment and your work!