Despite difficulties times rained down by 2020, the DVN team has been constantly engaged in intense activity, with great achievements to show for it. And now four steep challenges are in front of the team:
• 3rd DVN Lidar Conference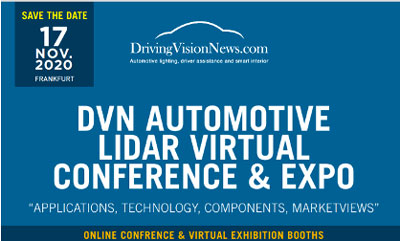 The DVN Lidar Conference is normally organised as a face-to-face event in Frankfurt. This time it's to be held online with 25 lectures from the likes of Audi, PSA, Volvo; Continental, Koito, Marelli AL, ZF, ZKW, Valeo; Aixemtec, Cepton, IBEO, Innoviz, Jenoptik, Osram Opto, OQmented, Ouster, Velodyne, Xenomatix; Fraunhofer IMS, and Yole Development.
This online event will gather over 300 top worldwide experts in automotive lidar and lighting from over a hundred companies in Europe, Japan, Korea, China, and the Americas. Exhibitors will use virtual booths to present their newest innovations in lidar-based automotive technologies. For more information and Registration click HERE.
• 21st DVN Workshop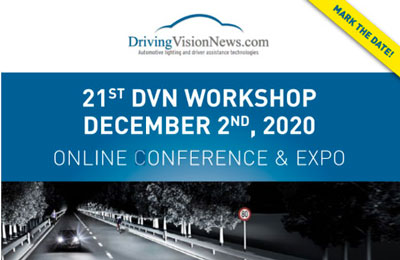 After the lidar Conference, we will hold a DVN Workshop—our 21st!—online in place of the DVN Tokyo Workshop. We'll publish information soon, but you'll want to save the date, the 2nd of December; it will surely be a top-flight event with active participation by the world's greatest experts in lighting.
The rubric will be "Digital Lighting Technologies, Lighting Communication, and Regulation".
23 lectures with subtitled translation to English for Japanese and Chinese lecturers are expected from Audi, BMW, JLR, Honda, Nissan, Volvo; Koito, Stanley, Marelli-AL, Mobis, Varroc, ZKW; Dominant, LG Innotek, Everlight, Lumileds, Nichia, Osram, Seoul Semiconductor, and tier-2s specialising in electronics, simulation, condensation management, and other apposite topics. A special session, called "Innovation and Regulation—Time for a Reality Check!" and chaired by GTB President Geoff Draper, will explore the main challenges for the lighting community. Virtual exhibition booths will showcase and illustrate the most advanced cutting-edge technologies, trends, and innovations. For more information and Registration click HERE.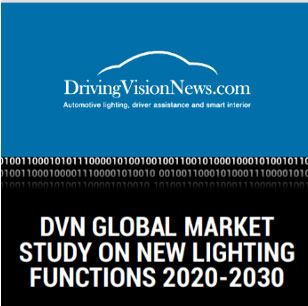 This 125-page masterwork describes how safety, communication, comfort, and styling with light can be improved in context of today's and tomorrow's realities. The Study was put together by eight vehicle lighting experts, each with more than 30 years experience: Geoff Draper, Rainer Neumann, Ralf Schäfer, Jean-Paul Ravier, Carsten Befelein, Daniel Stern, Leo Metzemaekers, and Hector Fratty made interviews with 35 eminent experts from automakers, lighting suppliers, and research outfits. Here's an overview of the main chapters:


Market View and Business Opportunities
The car industry was already facing a big transformation due to the ACES trend and now has to cope with the Covid-19 crisis. In case of a 30% drop in global vehicle sales for 2020, we calculate a realistic value of the 2020 global vehicle lighting market, and we show our work.
Lighting and Traffic-Related Fatalities
Studies are suggesting that advanced lighting can help with crash avoidance by increasing visibility, car positional guidance and by alerting other drivers and VRUs.
New Lighting Functions to Improve Safety
Attractive new lighting functionalities will be significantly installed around 2025, particularly those prominently mentioned in our interviews like marking light for VRUs, projected lane guidelines, and rear projection signals.
Technologies for New Safety and Communication Functions
Many new functions for safety and communication will use technologies and techniques borrowed from other realms and specially adapted to the needs of automotive applications. Our detailed analysis of HD front road projection systems, for example, includes details on optimal resolution for various kinds of projections—kilopixels or hundreds of kilopixels. We assess and compare the various techniques for realising these new kinds of projections, and present informed forecasts for how the various technologies will stack up in terms of market share
Importance of Styling for Exterior Lighting
Although the primary main function for lighting is safety, we explain how styling and design can create additional value. New technologies such as µLEDs, RGB LEDs, new diffuser materials, new microöptics, segmented OLEDs, digitalisation, software control, and even laser light for the rear are analysed and discussed. For brand identification at night, illuminated logos and front grilles are becoming more and more popular and examples are presented and described, as are initiatives in GTB and GRE to adapt the regulations for these new kinds of lights.
New functions for Interior Lighting
Interior lighting will become smart, more complex, personalised, digitalised, and orchestrated with many other interior component functionalities. We explain how future interior lighting will be driven by safety, communication, comfort-convenience-styling demands, and welcome and farewell scenarios.
Regulatory Impacts and Considerations
Progress is being made with the update of the UN Regulations and Chinese GB standards; GTB is strongly providing expert input and support. GRE is supportive of the removal of unnecessary barriers to innovation and has drafted a future workplan. The USA continues to lag.

• Three DVN Reports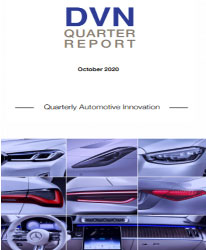 As usual, we publish every month a DVN Report.In this quarter, three coming reports will be very fruitful for the lighting community:

New worldwide models to be published in October. We will describe lighting of the main models launched round the world these latest months, including the Acura TLX, Audi Q2 and Q5, BMW ix3 and 4series, Cadillac XT6 and Lyriq concept, Ford Bronco, Gordon Murray T50, Geely Preface, GAC Enpulse, Hyundai Tucson, Kona and Elantra; Human Horizon HiPhi X, Infiniti QX60 Monograph concept, Jaguar F-PACE and XF, Jeep Grand Wagoneer Concept, Lucid Air, Maserati MC20, Mercedes S-Class, MG HS, Nissan Z-Proto concept, Opel Mokka, Peugeot 5008 and 3008, Porsche Panamera, Qoros 7, Rolls Royce Ghost, Seat Ateca, Suzuki Swift, Škoda Enyaq iV, Toyota Venza, and VW ID.3 and ID.4.

Audi profile to be published in November 2020. An Audi profile was one of our first-ever DVN Reports, published in 2008. This year's version will show and analyse Audi's huge progress in lighting over the last 12 years.

Lighting in Developing Countries to be published in December 2020. After analysing vehicle lighting in the US, Japan, India, Korea, and China, DVN will publish a study on how car lighting is done in developing countries in South America and Asia. These countries as not well enough known from the lighting perspective, and have particular needs, constraints, priorities, and preferences that must be known in order to serve them optimally.