This year's Los Angeles Auto Show is offering a glimpse of the future, with more than 50 new production and concept vehicles on display, and many making their American debut. Here's a look of the headlamps of the most significant models debuting at the L.A. Convention Center this year
Aston Martin DBX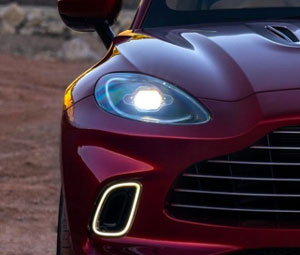 The Aston Martin's front lighting package blends elements of conventional design, with the upper lamp's sideways-raindrop shape accentuated by the optics; it looks like the sun through an actual raindrop. Down in the bumper fascia, a trim, homogeneously-lit hoop for the DRL.
Audi e-tron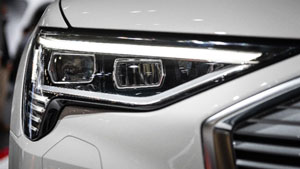 The e-tron brings yet another evolutionary iteration of Audi's calling-card lightstyle, and it's one of the most expressive yet. The lamp optics give an almost uncanny impression of intelligence, overscored by the linear DRL.
BMW M2 CS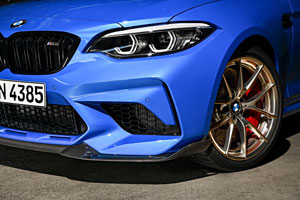 Evolutionary iteration is also the order of the day at BMW, where the familial Angel Eye rings have morphed into wide fish hooks and the four-lamp look ties the M2 to its past and present siblings.

Hyundai Tucson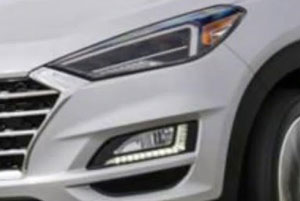 Hyundai bring an eye-catching lighting package. The eyebrow line's continuation in the lower lamp creates a tidy, integral appearance. Despite being smaller than the bumper they're set into, the lamps still present as the foremost design element.
Karma SC1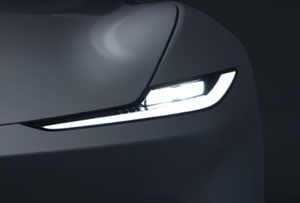 There are almost no lights visible on the Karma SC1—just a subtly hooked DRL, which may also provide the turn signal. The other lamps are hidden away in the bodywork.
Kia Optima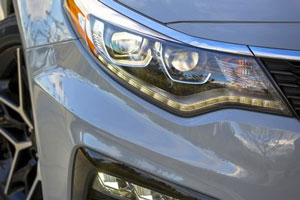 Far over at the other end of the price-and-volume continuüm, the Kia Optima goes for a rather conventional 4-eyed look, though the DRL accentuating the bumper's character lines is a neat touch
Land Rover Defender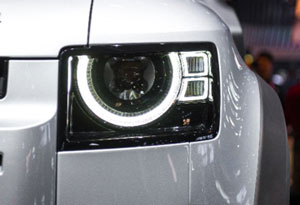 Here's a pair of traditional Brits—at least nominally—bearing modern lighting technology in traditional round shapes.
MINI John Cooper Works GP Prototype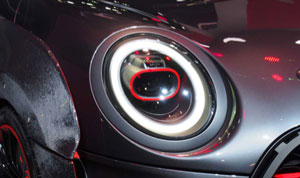 Production will be limited. 3,000 copies. Deliveries will start at the end of April / beginning of May.
Porsche Taycan 4S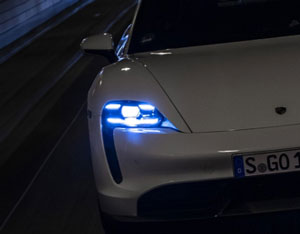 The Taycan 4S continues the Porsche familial 4-dots look for its DRLs, though now the dots are rather more like horiz. lines, and the quartet of them are set into something of a lozenge shape.
Toyota Camry AWD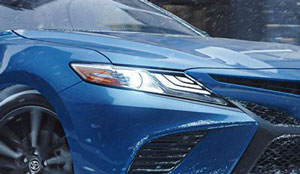 2021 Toyota RAV4 PHEV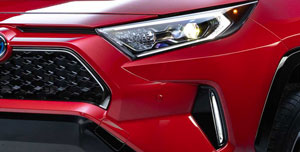 And speaking of evergreen Toyotas, their popular RAV4 bristles with high technology in its equipment, specification, and design—including the lights, which are styled with compound angles and fascination lines; just look at the swooping fish hook design of that DRL!
Volkswagen ID.Space Vizzion Concept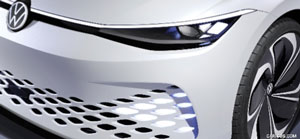 VW's ID.Space Vizzion concept has mockup lights for the time being, but Volkswagen's talk of the EV future, together with the high content of their lighting systems lately, make us confident the lights on the production car will be well worth a whistle.
Mustang Mach-E
Ford's first electric SUV, the Mustang Mach-E, presents with Mustang styling cues—perhaps most notably the trademark tri-bar taillamps. Full-LED headlamps adopt a technical appearance; it certainly is interesting to see the knock-on effects of that first domino knocked over by Audi to start the modern lighting era!