Daniel Stern, DVN General Editor
Practically every DVN reader is closely aware of current and recent developments in highly intelligent adaptive road illumination systems, particularly glare-free high beams that scan the roadway and shift, morph, or selectively darken parts of the beam pattern that would otherwise cause dangerous and painful glare to others. This idea is rightly regarded as a sort of holy grail in automotive lighting, a nearly perfect solution to the longstanding conflict between seeing and glare in traffic after dark. Some of the veterans of our industry may be aware of the efforts at Lucas in the early 1970s to create a scanning adaptive headlamp called the Autosensa which, when we scrutinise it here , here , and here is immediately and clearly recogniseable now, four decades later, as a dynamic adaptive headlamp. It was engineered in large part by present GTB chief Geoff Draper (whose prized prototype Autosensa grew legs and walked away many years ago when Draper's back was turned; anyone who has seen same is asked to kindly please get in touch).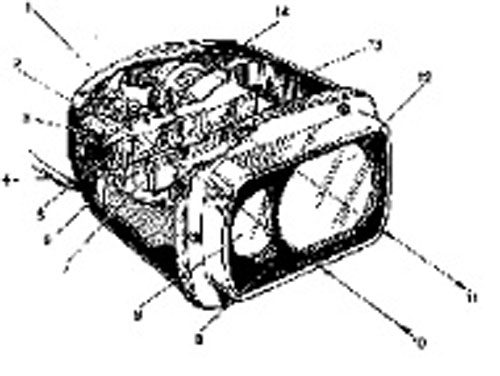 But today's prized ideal of a headlamp simultaneously providing the driver with high-beam illumination and his or her roadmates with low-beam glare is a good bit older than that, as it seems. A full 18 years before Chrysler and Sylvania co-developed the Super-Lite , which was probably the world's first series-production projector halogen headlamp, an American named Evan P. Bone invented and was granted a patent over six decades ago in 1951 for a scanning dynamically-adaptive glare-free projector high beam headlamp. You can see the Bone lamp here , and as the linked article says, headlamps and inventors seem to attract each other. That's a fortunate thing; the Autosensa and the Bone headlamp were commercially impracticable not because of any fault with the ideas and premises, but because the technologies and techniques weren't yet developed to the necessary stage. These early implementations were hobbled mostly by unworkably large package size and impractically high cost, primitive electric eyes, and difficulty to attain the necessary durability of precise positional accuracy. The Bone lamp might well also have been a conceptual bridge too far for the American industry in the early 1950s; just 10 years earlier they had standardised on the 7" round sealed-beam headlamp for all vehicles, a step which was widely regarded as solving major problems in headlighting and greatly improving nighttime roadway safety; it is reasonable to think they were reluctant (at least!) to fool with success by reopening the topic and going back to complex headlamps not of sealed-beam construction.
If the Bone lamp was the first attempt and the Autosensa the second, then our present increasingly successful efforts are the charmed third go. But it is well to consider the salient lessons of the unsuccessful first two tries: If the time is wrong, even the best idea will not come to fruition. But good ideas remain good even when their implementation is delayed by technical, technological, regulatory, or philosophical hurdles, so we must not relent and lose patience or faith when faced with such hurdles—because when the time is right, a good idea will bloom, grow, and propel the state of the art forward.