Special to DVN by Dr. Eneka Idiart Barsoum, Senior Expert on Photonics
Photonics is the science of detecting, collecting, transmitting, amplifying, modifying, and generally mastering light. It is considered a "key enabling technology" by the European Commission.
It touches numerous areas of modern life—communications, life sciences, health, power generation, automotive, aeronautics, defense and security, precision agriculture, quantum computing, displays—and it provides solutions opening up new horizons.
The global photonics market is estimated around €525bn in 2020. The top producer is China (displays, photovoltaics); Europe is № 2 with 16% of global market share, then Japan and North America. 80% of European companies—about 5,000 of them—are SMEs (small and midsize enterprises), and 40% of them have been in business less than 10 years.
In Europe two main organisations have been representing the photonics ecosystem for 15 years:
Photonics 21 platform

Photonics21 represents the photonics community of industry and research organisations. Its role is to influence the European Commission's strategy for the photonics market, and thus the European collaborative project calls (such as Horizon 2020 then Horizon Europe ICT). Photonics 21 has a variety of working groups, and two years ago a new automotive and transport working group was formed.
EPIC (European Photonics Industry Consortium

EPIC is the main photonics industry group worldwide, with more than 500 industrial members, and connections with analogous American and Asian organisations. Automotive member companies include Lumibird, Ibeo, Laser Components, Osram, Amplitude, Vixar, NIT, Hamamatsu, LG, Panasonic, and many others. Moreover, members with experience in displays, telecoms, and defence and security markets have technologies that could be transferred to automotive, in particular for AVs and EVs.
Exterior photonics technologies
Photonics is an enabling technology, with strong potential to influence safety, communication with pedestrians and other vehicles, decision assistance, and geolocation. To achieve these potentials, the main technical functions are :
Perception and understanding of environment (microLED matrix, solid-state lasers, photonics sensing, visible and IR cameras, lidars…)
Optical communications with users (projections on road for pedestrians and other vehicles; connectivity through LiFi technology…)
Coöperative lighting (joining camera, lighting, and smart infrastructures)
Autonomous vehicle security (quantum cryptography, enhancing artificial intelligence safety, sensor cleaning by lasers…)
Exterior styling (new colours, surface structuring by laser, painting…)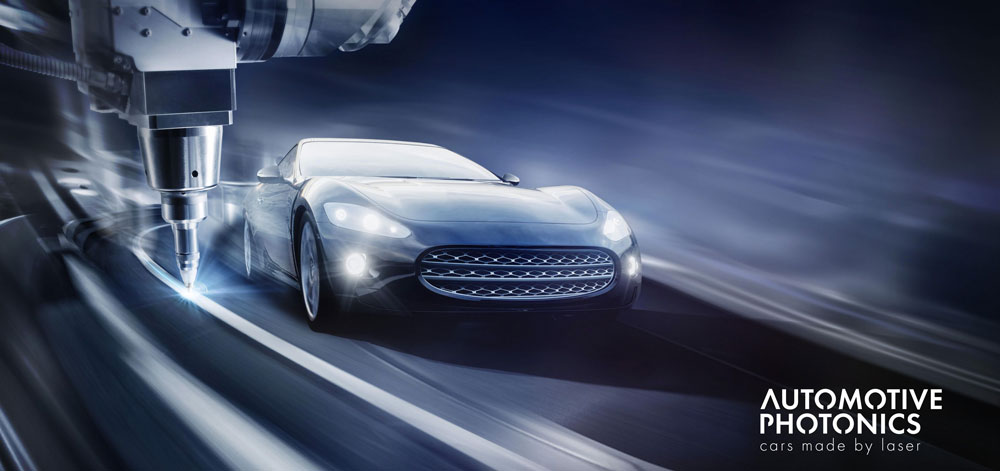 Photonics technologies for EVs
This area is emerging for photonics technologies.
A lot of research is still to beconducted.
Of course photovoltaic energy could be used as a complementary source of energy, in particular to feed external sensors or lighting components. Another application could be to replace classical position sensors by optical ones, to increase precision. But the main interest of photonics technologies could be to go beyond current physical limitations of existing systems—mainly due to heat production—and thus eliminate costly and bulky cooling systems.
Coming from space, defence, or telecoms technologies, optical solutions could serve—without emitting heat—issues including propulsion, and energy storage, commutation, and transport.
What is coming next for external photonics technologies?
Some highlights from Photonics21's automotive working group analysis (2019) are:
Lidar and Photonics sensing
Eye safety solution (wavelength, power)
Novel emission and detection components and systems, towards "final" lidar technologies
Self-diagnosis of system conditions
Adverse environmental conditions (weather, dust, spraying, higher level self-immunity…)
Integration and packaging Sensor / lidars/ lighting integration: novel architectures, additional functionalities
Industrialisation aspects (cost, scalability, integration…)
Affordable ADB for mainstream vehicles
Cooperative lighting schemes with sensors improving capabilities
Link to V2X, IoT as enablers for headlamps
Affordable industrialised units for mainstream requirements (link to road safety)
Warranty and repair costs analysis from a sustainability perspective.
So photonics technologies are really key enabling technologies, moving fast toward further capacities for exterior lighting and autonomous guidance. A lot of companies in Europe are providing these photonics technologies. A main challenge, besides automotive integration, is to support these SMEs to ramp up their production, in order for them to come onstream at scales and volumes helpful to the automotive industry.
Dr. Eneka Idiart Barsoum is in charge of Eneka Consulting is an innovation consulting firm dedicated to Photonics technologies. It provides services in technologies expertise, innovation strategy and management, collaborative projects, photonics and innovation ecosystems intelligence. It covers applied industrial markets as automotive, defense and security, communications, quantum technologies, digital health,…
Some industrial references : Ariane Group, Thales, Safran, Corning, Valeo, Schneider Electric, Sanofi, Orange.