Dr. Jan Dienstuhl's expertise is in sales; business lines; technology, and R&D. He's been at Elmos since 2012; a member of the board since 2019. Before Elmos, he held management positions at Infineon for R&D and automotive business. He has a PhD in electrical engineering.
DVN: Hi, Dr. Dienstuhl. Tell us about Elmos' portfolio and activities, will you please?
Dr. Jan Dienstuhl: Elmos has been developing semiconductor solutions for various automotive applications for almost 40 years. With headquarters in Dortmund, Germany, we have 15 locations worldwide and over 1,200 employees. In fiscal year 2022, we generated total sales of €447m. Our focus is on developing innovative solutions that deliver added value to our customers and end consumers, specifically in the areas of autonomous driving; driver assistance systems; environmental protection via low-consumption or zero-emission drive concepts; safety; comfort, and wellbeing. Our product segments cover motor control; lighting; ranging; optical; pressure; safety, and power.

DVN: Can we zoom in on your lidar-specific operations?
Dienstuhl: To achieve more comfortable and safe driving in all conditions, a redundancy in sensors and data acquisition is essential. A sensor fusion between RGB; radar; lidar, and ultrasonic systems is a well-accepted approach. However, the price level for today's available lidar systems is still too high, which is why lidar has not yet established itself. To address this, we have started to develop new sensors and sensor ICs with a focus on solid-state lidar systems. We believe this is the right approach to gain more market share for lidar systems.
DVN: What is your technology focus and roadmap for lidar ICs; what makes Elmos different to your competitors?
Dienstuhl: Our technology focus is on automotive-qualified CMOS sensor ICs that are high-volume, cost-effective, and have a proven quality with a strong focus on functional safety. We have three major product ranges in our roadmap, which includes laser driver ICs for VCSEL and EEL for high power ultra-short pulses, single or multi-channel products, SPAD imagers with high-resolution pixel count optimized for up to 50m range, and blocking sensor-ICs to detect if the sensor entry window is affected by pollution. All of these are fully automotive-compliant and ASIL ready.
DVN: Are you working toward ICs dedicated to FMCW transmission and reception (4D lidars)?
Dienstuhl: Our focus today is on cost-effective direct ToF lidar technology only.
DVN: What are your preferences and thoughts on wavelength selection?
Dienstuhl: Light emitters are a significant cost driver in lidar systems. Currently, we see a great improvement for VSCEL and wavelength-stabilized EEL products in the near-infrared range of 850nm and 940nm. Another important argument for NIR wavelength is the compatibility with well-established silicon-based detectors.
DVN: What are your key development parameters?
Dienstuhl: Besides cost, power consumption is a critical parameter, especially for short-range use cases that require a vast field of view. Light emission peak power is dominating, but we are developing lidar components that will enable systems with a system power consumption of only 1-3W.
DVN: What lidar applications take top priority at Elmos?
Dienstuhl: Elmos is focusing on short-range, up to 50 meters, automotive applications, such as advanced parking assistance, valet parking, low-speed maneuvering, urban traffic, traffic jam assist and safely detecting pedestrians. We also find industrial and robotic applications quite interesting, as lidar systems are already widely used there.

DVN: Do you have some first customers interested? When do you plan the start of production?
Dienstuhl: Elmos has received strong positive feedback from the market due to our clear product strategy. Our approach is to focus on smart products combined with intelligent features on automotive grade to reduce the overall BOM cost. This opens a new field of use cases for short-range lidar systems, which will enable economy of scale. Our first serial product, the E527.50, a 4-channel laser driver with a pulse width of 1 nanosecond at 50A, will be launched in 4Q2023. Design-ins are starting now.
DVN: What other markets does Elmos want to address?
Dienstuhl: Elmos is a pure-play automotive company without any compromises in quality and cost. Nevertheless, there are adjacent markets that also value these important factors. We see substantial potential for our products in industrial and robotic applications as well.
DVN: What's in the way of wider deployment of lidar technology?
Dienstuhl: In order for lidar systems to become more established in the market, further steps must be taken with regard to cost reduction and system size while at the same time optimizing system performance. The optimal fusion of different sensor technologies is crucial for increasing safety and reliability in all driving situations.
DVN: How will that play out in terms of markets and applications?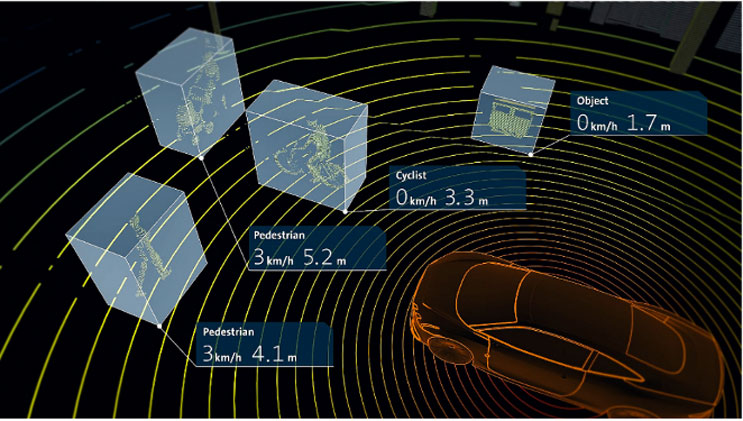 Dienstuhl: Today, the industrial segment is still the biggest segment for lidar applications since lidar products have been introduced here first. However, with further improvements in cost and size, automotive lidar applications will pick up and will show more dynamic growth, providing strong potential for ADAS and autonomous driving systems in the future. To stimulate growth, the target price needs to be further reduced to make lidar more accessible and widely used in the market.
Find more information on Elmos' lidar activities in their online expo booth.