The 11th biennial VISION Congress was last Wednesday-Thursday at La Cité des Sciences in Paris with 550 attendees. It was a content-rich, worthy event with:
Three keynotes by VIP speakers from Stellantis (photo), Continental, and Plastic Omnium CEO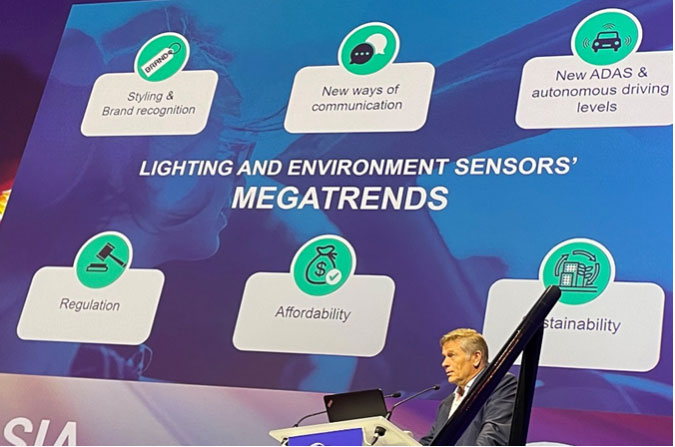 35 lectures
A constructive panel discussion on the UN Regulations for lighting and ADAS
36 expo booths showcasing the latest innovations; ideas, and products.
20 sparkling demonstration cars, presenting the latest technologies—a longtime hallmark of VISION. Production and prototype cars in static and dynamic situations included the BMW 7-Series with Cristal Light and M4 with laser tail lamp; Renault with Melexis interior light, and also with SUV Austral; Rivian; Ford F150e;
Jeep Grand Cherokee with 15mm-tall Valeo headlamps; IR lighting; MicroVision and Valeo Scala3 lidars, and a variety of projection solutions.
This year's VISION congress featured many interesting lectures showing all aspects of progress in design and safety for lighting, and the important steps being taken for ADAS to make way for safe L3 and L4 vehicles. Examples:
• Progress on new lighting functions. Digital projections are an important domain covered by several lectures, including demonstrations that they pose no significant distraction for other road users. The merit of projections is supported by many studies showing real driver-support value which can lead to real safety improvements. Their compatibility with HUDs can be ensured by optimal placement of them on the road so as to avoid positional clash with the HUD window.
Thinner and thinner headlamps. The trend for slim headlamps are supported by remarkable new modules of down to 5mm high, yet with the performance of much taller traditional systems, and new solutions mixing low beam; turn indicator, and DRL in the same module with just 15mm height.
Endless new styling proposals. Jewel-like solutions are now available in plastic, reducing the cost of these modules targeting luxury design and appearance.
Optic modules. Another direction to boost slim and compact headlamps is based on microöptics becoming now available also for headlighting after their introduction in more simple applications like side projection
Software is more and more the key-enabler for Advanced Lighting Functions. One consequence is that the automaker must take a bigger part of the job and of the responsibility in integration, homologation and OTA updates of regulation relevant lighting
Sensors are becoming more and more performant in bad weather and functions.
ADB technology carries on evolving. μLED is the general direction with 15,000 to 25,000 μLEDs in production soon.
Headlight ratings are still a hot topic, with rating systems being developed and adjusted for maximum benefit to all concerned parties from regulators to end-users.
Sustainability is increasingly crucial for compatibility with a finite planet and consumer-acceptability. Particularly salient is the need to reduce electric consumption; several lectures looked at the 'cost' of power consumption—each extra watt reducing the range of an EV by 0.1 to 0.2 km, to be compensated by added battery cost of €1 to €2. Obviously there are hard limits!
Control of costs. All this new technology costs money! Nicolas Morel stressed the need for cost decreases, stating that present EV incentives would amount to €50bn in 2035 if maintained at present levels—not possible for European governments or most others. So incentives will phase out, obliging car makers to find around €6,000 of cost decrease per car from their suppliers.