Lidar Workshops give OEMs & Lidar Tier1s/Tiers2, the opportunity to go deeper in the understanding of Lidar requirements and market trends, through presentations – then discussions in working groups.
Morning: presentations from OEM (Ford – P.Zegelaar) & Tier1 (Microvision – T.Luce)
FORD priority is to narrow down Lidar requirements & relevant use cases
Ford presented its system set-up used in its latest automated driving configuration – ARGO.AI Gen4 – and the expected benefits of the Lidar technology. Ford sees key performance contributions from the Lidar to achieve a robust localization and small objects detection (0,3g braking target at 130kph). There is also a clear need of redundancy with different technologies to achieve SOTIF requirements: a pure vision system cannot do the job.
Question of Ford to the Lidar community:
How to achieve realistic performances and define relevant use cases for the Lidar technology?
MICROVISION: Lidar interference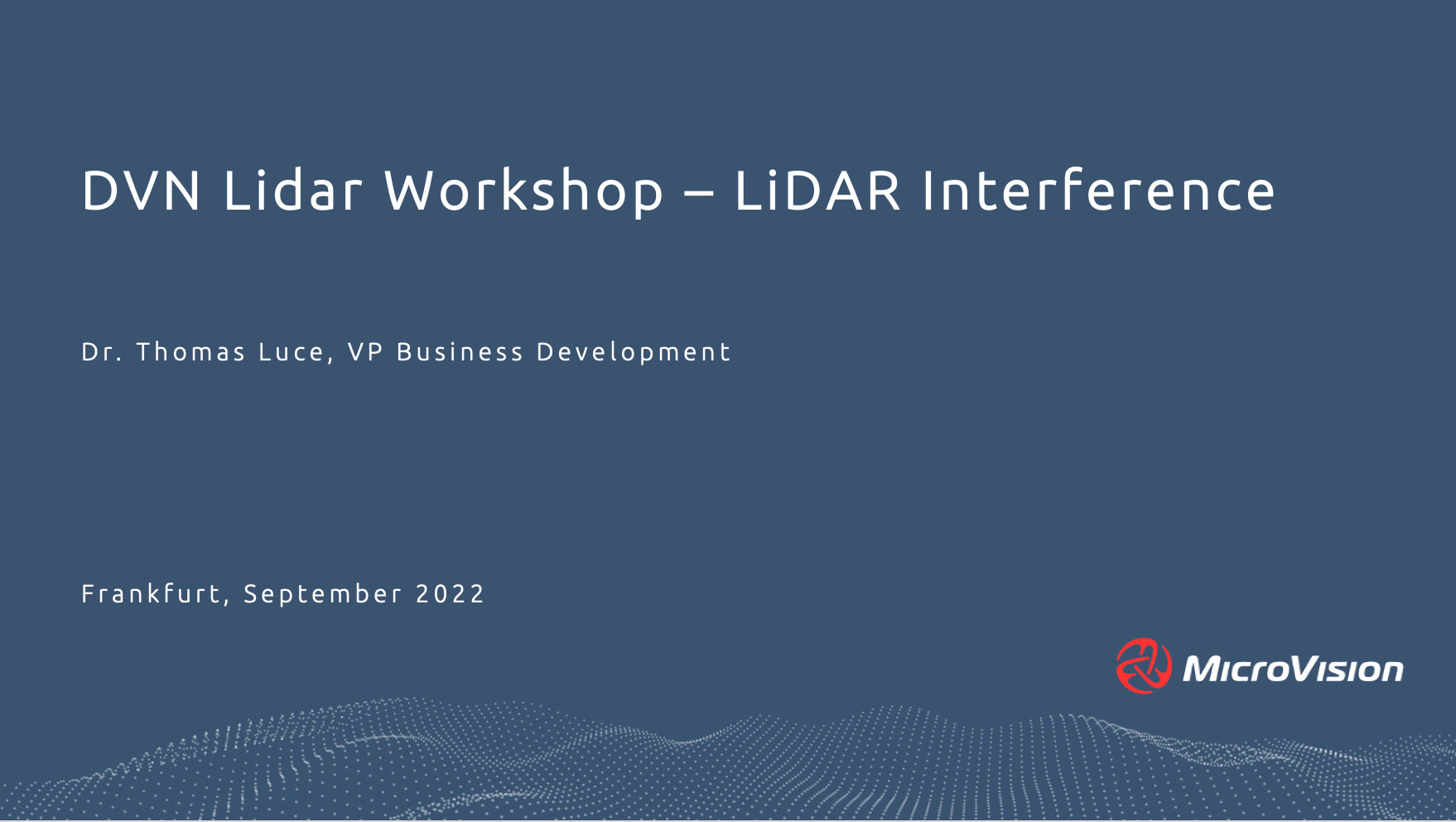 Microvision presented generic use cases to assess interference mitigation technics between several cars equipped with Lidars. Some of these technics have been discussed, as well as comparisons between lidar technologies. Microvision mentioned there are today very few studies on the shelf related to this topic and sees a need to build a generic framework to assess interference risks.
Question of Microvision to the Lidar community:
Is interference a real problem? Do we need regulatory prescriptions? which mitigation technics could work?
DVN comments:
The presentation didn't include the risk of interference with Traffic Surveillance Systems (i.e. Police Laser guns…) which is forbidden by Traffic Laws in many countries. A joined framework to define worst cases and evaluate mitigation technics, has been performed in the past for automotive radars through European organizations & funded projects (suppliers could even test their own systems against systems from competition). The same approach could be used for the Lidar.
---
Afternoon: presentations from OSRAM (C.Hofmann) & Fraunhofer-IMS (J.Rukowski)
OSRAM: 906 nm still mainstream, unclear specs for short range Lidars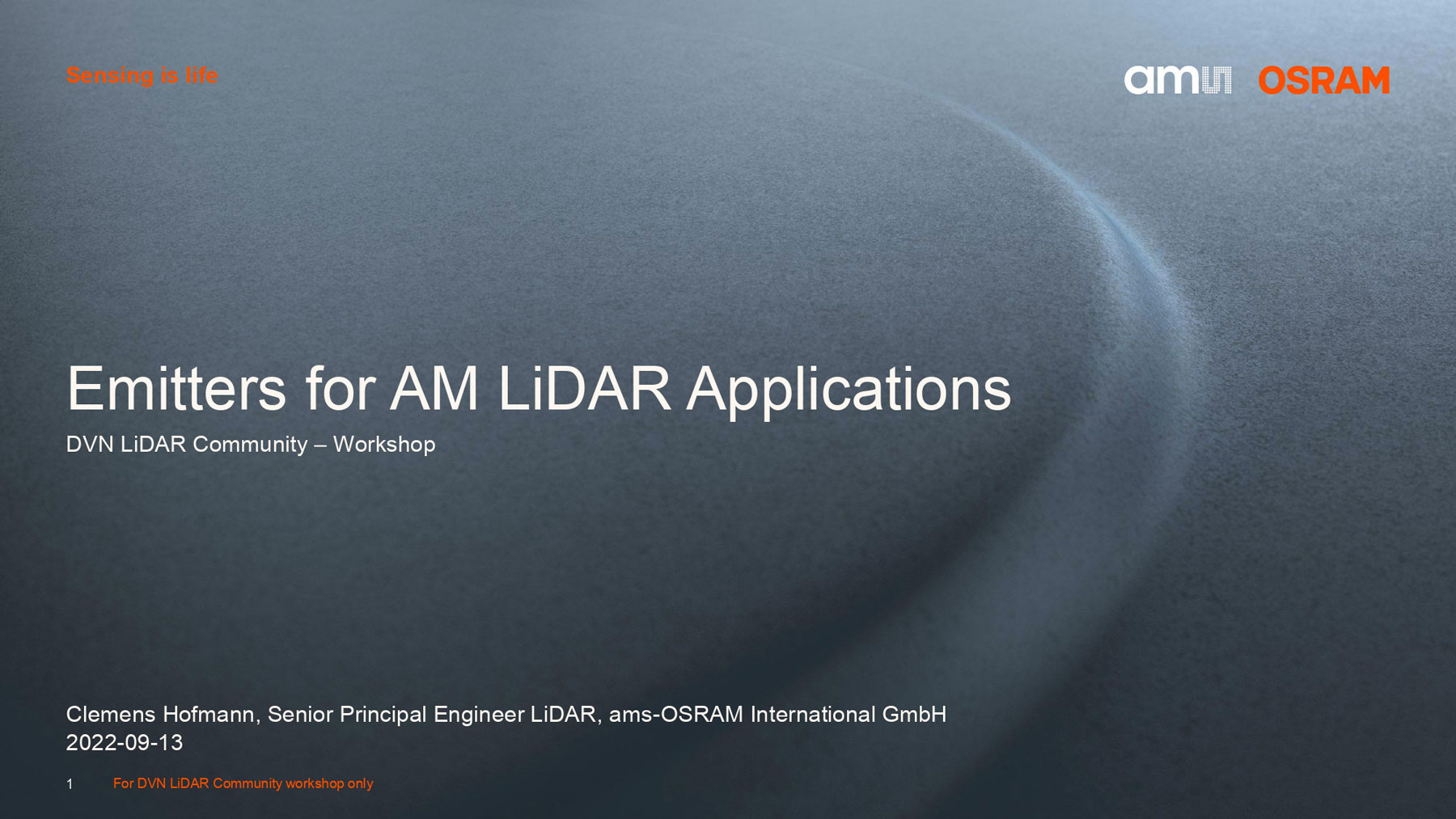 OSRAM presented the technologies of emitters and their market perspectives (i.e., Yole-2022). It seems 906 nm will stay mainstream for the next 5-10 years. The two emerging technologies, 1550nm and FMCW, will take some market shares but are not expected to significantly change the market. For emitters, SPAD fits well with the future requirements. There is a big question mark for the short range lidar specifications (40-50m range with a large FoV and 0,4° angular resolution is technically not possible today).
Question of OSRAM to the Lidar community:
Which use cases for urban pilot & valet parking? which parameters should we improve for emitters?
DVN comments:
based on current technologies, short range radars can support the 40-50m detection range to the side of the car with a large FoV, and Lidar can offer a higher resolution with a more limited range (20m+).
---
Fraunhofer: Detectors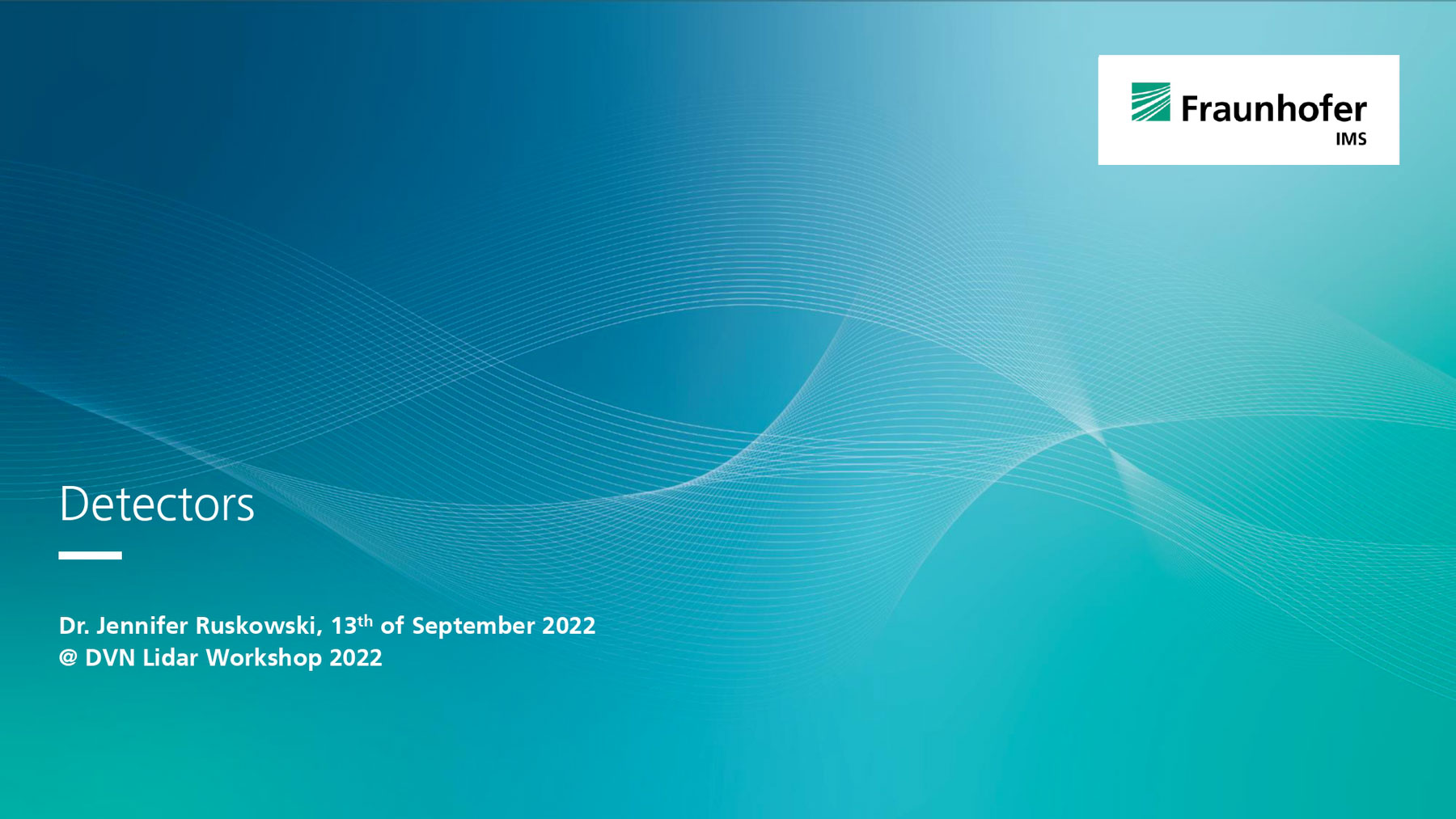 The SPAD technology seems promising with a quick response time & 2D matrix capability. This also can fit well with Flash Lidar and be combined with a VCSEL emitter and fits with OPA (Optical Phase Arrays) solutions and agile scanning. The detection modules might be integrated in photonic chips, typically for FMCW Lidars.
Question of Fraunhofer to the Lidar community:
Do we need a complete solution or multiple ones optimized for specific applications? which parameters should we improve for the 2025 generation
DVN comments:
The receivers need to improve their resolution for short range surround view lidars, especially for urban assist which combines a high resolution (0,4°) and a large FoV.
---
Working Group sessions – Main results (extract)
Realistic requirements: lidar spec must be at least as good as human vision. Specs are to be also derived from the key contributions expected for the Lidar, from the limitations of the other technologies (i.e. much better distance resolution than radars), from the limitations of the Lidar itself (i.e. detection of black objects with very low emissions). The current standardization work from DIN-SAE & ISO Working Groups should help as well.
Interference – Yes, it is a real problem, and this needs clarification. The interference risks with TSS must be included: there is a need for Lidar standard data sheet, for TSS equipment to optimize their design. The recommendation is to find an institute which can do a global study and initiate a generic framework to assess interference risks with a "standard" test catalogue. This topic can be part of the future DIN-SAE & ISO specs, after the study has been done. There is also a need to permanently monitor the interference risks with new technologies.
Emitters –For Urban Pilot, the typical offer on the market is limited to 20m, more range can be achieved with compromise on the specifications. Lidar might be combined with short range radar which can do 40-50m range.
Receptors – improvements required mainly on Dead time for SPADs, Photon Detection Efficiency, Cross Talk pixel to pixel, Megapixel like solutions. Germanium might be used to increase speed.
Feedbacks from participants & Conclusion
Workshop Concept "few topics, going deeper": highly appreciated with presentations and deep dives to build a common view between the participants and agree about open issues (and sometimes to list first solutions to solve them – i.e. for interference)
Learning opportunity about technologies: interesting presentations, live participants have especially appreciated the opportunity to initiate technical discussions, inside the working groups and during the networking periods (dinner, lunch).
Applications & Markets: great opportunity to understand the difference between EU/US market needs and China market needs (LS Lidar)
Improvements: some connexion issues during the first working group session, have impacted the contribution of on-line participants