DVN visited the new Valeo's ADAS technical centre in Paris. As part of our visit, we interviewed Marc Vrecko, president of Valeo's CDA (Comfort and Driving Assistance) business unit.
Valeo's Comfort and Driving Assistance Activities
This is one of Valeo's four business units, focused on solutions for intuitive controls, connectivity, and driving automation to make mobility safer and more enjoyable. They've produced 1.5 billion sensors over the last 30 years and are on track to produce another 1.5 billion sensors in the next five years!
The business group has three product lines:
ADAS, producing AD and AV technologies and systems including lidars (200,000 Valeo lidars have already been produced for the automotive market); cameras (including 100 million surround view cameras and front cameras), radars, and ultrasonic sensors
Interior control, working to enhance the vehicle-interior experience through intuitive and interactive solutions including hands detection and driver/occupant monitoring
Connectivity, devising innovations for telematics car access control; car sharing, and acoustics.
Valeo's Machine Perception Portfolio & VMTC center

VMTC – Valeo Mobility Tech Center, in Paris
To speed-up research projects for AD and ADAS, all technical and human resources are located in the same place to offer a collaborative work environment, facilities to equip test cars and even test tracks.
Live Demonstrations at Valeo's ADAS R&D Centre
• 3rd-generation Scala lidar – see Valeo lidar team with B. Fleury and H. Fratty on the right
The demo-car had a Scala3 mounted on the roof. The resolution is about 0,05° in azimuth, with a 150° field of view. It can detect and classify a small, dark object on the road up to 150 m range (i.e tire), and a vehicle up to 250 m range. It can also detect road markings and road (pavement) borders.
A precise location of the vehicle is achieved using the SLAM technique. The precision is even better than the one offered in urban conditions by a GNSS (subject to the propagation of satellite waves).
Scala3 will be available in two versions: one for integration above windshield (same as Volvo cars), one for integration in the front grill, dimensions are close to 40H × 200W × 80D mm.
• Valeo's L4 Drive4You system
This autonomous car can support L4 Highway Pilot; Traffic Jam Pilot, and Urban Pilot.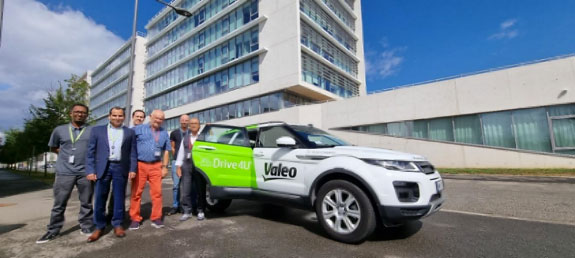 Vaeo AV team incl. Benazouz Bradai (2d on the left) and his team gave us a live demo of L4-AD modes
The vehicle has six Scala lidars—three in front and three in the rear; four corner radars; a front tri-focal camera; four panoramic cameras; two side lidars, and 12 ultrasonic sensors. This impressive sensor suite is used to validate a robust perception system for L4.
See video at https://www.youtube.com/watch?v=ZxqBKqEQpZ8&t=1s
We could experience many critical use cases: overtaking; stopping at a roundabout, restarting according to priority rules; stopping and starting at traffic lights and slowing down and stopping at pedestrian crossings. We could see, in real time, the visualization of vehicles detected by the sensors all around the car.