Valeo forecast about 30 per cent of all new premium vehicles will be capable of L3 automated driving by 2030, with the global lidar market topping USD $50bn. So they're developing a more advanced version of their Scala lidar system, for launch in 2024, which they say will offer twelve times greater resolution; triple the range, and a considerably wider field of view. In a recent real-life test in Tokyo, Valeo demonstrated a test vehicle with L4 capabilities even under urban conditions. Scala lidars and a front camera, combined with vehicle-to-infrastructure communication, allowed the test car to autonomously steer through crowded streets while avoiding pedestrians. The installation on the roof of the test vehicle and the screen image transferred to the driver are shown in the pictures (the system is L4-capable, but operates in L2 during public-roads testing, with a Valeo engineer in the driver's seat to take control immediately if needed).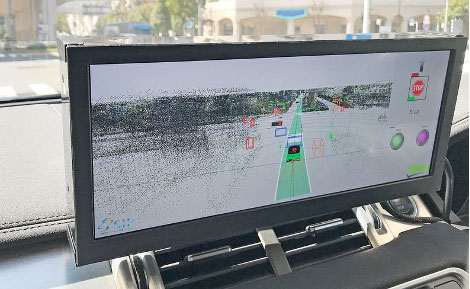 During the test drives, the self-driving system of course also encountered uncomfortable situations. Most common were "negotiating scenarios" that require bending traffic rules — such as leaving a lane to go around idling trucks or bicyclists. Also steering and especially braking turned out to be more rough than expected with a human driver.
The system is planned to be developed further by Valeo with the target to address such borderline scenarios in an improved manner. On the other hand, the driving dynamics as steering and braking are in the court of the vehicle manufacturers specification. Valeo's technology is focused on perceiving and interpreting the world around the vehicle.
The current Valeo product line-up comprises Scala 1 which has been installed among others on Audi A8 and Honda Legend. Up to now close to 200 thousand systems have been produced. The second-generation Scala 2 system hits the market in the new Mercedes-Benz S-Class as part of that car's Drive Pilot system, now available in Germany. Valeo say their 3rd-generation setup, the new one planned for 2024, will facilitate autonomous emergency maneuvers at road speeds up to 130 km/h, and will be able to "see" objects about 200 metres ahead. It will also be able to track vehicles not within human seeing distance, and track raindrop density to calculate proper braking distance.
Valeo designs and manufactures both the hardware and software for their Scala lidar systems. Production location for their lidars is their Wemding plant in Germany where about 300 engineers are working on the technology.
---
DVN comment

Valeo are clearly striving to push the boundaries of autonomous driving. Successful test drives in megacities likeTokyo will broaden the catalogue of delicate traffic situations significantly. This is a clear prerequisite as input for software and hardware engineers to improve their systems. Additionally, the added value and performance of lidar sensors can be evaluated. Another striking statement is the lidar market value of about 50 billion USD in 2030. This figure means that the automotive lidar market will have the same order of magnitude as the vehicle lighting market.