LeddarTech have released LeddarSteer™, a digital beam steering solution designed for lidar smart sensor developers and automotive suppliers.
Digital beam steering deflects the transmitted laser pulses in a lidar. A stack of alternating liquid crystal cells and polariser gratings enables to steer light at different angles at a specific wavelength, to augment the lidar's field of view while maximising its performance.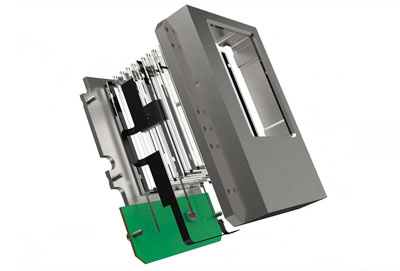 LeddarSteer is available to lidar makers and tier-1 suppliers for the design and production of long-range, high-resolution lidars in a complete solid-state form–with no moving parts to wear out or to be affected by shocks and vibrations present in an automotive environment.
LeddarSteer can be integrated into an existing lidar to expand the field of view, and in clean-sheet new lidar system designs. Signal-to-noise ratio is improved by concentrating laser power on a small region of interest; while size, cost, and complexity can be reduced with equal or greater pixel count and resolution.
Another interesting feature is "Flex View", which can alter the FoV; the resolution, and the number of acquisitions on a specific tile during operation on a frame-to-frame time basis. This provides a valuable advantage when dealing with hazardous objects or adverse conditions such as fog; rain, or snow. It is also perfect for switching between a highway and city setting.
LeddarTech also announced the official opening of their Sensor Fusion and Perception Development Centre in Tel Aviv, Israel, on 9 June. The event was hosted by CEO Charles Boulanger with VP and ADAS-AD sensor fusion and perception general manager Ronny Cohen. Dr. Ami Appelbaum, Chairman of the Innovation Authority and Chief Scientist at the Ministry of Economy and Industry in Israel, gave a guest lecture entitled "Smart Mobility—Israel's Potential, Opportunities and Risks.
---
DVN comment

Numerous laser beam deflecting solutions are proposed currently by lidar component manufacturers. It is a broadly-held opinion that in the medium term, mechanical systems will be pushed aside by solid-state technology, suppliers of which offer a broad range of technical approaches. As yet it is unclear which will be the winning candidates. Robustness; reliability; longevity, and cost will filter down the options to the ones best suited for automotive scanning lidars at feasible pricing.