In this year's DVN Study, a whole new approach involved working in a team with eight industry experts to define and describe the demands, interests, and influences of design, marketing, and lighting engineering inside an automaker. If you've not yet got your copy, you're missing out; it provides insights from behind doors usually totally closed except to insiders, to improve mutual understanding between automakers and their tier-1 and -2 suppliers. It's a tight, exciting-to-read study: Lighting under Pressure – Leveraging Tensions Between Design, Marketing, and Engineering.
This study provides readers with tools, resources and understanding to optimally configure and manage interrelationships with all relevant departments and stakeholders during new projects. It describes and explains how and why decisions are made, and by whom. The roles of design, marketing, and engineering in the early phase of the car process are described in unprecedented detail to give unique insight into how suppliers and automakers can best support each other—not just on the technical side, either; by reading this DVN Study you will come to understand the needs, wants, pressures, and daily headaches of those you work with. We have integrated dedicated messages for engineers, marketers, and designers. All in all, this is a fine piece of consulting work which would be tremendously more expensive to commission from a business consultancy; from DVN it's a screaming bargain!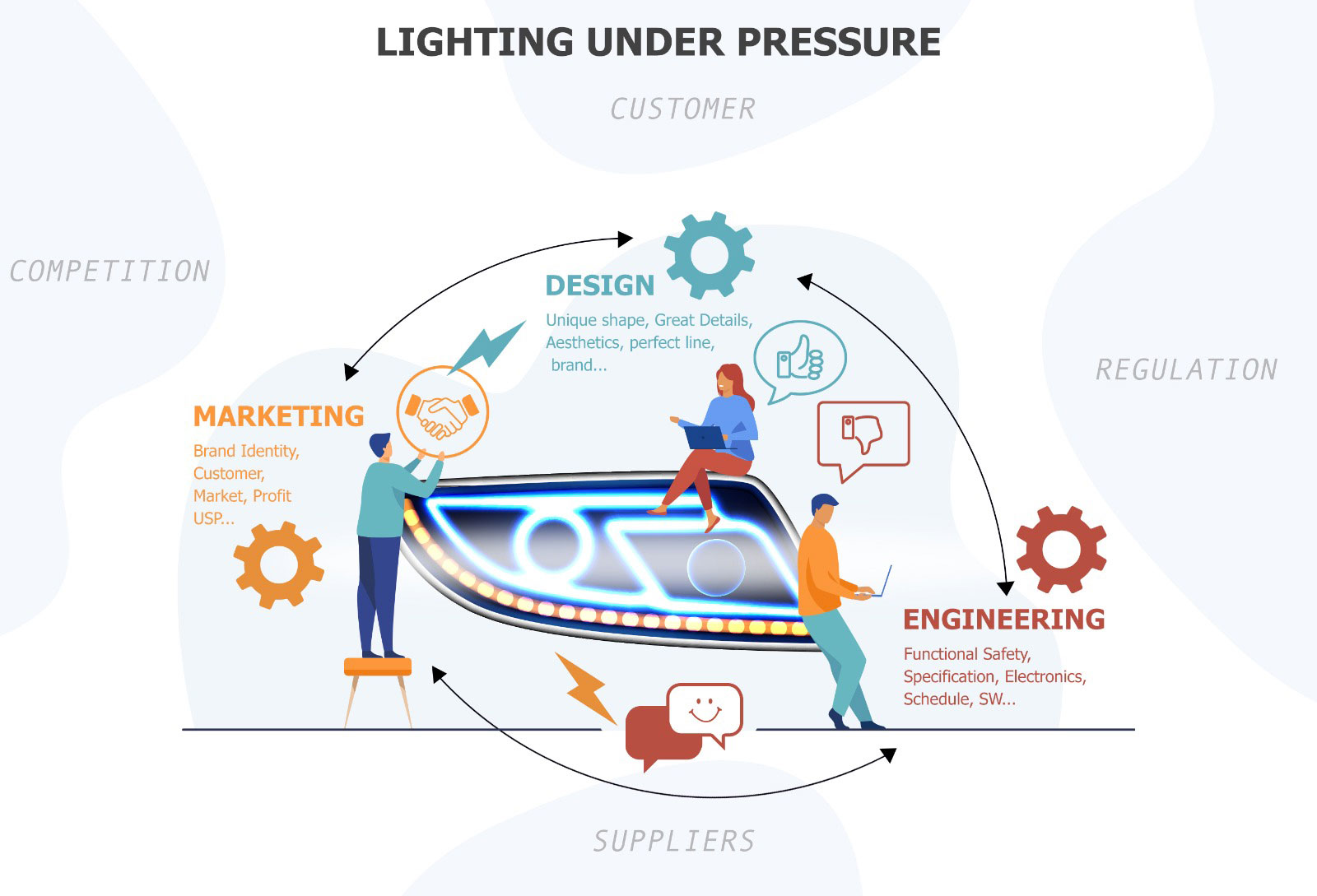 Feedback from buyers of this DVN Study has been overwhelmingly positive. Here's an example from from one of the greatest experts in marketing: These kinds of frictions between departments with different goals, targets and ways of thinking are daily experienced by hundreds of well motivated engineers, stylists, and marketing people around the world. [in this study] maybe for the first time these challenges and conflicts are clearly described and made transparent for potential common solution finding. Thank you all being interviewed as part of this study and providing insights out of their personal perspective!
As Jackie Marshall DiMarco, Ford's Vehicle Programs Director for F-Series and Commercial Trucks says in the preface of the study: The lighting community can reduce these omnipresent tensions through increased modularity as well as the harmonisation of lighting regulations and performance criteria throughout the primary markets. A higher focus in these areas will allow us to bring more innovative and safer products to the markets that relate to the significant automotive paradigm shifts that are under way.
Design of a vehicle is crucial as buyers are mainly influenced by style. The designer's role is important because they always have access to board members.
Their main demands are:
• A front signature being dominated by DRL,
• Thinner and thinner lamps, front and rear,
• In night-time, a signature by the illuminated functions, such as logos and grilles,
• A rear signature realised by the position lamp, often edge-to-edge,
• Decoration with precise internal design,
• Their involvement in new functions as displays, road projection, electric plugs.
Marketing is cyclical and plays different roles during the conception and full life of a car. In this study, and in conjunction with lighting we differentiate between: product marketing (spec); point of sales marketing (dealer support); advertising; after-sale marketing (owner support), and brand identify (continuous).
• Marketing has recognised the high value of new and innovative light functions and supports them for brand signature, identity, and sales success, even if these light features are cost intensive and without legal need.
• Brand value is an important parameter for globally active companies. Within the last decade, continuously about 8 carmaker brands are among the Top 50
• High ranking of a brand is not only a value in itself, but also allows to ask higher prices than competition at same product performance.
• A key component creating brand value is the brand signature which is significantly influenced by the lighting appearance at day and night. Examples of premium carmakers show that some brands kept their signature over decades, whereas others started a close to disruptive modernizing change at a certain point of time
Engineering has the obligation to stress the importance of lighting in relation with safety, and to surprise marketing with new lighting functionalities.
• Ultimately, marketing will need to follow lighting engineering when it comes to the lighting application in terms of final functionality and legal compliance.
• In the relationships between marketing and lighting engineering we observed:
either a strong marketing with weak lighting engineering leadership or strong lighting engineering leadership with weak marketing.
• Fast technological change as well as a change in end user behaviour need an adaptation of the capabilities of lighting engineering.
• Lighting engineering has the chance to strengthen its central role between program management, design, marketing, and safety in the future.
• User-experience engineering of lighting systems supported by software/AI skills and using sensor input can become a key differentiator.
• Conflict between engineering and design will lead to innovation or will lead to quality defects.