Session 1 • Automotive Lidar Applications
Ford: Prof. Dr. Peter Zegelaar • Automated Driving Journey
The challenge to go to automated driving is to manage the gradual delegation of driving to automata—hands-off, then eyes-off—for longer and longer periods. For this, Ford are currently acquiring experience with lidar short range sensors, representative in terms of technology, of what can be put into series later. We will need to integrate sensor systems that are redundant in terms of coverage and orthogonal in terms of measurement principles. Ford are therefore experimenting with different technologies—radars, cameras, and lidars—with this in mind. We must be able to detect any type of unconventional object (tire rubber strips, suitcase, bicycle, stopped vehicle) on the road and react automatically, promptly, and correctly to avoid them. At the same time, Ford are studying progressive visual, audible, and haptic warning systems to ask the driver to resume control of the vehicle in the event of failure or the imminent exit of the area where automated driving is possible. Flash lidar is one of the technologies tested on Ford's fourth-generation AD prototypes.
Volvo: Paul-Henri Matha • Status About Volvo Lidar Integration
The Volvo strategy is to have a lidar from Luminar placed in an optimal position on the roof to collect data on the environment around the car. A lidar is important, but by itself not sufficient. From the automaker perspective, sensor integration is a key issue and brings challenges including transmission through outer lens; location; contamination; cleaning; scratch resistance, and thermal load.
Constraints include:
• Power consumption: we can't accept a total AD load of 500 W while a great progress of 50W was done by the shift halogen bulbs to LEDs, right?
• Performance in fog, rain, snow, and other inclement conditions
• Regulations on AD signal with discussions inside UNECE while in China, three draft proposals for RID (Road illuminating devices); LSD (light signaling devices), and RRD (retro reflective devices) have been published.
Marelli AL: Frederic Chave • Versatile use of LiDAR modules into Smart Corner and grille
Key figures of the modular approach of Marelli are presented: a true full solid-state lidar, a large range from standalone, to grille and Smart Corner integration, lower development effort and time, and a combination of standard CMOS imager and last generation VCSEL array
The software Marelli solution uses an artificial Intelligence SW developed by a dedicated team inside Marelli organization, a combined deep learning/rules-based approach for redundancy, 3D objects detection and classification

Then the project TINKER is presented: 10 key industrial partners, 3 research institutions, 2 consultancy and service associations from October 2020 to September 2023 with the target to lower weight, power consumption, sensor size and costs, and to improve performance, reliability, safety of ADAS systems.
Timing is Fabrication of RADAR and LiDAR prototypes in 2022 and Demonstration/validation in 2023.

Session 2 • Automotive Lidar Applications
Koito: Akinori Ito • Impact of Lidar Performance Degradation
Koito have been integrating lidar in headlamps for several years; they consider this the best location particularly for short-distance scanning. But scratches by car washes or flying rocks; stains by dust, sand, and mud and water adhesion with rain or fog significantly reduce lidar efficacy.
For a better evaluation of the consequences on performance of these environment aggressions, Koito have realised a specific bench able to measure both the evolution of the maximum detection distance and the evolution of the detection position. The maximum detection distance is particularly decreased with mud, naturally in relation to the quantity of mud. Water droplets also strongly reduce performance.
The detection position is more impacted by droplets: a deviation of 20 cm for a target at 20 m. Mud likewise cuts performance sharply, while scratches have a more limited effect.

To reduce these effects, Koito recommend the use of post processing countermeasures. Koito have also developed specific cleaning systems with air jets to remove droplets, and with water projection to clean away mud. As cleaners are essential for lidar performance, Koito are pursuing efforts to improve these cleaning systems, still with the target to integrate lidar in headlamps.
ZKW: Georg Pitterle • Lidar Integration Solutions
ZKW are working to integrate lidars in lighting systems, on grounds that the four corners are very well suited for this application; headlamps offer protection and the best orientation thanks to existing levelling systems, and can readily be equipped with off-the-shelf cleaning systems. ZKW have analysed particularly the effects of integration for optics, cleaning, and thermics. For optics, they have taken into account all the possible effects both by the environment of the external lens or the effects of the external and internal coatings, both with road tests and in wind tunnels. To clean the lens in front of the lidar, they have analysed high-pressure water nozzles; coatings for omniphobic properties; air blowing, and heating systems. They have also analysed the thermal conditions, as the temperature inside a headlamp can rise to 105°C, that can exceed the maximum limit for lidars. Fans and other active cooling techniques are therefore indicated. After these different studies, ZKW think integration in headlamps is feasible and useful, but that other points have also to be taken into account like design, exchangeability, or technology dependency to choose between a full integration, a partial integration, or only an attached mounting.
Fraunhofer ILT: Andreas Brenner • Radar and Lidar Integration in Headlights
The target of this advanced development is to realise a smart headlight integrating both an advanced lighting solution and the two ADAS sensors that could be efficiently integrated in headlamps, a lidar and a radar. To optimise the packaging, the idea was to have a coaxial output, but with lidar and radar devices put in a perpendicular direction with their waves reflected by specific multispectral combiners.
The lidar system is designed on basis of a VCSEL array simple to address selectively. Detection is done using SPAD arrays, so with no movement. The key innovation here is to use signals with coded signature for being protected against interactions with other lidar systems.
The radar FHR has high resolution and an extended field of view, and for lighting, segmented light sources with apertureless microoptics are used. Finally, one of the key elements is the multispectral combiner that has several facets functioning via coating and laser structuring in different manners.
There is a common field of view for the three kinds of waves. Current packaging of H270 × L235 × D480 mm is too large for a quick implementation.
Session 3 • Market and Ecosystem
LeddarTech: Franz Saintellemy • Why Flexible Platforms are Required for ADAS/AD
Franz Saintellemy gave an excellent presentation on the importance of partnerships in the automotive lidar ecosystem. Partnerships are in the DNA of LeddarTech, and they very advanced in making assessments on partnerships and execution.
VSI Labs: John Cooper • How Sensor Avancements are Adressing Higher Levels of Automation
VSI Labs John Cooper made a lively presentation on the importance of sensor evaluation. VSI have the capabilities to measure, test, and compare various sensors such as cameras, lidars, and radars, with a neutral and agnostic approach.
Yole: Pierrick Boulay • Lidar Technology Roadmaps
Pierrick Boulay shared Yole's lidar market research on lidar and the lidar ecosystem. He showed us the landscapes of the many different active companies and various technologies used. The combination of multiple ADAS applications is needed to reach high level of autonomy, and requires increasing need of sensors. Mechanical lidar at 905nm still dominates the market. There is not one lidar that fits all applications. The lidar market is expected to grow fast after 2023, to reach more than $2bn in 2026.
Carhs Training: Ralf Reuter • NCAP Roadmaps Regarding Accident Avoidance Systems
NCAP programs around the world will add multiple scenarios in the future, including intersections requiring larger angles, nighttime operation, VRU detection and avoidance, and oncoming cars at high speed. For our lidar community, it will be crucial to keep an eye on the future NCAP initiatives. Although NCAP will not recommend any technology as such, the scenarios they define and the potential role lidar can play are important factors which can influence strongly the automotive lidar adoption curve.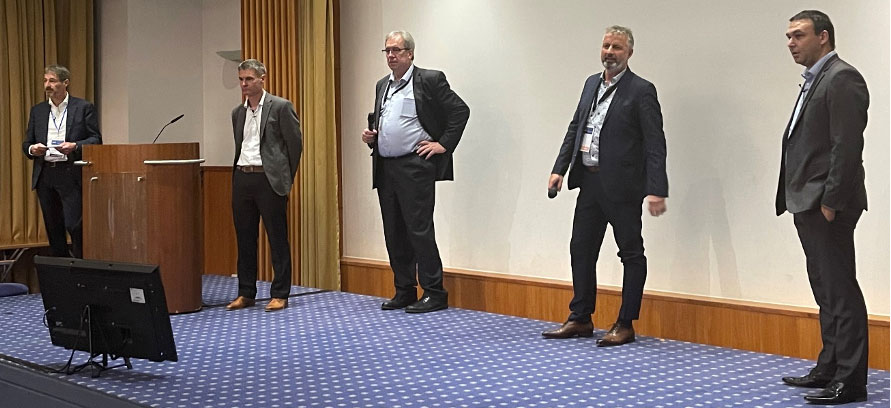 Session 4 • Automotive Lidar Systems 1
Cepton: Brunno Moretti • High-performance Lidar Scalable for Auto Application
Cepton have developed an affordable, reliable automotive lidar. They have chosen for the illumination a 905-mm edge-emitting source due to its low cost—less than $1—and its brightness. They use time-of-flight detection with Si PAD for its simple design and low cost, and MMT (Micro Motion Technology) imaging to form 3D images. They have developed their own ASIC to combine the illumination control and detection functions. Their compact Nova Lidar is for near-range applications. It can be placed behind the windshield, behind the front fascia, or in the headlamp as done in a common study with Koito.
Cepton have developed specific software—the Helius Smart Lidar System—for vehicle and people classification and tracking. They are also claiming to have the industry leading frame rate at 380Hz with various applications like e-tolling or vehicle/container scanning.
Xenomatix: Filip Geuens • How to Assure a Clear View for Solid-State Lidar
Xenomatix are developing multibeam lidars targeting a homogenous resolution with no gaps between scan lines, simultaneous measurements with a global shutter, no aging or calibration drift, and easy assembly. These lidars could have applications naturally for ADAS, but also for road scanning to assess the road quality. To maintain lidar performance, Xenomatix have collaborated with Kautex on developing tests to analyse different materials including Gorilla Glass, hardcoated polycarbonate, and soda lime glass. These tests were done with various cleaning parameters: pressure, duration, nozzle position and shape, and water:air ratio. In the end, Xenomatix obtained good results with their compact multibeam XenoLidar modules, and concluded that close cooperation with tier-1s is necessary for good final results, particularly for cleaning as the design and parametrisation of the cleaning system as well as the choice of the cover material and the coatings are part of the lidar integration exercise.
Ibeo: Mario Brumm • How Solid State Sensors are Making AD Suitable for Mass Production
Ibeo have been in the lidar business since several years, having introduced their technology in the Valeo Scala automotive lidar in 2017. They are now preparing a new generation, the IbeoNext, with a SOP in 2022. Its development is supported by strong investors convinced that lidars will have strong sales increase, with increasing importance of the solid-state technology chosen by Ibeo. IbeoNext will be a lidar for corners, and Ibeo are saying it will be the only system to address all corner cases like detection of small obstacles with high resolution, overhanging truck loads, and close cut-ins. They have developed standardised transceiver plates for all sensors, a variety of optics for different FOVs, and lidar software.
Blickfeld: Terje Noevig • Seamless lidar integration
Blickfeld are a relatively young German company, founded in 2017 with presence also in Palo Alto. One of their is seamless sensor integration compared to some initial bulky sensors particularly when they are on vehicle roofs. Blickfield's solution is compact lidars called Vision Mini, packaged in a 5-cm cube. These are aimed at providing safety in ADAS and AD applications, but also for comfort for instance with pothole detection and automated door opening.The evolution of norms—particularly EuroNCAP which will tighten the requirements in 2023-24 for VRU protection to obtain a 5-star rating, or the possible integration of car-to-car junction scenarios—will certainly boost the need of lidars on vehicles.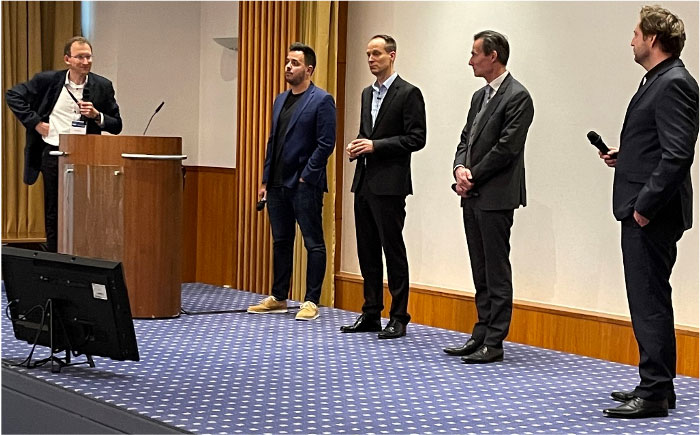 Session 5 • Automotive Lidar Systems 2
Continental: Heiko Leppin • High Performance, Agile Lidar for Flexible Integration
Heiko Leppin, a senior expert for lidar architecture, covered topics on lidar technology and vehicle integration in combination with use cases as well as cleaning. Flash lidar can best serve short-range use cases, whereas MEMS lidar is developed together with AEye for long range sensors. Preferred positions for lidar sensors in a vehicle are grill, roof, headlamp, and windshield—depending on use case. Different methods of lidar lens cleaning are available, and will become an important element in real-life application success of lidar systems.
AEye: Hod Finkelstein • Intelligent Lidar: A Pragmatic Approach
In his talk, R&D chief Hod Finkelstein addressed the topic of lidar implemented with intelligence. One of his clear statements was that for the automotive market, lidar systems have to deliver reliable data even under adverse conditions, be of small size, draw little power, and have low cost. AEye's approach to support this direction is a "bistatic" lidar hardware which is affordable and mechanically robust. The key element of the system is intelligent software which controls scanning of the scene and gathers data depending on the density of objects. In areas where object density is high, scanning is repeated with higher resolution to gather more reliable information.
Lumentum: Matt Everett • High-Power VCSEL Arrays for Next-Generation Lidar
Matt Everett is the sensing product line manager at Lumentum. In his talk, he presented the newest developments in VCSEL and array technology. He explained why latest multi-junction VCSEL array chips have superior benefits for ToF lidar systems. Addressing individual emitters of the VCSEL array will allow an optimal match between the VCSEL emitter and the lidar detector topology. VCSEL arrays have the advantage of proven reliability in other applications, and a high-volume production infrastructure is available. Additionally, they can enable simpler optics, feature high peak power densities in pulsed operation, and support more options for lidar architectures.
Liangdao: Shiyao Shou • A Location-Independent, Lidar-Based, Real-Time Approach for Validation of Lanekeeping Assistance and Lane Departure Warning Systems
This presentation by software engineer Shiyao Shou incorporated as an interesting element, that lidar was not used as a safety feature of the vehicle itself, but to test and measure the ADAS performance of a lanekeeping or lane departure warning assist. Extension of the testing system to other ADAS functions like AEB and ACC is planned.

Session 6 • Technology Enablers
Auer: Christian Paßlick • Multilayer Coatings Enabling Sensor Solutions
Dichroic coatings create precisely-defined optical interference between the reflected or transmitted partial beams of incident light. An alternating-layer system is usually used, consisting of a material with a high refractive index like TiO2 (n=2.7) and a material with a low refractive index like SiO2 (n=1.46). Reflectivities and transmissions of almost 100 per cent can be achieved for a selected wavelength range. Coatings maximise the light signal, increase the distance and accuracy of the laser ranging, minimise background noise, and protect against environmental influences.
Canatu: Juha Kokkonen • CNB Heaters as Key Enabler of Any-Weather Safe AD
Conventional wire heaters cause wavefront distortion blocking the optical path of the light and heating wires obstruct the camera sensor field of view causing pixel distortion. Canatu propose their CNT films to overcome this. They offer record-high transparency and conductivity, ultra-low haze, and no reflection. They're wire-free to enable maximum transmittance. These thin-film heaters offer even heating across the entire surface because the whole surface is conductive. They're 3D-formable, enabling easy integration in lidar sensors embedded in the front bumper, emblem, or other parts.
Kyocera SLD: Jisip Kovacevic • All-In-One Enabler for Ranging, Lidar and LiFi
Laser light is brighter than LED (1100 vs 200 cd/mm2), smaller (350 µm vs 1 mm), and faster (>2 gbps data transfer vs 100 Mbps). The DataLight LiFi today can be 20× faster than 5G and WiFi with up to 10 gbps out to 1,000 m (long range); 20 gbps between 10 and 50 m (mid range), and 100 gbps out to 10 m (short range).
AMS Osram: Clemens Hofmann • Lidar System Advantages Using 905nm
AMS Osram are developing a laser wavelength stabilitytechnology for significant lidar performance improvements. Key characteristics:
– Halving the optical filter bandwidth increases the range by 15 to 30 per cent vs existing laser technology, and/or keeping the achievable range to a target the same, the λ-stable laser can be driven at 25 to 40 per cent lower power level versus standard lasers;
– Removing any TEC, the associated power consumption, and processing necessary for monitoring and activation will yield lower system costs, and
– By narrowing the spectral operating range of the laser, photodetector technology can be optimised to improve responsivity and efficiencies for overall lidar system performance improvements.
Panel 1: Lidar Market and Ecosystem
moderated by Leo Metzemaekers, DVN Senior Consultant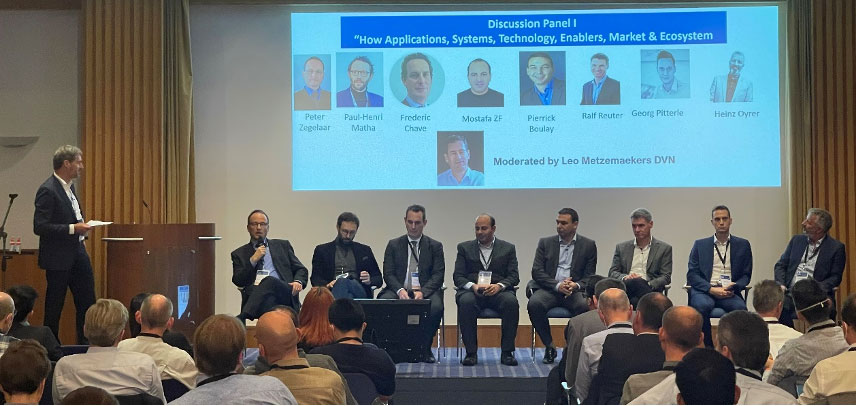 Eight panel members representing Ford, Volvo, ZF, ZKW, Cahrs Training, Marelli, LeddarTech, and Yole discussed the automotive lidar ecosystem. The panel addressed questions of why lidar is essential, as well as technology accelerators, enablers, and roadblocks. The panel compared a competitive (solo) versus cooperative (partnership) ecosystem approach. We saw consensus that partnerships will play in important roles in the further adoption of lidar and that the availability of common test and evaluation procedures will also become crucial.
Panel 2: Cooperation opportunities of lidar suppliers and technology enablers to improve market adoption
moderated by Ralf Schäfer, DVN Senior Consultant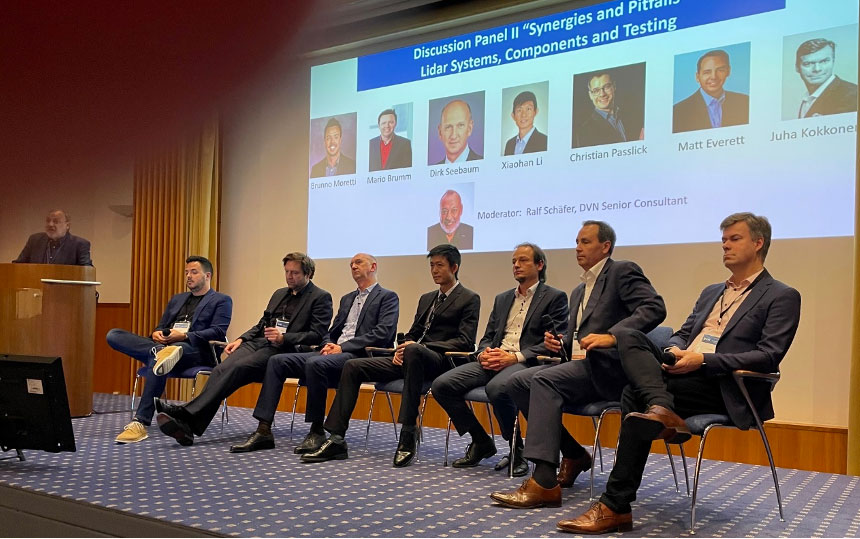 Panel 2 was devoted to the co-operation along the value chain.
Members of this panel discussion were Brunno Moretti (Cepton), Mario Brumm (Ibeo), Juha Kokkonen (Canatu), Niklas Andermahr (Dioptic), Xiaohan Li (Liangdao) , Matt Everett Lumentum) and Dirk Seebaum (Trioptics) .
During the discussion, it turned out that the statements of the panel members converged to a main opinion about co-operation along the value chain. In logistic and commercial terms, a "standard linear" pattern will develop from OEM to T1 and T2/3. On the other hand, a tri-angular or even circular communication pattern about technical as well as marketing aspects has to evolve along the supply chain. In this way lidar market adoption can be supported best by all players in the field. DVN conferences and activities can contribute to generate this type of communication scenario.