The DVN community clearly expressed its wish to interact again in the most direct way—we all want to get back to normal. This is also the intention of our conference, but at the same time all the Covid pandemic is not over. Of course, we are all looking forward to meet each other in person again, but on the other hand participants need to be safe and this has the highest priority.
Last month, we received information, based on the directives provided by the German Government, that if we assure that all conference participants are vaccinated and/or are recovered from Covid 19, we are allowed to organise our conference without additional restrictions such as masks and distancing.
We thought hard and carefully about whether to restrict access and check participants' vaccination/recovery status and decided to plan our conference for vaccinated or recovered participants only. Thus, we can allow personal contact in a safe environment. We will organise this conference as a live event only, not as a virtual or hybrid one. We ask your understanding and support of our approach.
We registered a record number of 23 exhibitors and sponsors as you can see in the graphic. The maximum of two hundred allowed attendees has posed a limit to the number of participants for the event.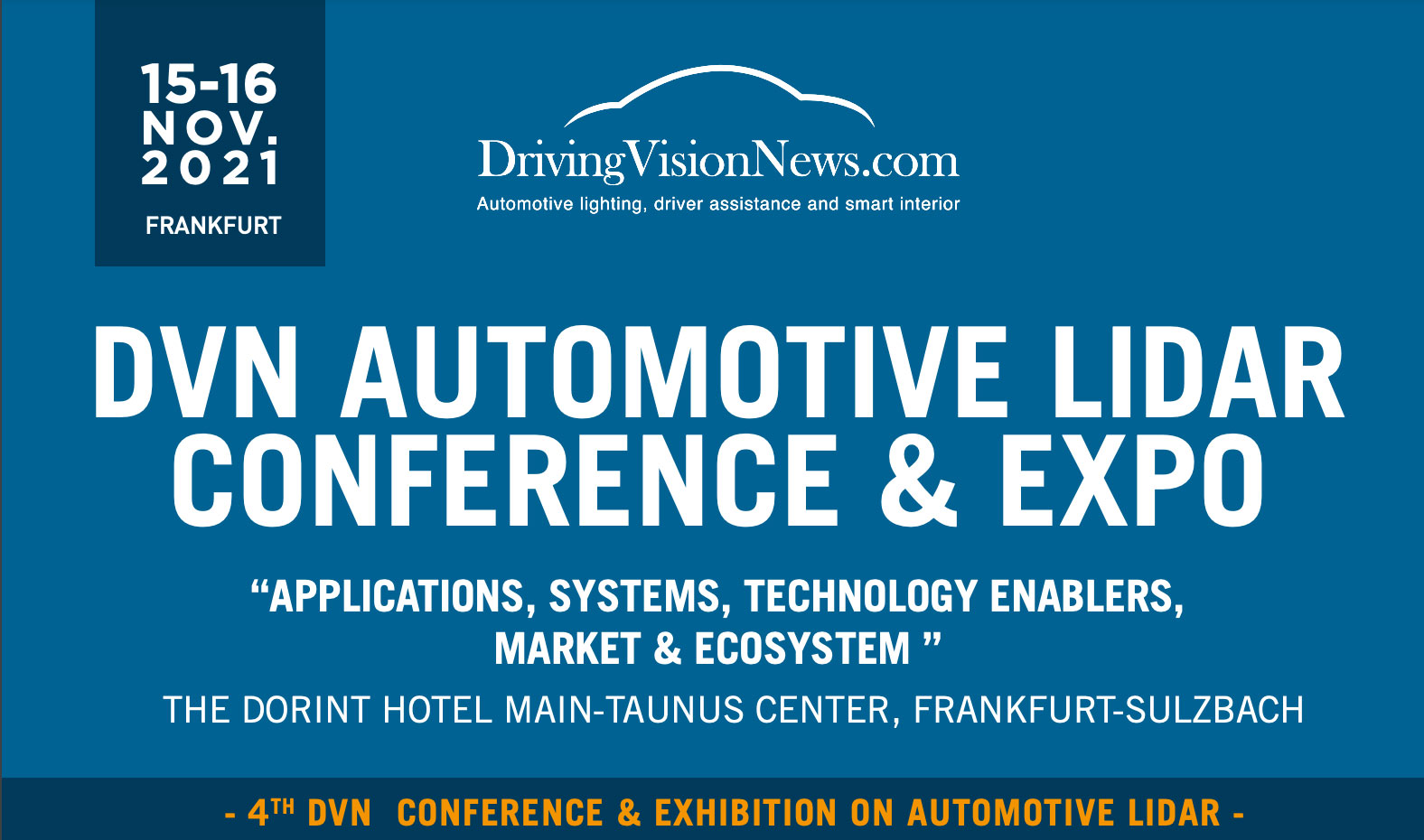 Additionally, we observe two important trends evolving for this conference:
Existing as well as new stakeholders out of the LiDAR Eco-System are bringing in their vision about the future of LiDAR in the automotive environment. Therefore, DVN has organized a specific session related to "Market & Ecosystem" involving speakers expressing their view on the LiDAR ecosystem, expected market developments, but especially also the link to NCAP and Active Safety research.
Tier2 technology suppliers are covering a significant space of the conference docket with their contributions to make automotive LiDAR commercially and from the "real life" application feasible. Advances in components, testing and manufacturing technologies as well as solutions to environmental challenges like dirt, fog, snow and frost are under discussion.
DVN will give follow-up to this European based conference by considering its extension to North America and Asia. Furthermore, the foundation of a LiDAR Community like the existing DVN Lighting Community is another viable opportunity to promote use of Automotive LiDAR further.
DVN Automotive Lidar Conferences: More and More Success
In 2017, DVN saw quite some similarities and potential synergies between the automotive lidar and the automotive lighting industry. Therefore, the DVN team started serious investigations of the lidar industry, which resulted in following activities:
The regular DVN newsletter gave more attention to news from the lidar ecosystem.
A study was launched and published in 2019 with the title "Automotive LiDAR: Hype or Must Have".
A series of yearly conferences was started in 2018 and is this year continued with its 4th edition.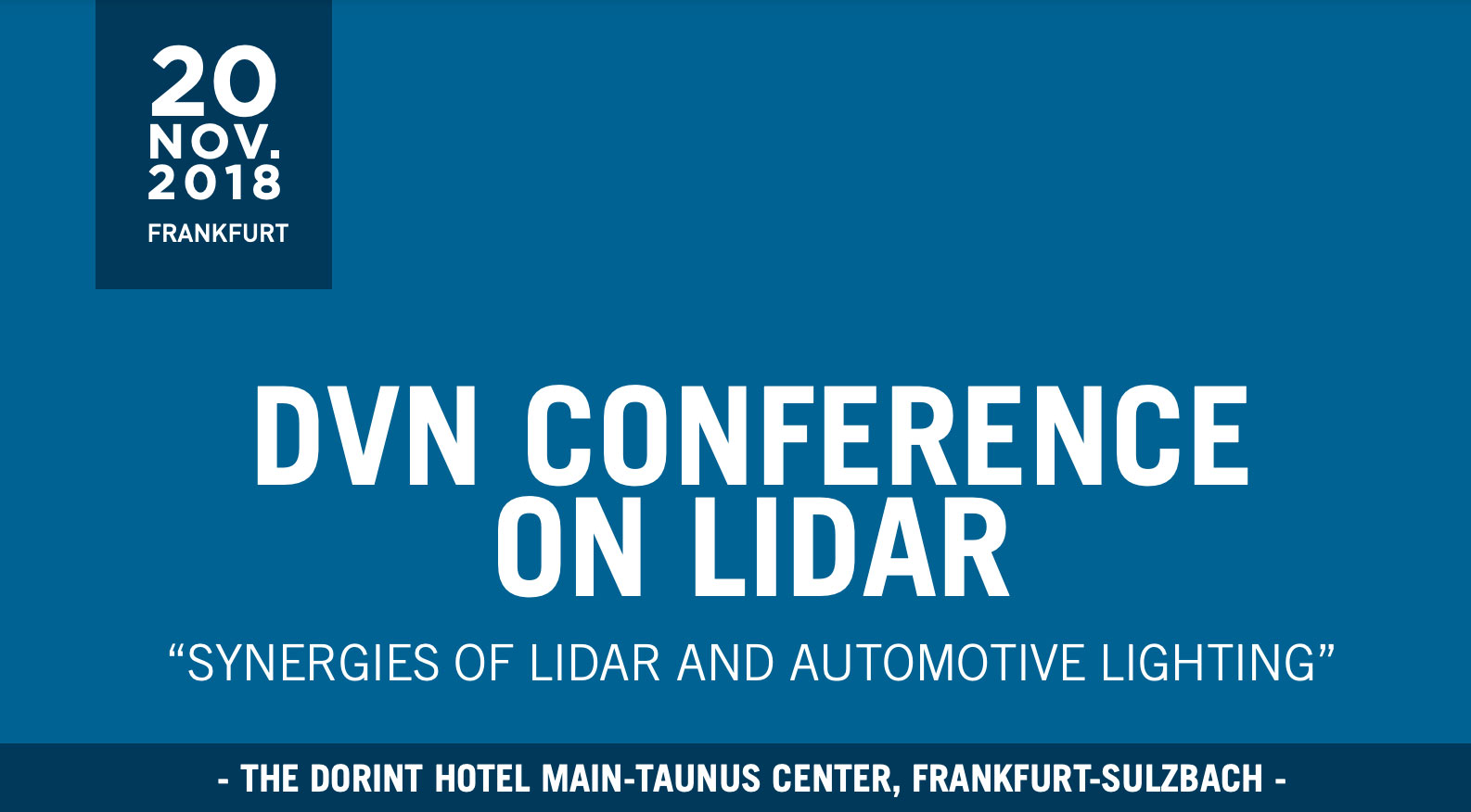 The first DVN Lidar conference in 2018 increased and expanded reciprocal knowledge of lidar and lighting technologies and techniques and brought together the lidar and lighting worlds to get to know one another much better. This first conference featured 11 exhibitors (see in the graphic) and brought together about 80 attendees.

.
At the end of the conference, DVN was proud of the lidar and lighting community members now talking with and listening to one another, most of them having not met before the conference, even those who work in the lidar and lighting departments of the same company.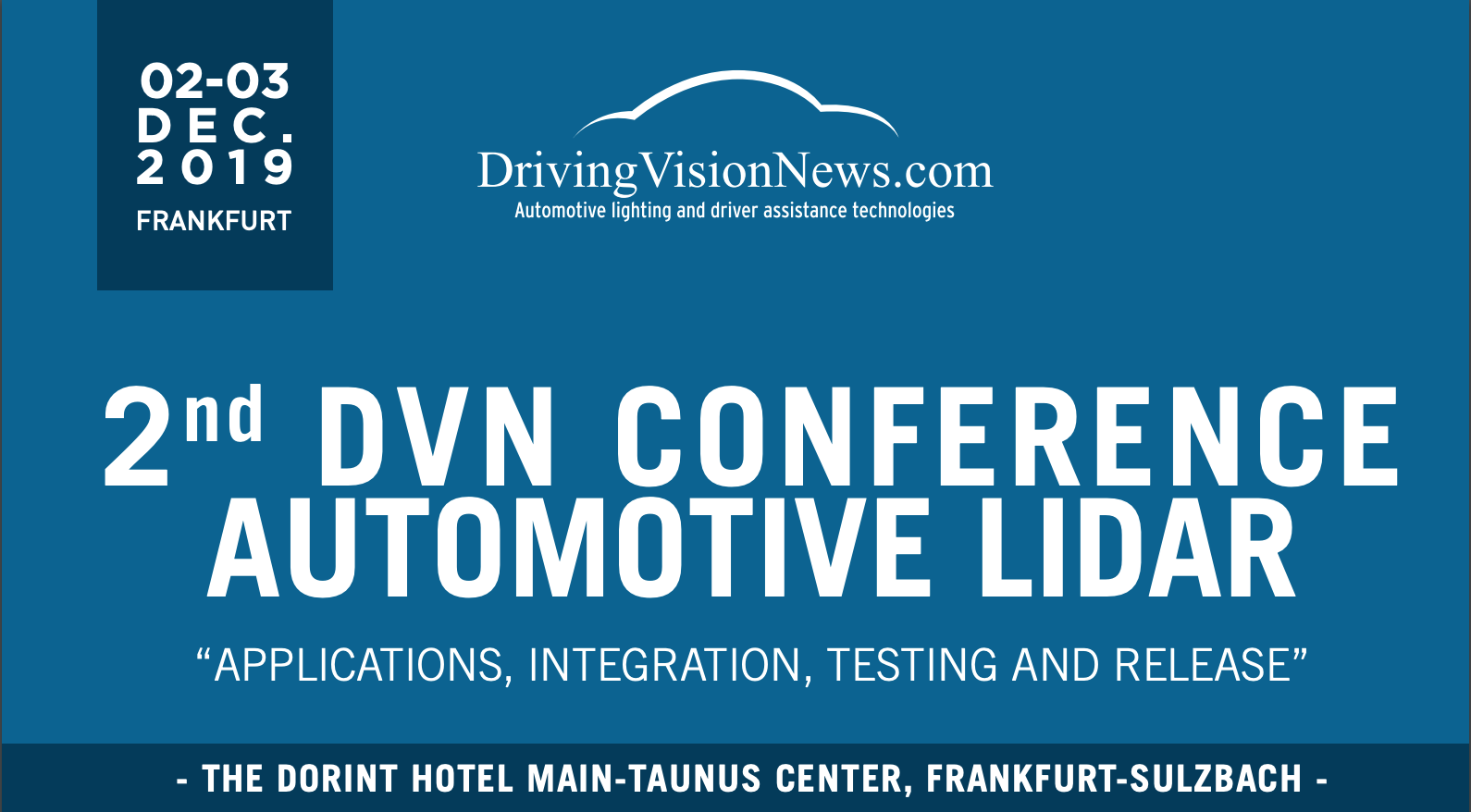 The second DVN Lidar Conference in 2019, took place again at the Dorint Hotel in Frankfurt. An enormous diversity of companies attended and contributed to the event, automakers, tier-1 and -2 suppliers of lidar and lighting systems and components, materials, and equipment, and researchers from various institutes. Attendees came from Europe, North America, Japan, Korea, and China, reflecting global interest in lidar for use in roadgoing vehicles.
All in all, over a hundred companies and institutions were represented—that's almost twice the number of 2019. Every last seat in the conference room was taken by the more than 200 attendees.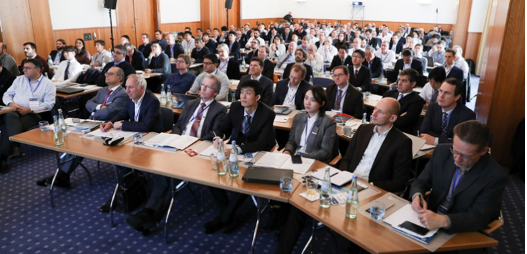 In the extended expo booth area, 14 exhibitors presented their products and services.

The conference closed with two discussion panels kicking around the questions of how fast automotive lidar will be adopted, and whether lidar will impact vehicle lighting. On both questions there is not yet a consensus within the automotive lidar and lighting industries.
Looking with a helicopter view on the event, the quality of presentations and speakers, the highly interested audience as well as the lively discussions and networking during breaks, cocktails, and dinner encouraged DVN to plan a third conference with a similar format in 2020. Unfortunately, this plan was disturbed by the Corona pandemic.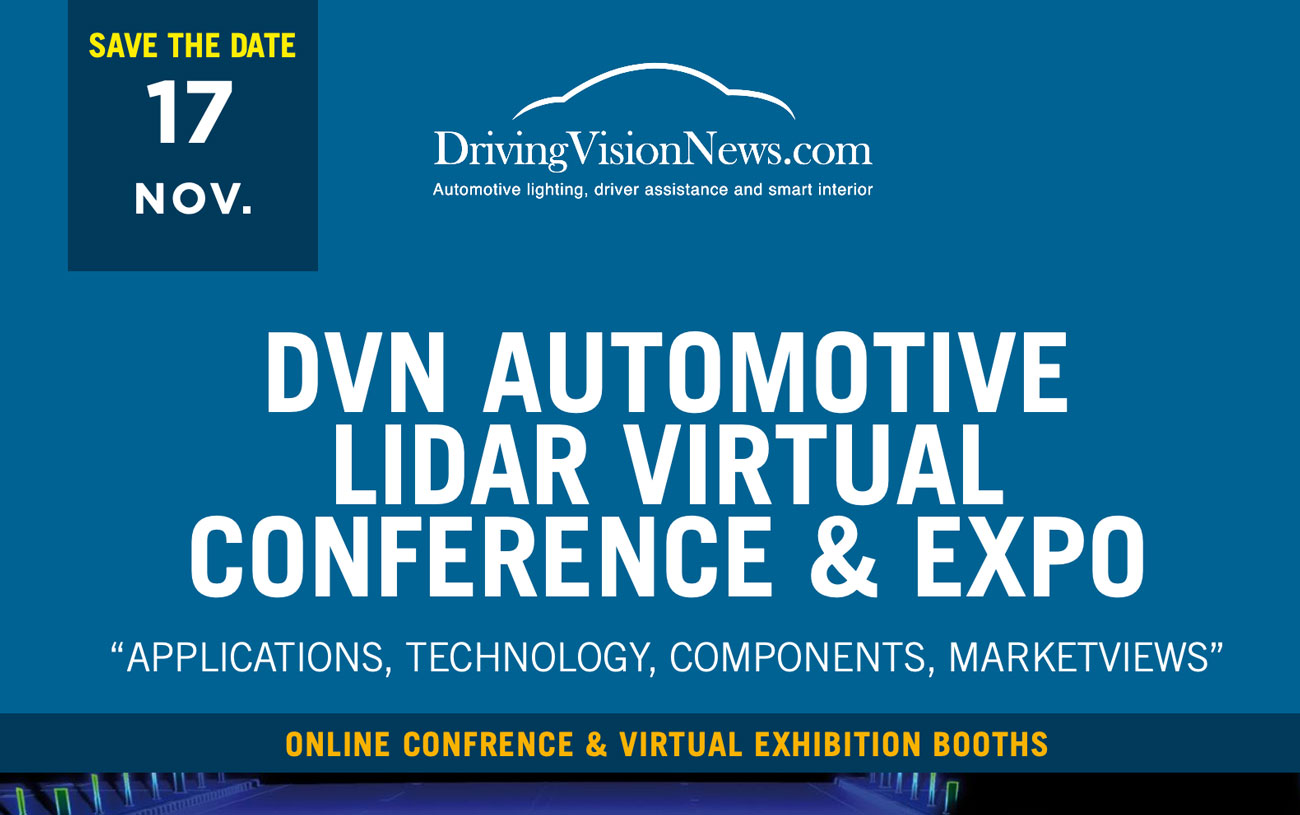 The third DVN Lidar Conference in 2020 was an online conference.At DVN, we observed the developments and tendencies around the pandemic very carefully. The team prepared the 2020 conference in the beginning still as a "live" conference with a back-up plan to switch to virtual. At the end of the summer period, it became obvious, that the probability of a "live" event diminished more and more. Therefore, DVN started full steam with setting up of a virtual conference. One of the challenges was the organization of the exhibition. At in-person workshops, the kind we all got accustomed to over many years, exhibitions represent a great part of the workshop; attendees physically visit the booths, talk with exhibitors presenting their products, and leave with a lot of information to be used in later meetings. That was not safe right in the middle of a pandemic, so DVN has devised virtual booths to provide almost the same opportunities. Virtual booth visitors can chat with suppliers and customers while getting two additional benefits:
• The virtual booth offered easily-accessible video and photo galleries, downloadable brochures, and key company contacts.
• Every virtual booth was visible for a full week after the day of the event—for attendees and also by the greater DVN audience—thousands of Lighting and ADAS professionals.

In total, 13 virtual expo booths were available for visits by the public.
Another challenge was the organization of the presentation part of the conference. Session introductions by the chairpersons as well as speaker talks all had to be pre-recorded and combined to a consistent conference schedule. In this context, special attention had to be given to the execution of the Q&A sessions which took place as a "live" chat even in view of the considerable time differences between North America, Asia and Europe.
Under the given circumstances and constraints, DVN was happy with the organization and outcome of its 3rd conference. Nevertheless, all of us at DVN are really looking forward to meet again face to face and fortunately the current pandemic situation allows our Forth DVN Lidar Conference in 2021 as a "live event" in Frankfort.