The DVN team are excited to announce the 2021 Lidar Conference as a good old-fashioned 100 per cent live event! It will take place on 15-16 November with as few pandemic-related restrictions as possible. Our intent is an event to equal the networking opportunities brought to the lidar community during our 2018 and 2019 Lidar Conferences; this year's location is once again the well-known Dorint Hotel in Frankfurt Sulzbach.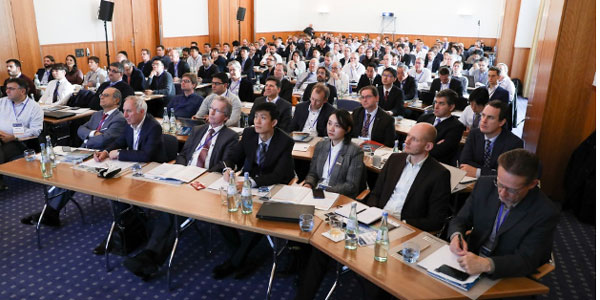 Here is the draft docket, with information about the various sessions:
Day 1: Monday 15 November
Opening of conference; keynote speech 1
Dr. Andreas Teuner, ZF ADAS engineering VP, on the inclusion of lidar technology for L2-3 vehicle development.
Session 1: Automotive Lidar Applications I
Automakers will share their views on what it takes to implement lidar in a vehicle, and their thoughts and cost/benefit perspectives on if and why lidar has to be added to a car. Tier-1 system integrators will describe their innovations and thoughts on how lidar can best be integrated in vehicles. Presentations are expected from BMW, Ford, Volvo, and Marelli-AL followed by Q&A.
Example:
Frederic Chave, Marelli's ADAS sensor product and business development director, will present Versatile Use of Lidar Modules into Smart Corner and Grille.
Session 2: Automotive Lidar Applications II
Automakers and tier-1 system integrators will describe their perspectives and innovations on lidar integration in vehicles. Lectures are confirmed by Stellantis, ZKW, Koito, and Fraunhofer ILT, followed by Q&A.
Examples:
ZKW's Autonomous Driving Technology Manager Georg Pitterle, will present Challenges of Lidar Integration, About Thermal, Cleaning, and Lens Issues
Koito's Lidar Manager Akinori Ito will present Impact of LiDAR Performance Degradation Caused by Outer Factors on Headlight Lens
Session 3: Market and Ecosystem
This session will address drivers and scenarios on the evolution of the lidar market in value and volume. Special focus will also be given to partnerships and special promotion of lidar to propel the market. Lectures are confirmed by VSI Labs, Leddartech, Yole, and Carhs Training followed by Q&A. Examples:
• LeddarTech's President and CEO Frantz Saintellemy will give a presentation on Why Flexible Platforms Are Required For Future ADAS/AD Deployments;
• Yole's Market and Technology Senior Analyst Pierrick Boulay will discuss his view on
Lidar Technology Roadmaps;
• Ralf Reuter, who is Marketing and Operations Director of Carhs Training, will discuss NCAP Roadmaps Regarding the Assessment of Accident Avoidance Systems.
Panel Discussion I
The first panel discussion will bring experts and executives together to discuss a challenging theme provided and moderated by DVN. Audience participation will be facilitated and encouraged!
Social cocktail and welcome dinner
Day 2: Tuesday 16 November
Opening of the second day: keynote speech 2
by Clement Nouvel, Valeo's Lidar Business Line Manager
Session 4: Automotive Lidar Systems I
Lidar suppliers will present their latest developments, roadmaps, and market experience.
Lectures are confirmed by Cepton, Xenomatix, Ibeo, and Blickfeld, followed by Q&A.
Examples:
• Ibeo's Global Operations Director Mario Brumm will propound on How Solid-State Sensors Are Making Automated Driving Suitable for Mass Production.
• Xenomatix's CEO Filip Geuens will give a presentation about some real-life challenges of lidar: How to Assure a Clear View for Solid-State Lidar.
Session 5: Automotive Lidar Systems II
More Lidar suppliers and specialists will define and describe their innovations and efforts. Lectures are confirmed by Continental, Velodyne, Lumentum, and Liangdao, followed by Q&A.
For instance:
• Lumentum's 3d Sensing Product Line Manager Matt Everett will give a talk on High-Power VCSEL Arrays for Next-Generation Lidar Systems.
Session 6: Technology Enablers I
Specialist companies in the field of optics, light sources, measurement systems, and materials will present their latest developments. Lectures are confirmed by Auer Lighting, Canatu, KSLD & University of Strathclyde, and Osram,followed by Q&A.
A sample of the docket:
• Auer Lighting's Senior Sales Director Christian Passlick will describe his company's work on Multilayer Coatings Enabling Advanced Sensor Solutions;
• Canatu CEO Juha Kokkonen will present a new transparent heater technology: CNB Heaters as a Key Enabler of Anti-Weather Safe Autonomous Driving;
• KSLD Business Development Director Josip Kovacevic and University of Strathclyde LiFi Research Director Harald Hass will present about LaserLight, the All-In-One Enabler for Ranging, Lidar and High Speed LiFi, and
• Osram Opto Semiconductors Senior Lidar Expert Clemens Hofmann will describe Lidar System Advantages Using 905-nm Lasers With Wavelength Stability Technology.
Session 7: Technology Enablers II
More optical, light source, metrology, and materials specialists will present their latest developments, with lectures confirmed by Dioptic, Fraunhofer IMS, Trioptics, and 3M, followed by Q&A.
• Dioptic's Inspection Systems Division Head Niklas Andermahr will describe his company's perspective on Optical Quality Testing of Lidar Sensors;
• Fraunhofer IMS' Mobility Head Jennifer Ruskowski will give a talk about the Future of Flash Lidar Components and Embedded KI for Lidar;
• Trioptics' Automation Manager Dirk Seebaum's presentation will describe Solutions for Optical Alignment in Mass Production, and
• Jonah Shaver, a 3M Senior Development Engineer, will discuss 3M's latest progress about
Considerations for Lidar Operations in Inclement Weather Conditions.
In the first two sessions, automakers and tier-1 suppliers will give their views on the application roadmaps of lidar sensors and will discuss the opportunities of this technology for ADAS and autonomous driving. A special topic will be integration of sensors in body components like headlamps and roof structures.
Session three has a special focus on the lidar ecosystem's development and on expectations on lidar market developments and will highlight safety aspects required by future NCAP evolution. An adjacent panel discussion will highlight key questions and involve the audience.
In sessions four and five, leading lidar suppliers will present their experience with automotive lidar and address their challenges and expectations for the next five years until real L3 autonomous driving will become reality.
Sessions six and seven will address technologies to support the reliability of lidar systems under realistic conditions like snow, ice, rain, sandblasts, high humidity, exhaust fumes, and suchlike. This year's conference throws a strong light on component technologies which can enable lidar system suppliers to overcome or manage obstacles like these.
Another very important topic in this context, of course, is testing of lidar systems under various use cases, conditions, and applications with the ultimate goal to reach a common standard.
A panel discussion about the challenges of lidar systems in their automotive real-world applications and ways forward to come to a common solution for such issues will close the second day.
As you can see from the docket, there will be ample time for individual communication and networking during the coffee breaks, lunches and especially the social cocktail and dinner as a highlight on the first day.
Expo booths adjacent to the conference will provide an ideal composite venue for showcasing innovations and development work by a variety of companies.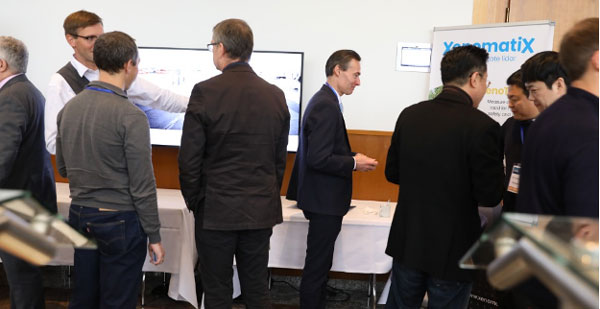 Here's a matrix of corporate-sponsor participants already engaged:
The DVN team are really looking forward to this live event with the lidar community again and we will do our best to make it a remarkable, thrilling event for all of us, to the maximum degree possible!