In this In-Depth I want to highlight some selected information beside the well communicated concept cars and product innovations of the big car makers. You will find everything about the car lighting innovations and designs in the following DVN IAA Mobility report which arrives today for you to download.
In this In-Depth I want to show some interesting details and impressions only DVN provides to you.
Let us walk together through the halls of the Munich fairground. From the east entrance you pass the two bike halls which often were empty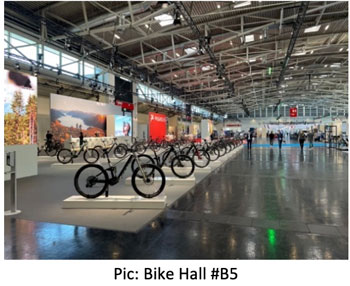 The first hall with automotive contend was #B3. The very first booth you see is Velodyne's booth.
Velodyne, a lidar maker, supported by Seoul Robotics. The lidars on display had a wide range of sizes and performance—learn more about lidar, including the Velodyne range, this November in Frankfurt at the DVN Lidar Workshop. This first booth was a surprise for me, and shows clearly that the fairground part of the IAA Mobility was mainly for experts.
Qualcomm's booth was located nearby, a microchip maker well known in the smartphone industry who are working to enter the automotive market with an in-house business unit. Many more such high-tech companies joined for the first time a motor show—both an effect and a driver of this show being different to all others. The whole of Hall B3 along with the complete fairground part of the show would have been right at home at CES. I am sure we can expect other motor shows following this example. Interesting changes are ahead of us.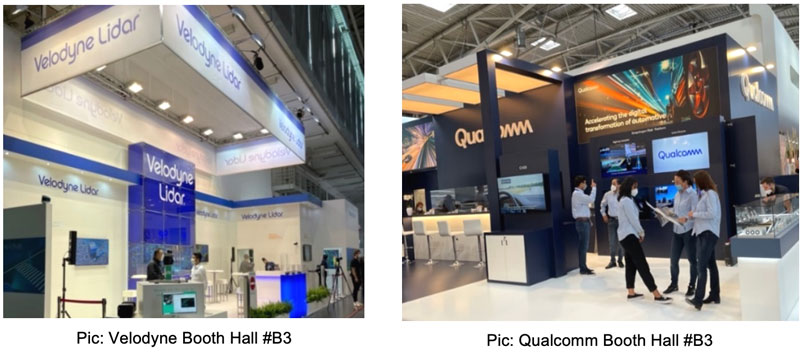 Wey, Great Wall's luxury brand named for owner Mr. Wey, was one of the few Chinese exhibitors besides Huawei. Here is the Wey concept car, showing off its huge interior space: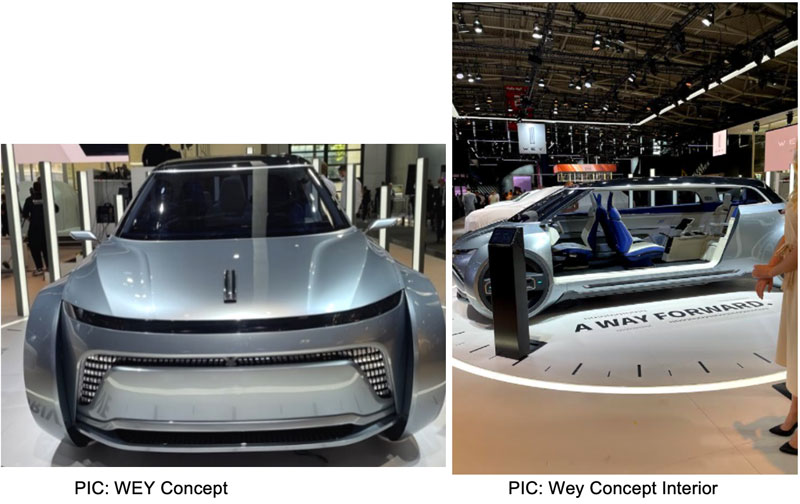 Mercedes' booth was the most interesting in the whole hall. Beside the full fleet of EVs, Mercedes showed their newest safety concept in several displays. An open cut S-Class shows the major safety elements, and of course the headlamps and rear lamps were part of this. Detailed explanations were given of the headlighting system with high resolution DMD projector and additional matrix beam.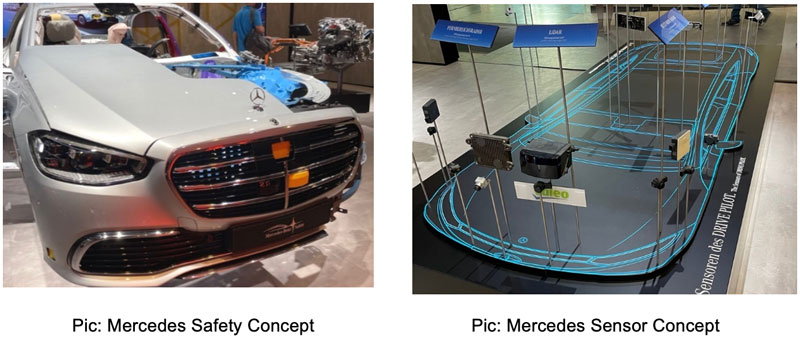 Most unexpected for me was, that the Mercedes Sensor Concept display included the names of the technology suppliers—a new communication strategy! Until now car makers never mentioned the suppliers, not even in the high-tech field. The Sensor Concept includes radars, lidars, ultrasonic sensors and cameras, plus something new: A microphone in the wheel cover listening to the sibilant sound of wet roads to detect if the road is covered with water but the wipers are not in function because the windshield is dry.
Hyundai's Robotaxi bears a number and size of sensors to beat the Mercedes Sensor Concept by far, as you can see in the photo. Of course, for another purpose and absolutely not integrated into the car design. I think this shows nicely how far we have to go before L5 AVs are here.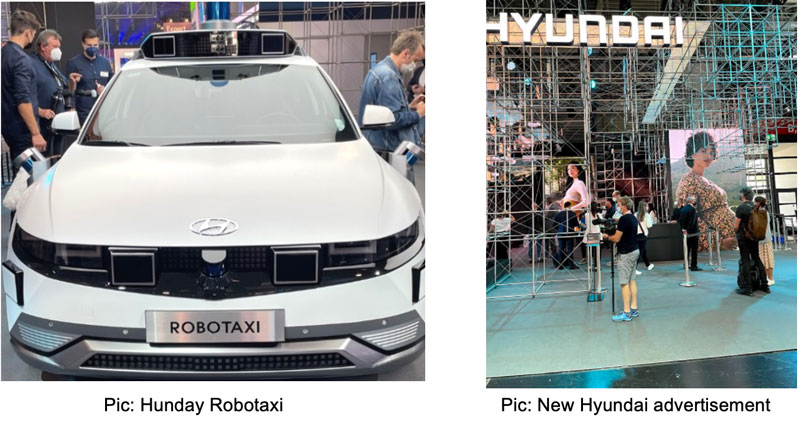 BMW showed another approach to the omniresent sustainability theme. All ICE cars were painted grey; all EVs were white. The "Circular" concept car was the silver exception; it showed off BMW's RE-concept: recycle, reuse, reduce. The wheels were from recycled plastic; the interior from organic materials out of nature and recycled material of course. The front light concept was a black panel lit up with an animation followed by the graphic you see in the photo. No main light functions were shown. Lighting was obviously not the important message in this RE-Concept.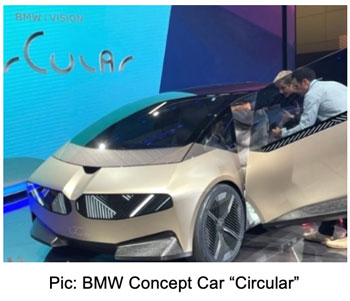 Let us change to the lighting suppliers.
Mobis' booth I visited first. It was open by invitation only, like Hella's and Valeo's. Mobis showed, amongst other things, a highly interesting rear lamp concept with blue LEDs as light source. The conversion to white was done in a thin pillow of phosphor-mix material on the inner side of the outer red lens. The result is a perfectly homogenous aspect from every angle combined with a very good efficiency. Unfortunately, it was not allowed to take photos, just the one below was released. But Mobis invited DVN to have a closer look to their innovations in Frankfurt after the IAA Mobility. Please look forward to a DVN Newsletter with a Mobis-focused In-Depth soon.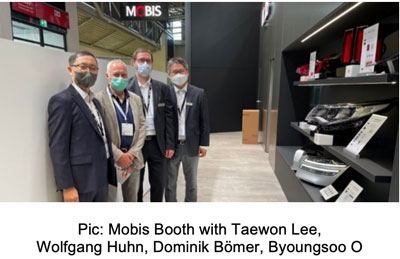 Hella showed inside their booth Mikro LED headlamps with about 20.000 pixels, a seamless closed front grille with several illumination possibilities and the rear lamp concept "Digital Flat Light" as an OLED alternative. This was the only part which was OK for a photo as you see below.

Magna showed a One-Piece flat front grille with a deep 3D look and integrated illumination. Magna's focus was on producibility, quality and materials. The concept looked completely ready for production.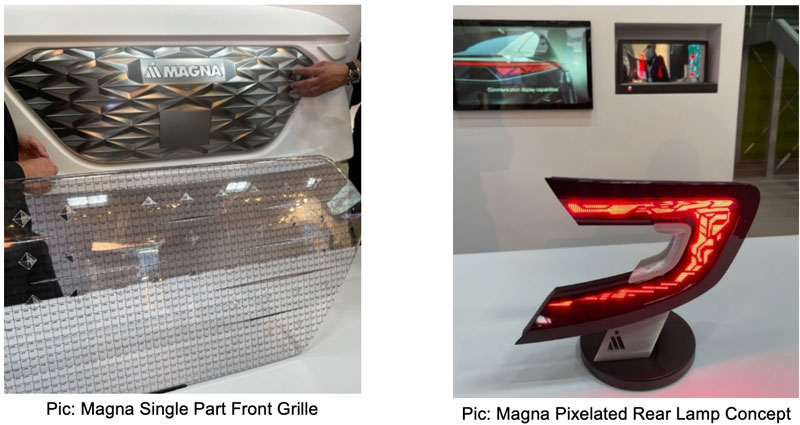 Scio Company from Linz, Austria was first time present with a small booth within the Austria floor space. Scio presented a less than 20 mm thick rear lamp. The core was a printed flexible board fitted with the LEDs. The light distribution was realized by lenses only, no reflector necessary in this concept. A lot of possibilities are imaginable, not only for rear lamps.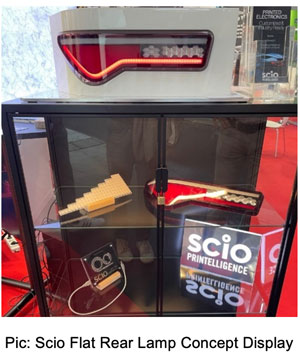 Valeo had a nice booth with all their innovations, where pics were strictly not allowed. Valeo showed very flat headlights, rear lights with high-definition communication functions, Micro-LED headlamp concepts and a closed front grille with nice animation. All lighting functions were seamless integrated. Valeo had a second big sized booth Downtown with Demos of all their new mobility concepts and AV approaches.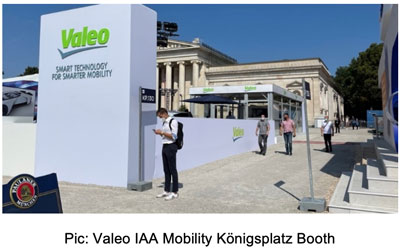 Audi was present in the Downtown area only. The Grand Sphere Concept Car was clearly the highlight, followed by the lighting display "Progress: Audi Lighting Technology" with an OLED display as an eye catcher. Two young designers were explaining the display and discussing the lighting strategy with the public.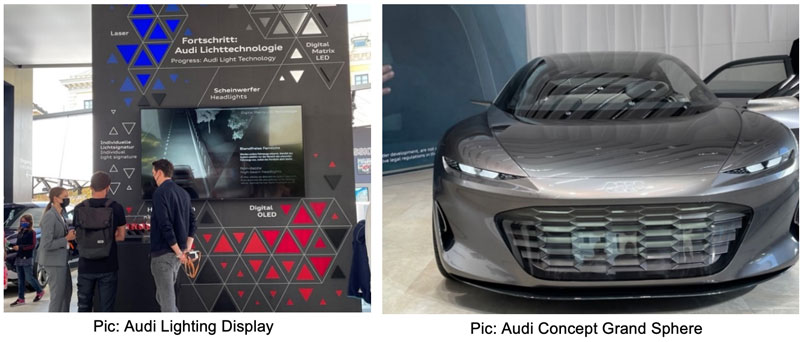 Seat was present with the Cupra brand only, which is clearly made for a young people target group. A well-known DJane was acting beside the all-electric Cupra Born car which is based on VW's MEB platform like the ID3.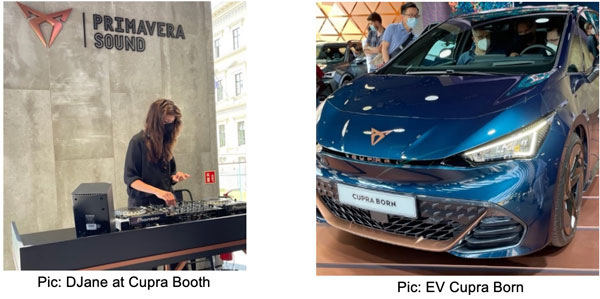 Take aways
Seamless closed front grills in 3D look with integrated and fully animated lighting elements are the mayor trend for EV front design
Slim or Super-Slim headlamps are coming, even in very big fronts e. g. seen in Maybach Concept and Audi Grand Sphere Concept
Slim or Super-Slim rear lamps will be introduced together with the front lamps
Matrix with HD Micro LEDs will become the new High-Standard for headlamps
Lasers are only seen in BMW and some Audi cars
OLED is still an Audi-only Technology (followed by a few Chinese car makers in very small volumes)
The whole Car Industry changes rapidly to an Electronic and Software dominated Zero-Emission Mobility Provider