There will be thirty-two lectures presented at the DVN Workshop, starting with an overview of the safety situation on the roads, particularly how darkness affects crash risk, and how to improve the figures. We will welcome top experts in this domain, including Michael Flannagan from UMTRI, John Bullough from Mount Sinai-Icahn School of Medicine, and Matthew Brumbelow from IIHS. These experts will explain why and how headlamps are the primary main source of visibility illumination for drivers at night, when crash rates are several times higher than during the day—and the implications of that link as we all strive to improve car lights in a difficult regulatory environment.
Lighting managers from Audi, Volvo, GM, Ford, and Jaguar Land Rover will explain what they've achieved and what remains to be done to improve safety—for a prime example, getting ADB onto American roads. Michael Hamm will show that more than six million ADB-equipped cars of over 140 models have racked up around 25 billion kilometres without a single field recall or regulatory investigation of any ADB malfunction, and yet the US, the world's № 2 auto market, remains the only country in the world where ADB is prohibited by law.

A session focusing on safety technologies will include lectures by experts from Marelli-AL, Valeo, Varroc Lighting Systems, Hella, and Koito-NAL. These speakers will explain how digital and HD lighting allows communication with other drivers, pedestrians, and cyclists, and the effect on safety for vulnerable road users.
The 4th session involves the vehicule interior, an increasingly important domain to enhance safety by the likes of driver monitoring systems. There'll be high-content lectures presented by knowledgeable experts from Ansys, Radiant Vision Systems, Grupo Antolin, Xperi and Eyeris.
Regulatory topics are an eagerly-demanded specialty of DVN Workshops, and this time the 5th session will cover harmonisation of technical requirements as a means to speed the deployment of safety innovations. Expert presenters and panellists will include former GTB President and current DVN Senior Regulatory Advisor Geoff Draper; GTB Vice President and Osram regulatory maven Bart Terburg; GTB Secretary and GRE SLR Working Group expert Davide Puglisi; Wang Wei from SMVIC; GTB Scientific Group Chair and Strategy Group Co-Chair Rainer Neumann from Varroc Lighting; John Bullough from Mount Sinai Icahn School of Medicine; UMTRI's Michael Flannagan; former Audi Lighting Director and current DVN Senior Advisor Wolfgang Huhn, former director of Audi Lighting and now Senior advisor at DVN, and General Motors Exterior Lighting Technical Leader Michael Larsen.
The two last sessions will cover light source innovations and technology enablers for safety at night. Lecture topics will including status and trends of LED, OLED, matrix, and µLED technology from AMS Osram, Kyocera SLD Laser, Lumileds, Everlight, Samsung, TI, AML Systems, Docter Optics, Covestro, and LMT.
ADAS demonstrations
Sensor equipment achievements of six companies will be presented in two demonstrator-cars, thanks to VSI Labs, a technology research company who examine the building blocks for autonomous vehicle technologies. The two cars will showcase innovations by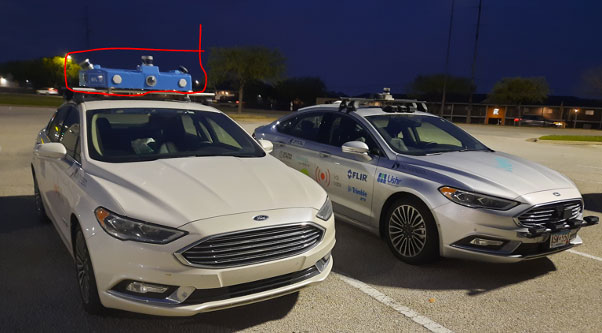 • Aeye (deterministic, configurable lidar with 1km range through windshield)

• AVL (Digital Ground Truth pod for highly accurate data recording)

• BrightWay Vision (Near IR Gated Camera system with high classification confidence in challenging scenes or weather)

• Compal (Camera-based IR/RGB Object/Action Detection software)

• FLIR (Thermal IR system for high reliability pedestrian detection)

Four additional companies' technologies on board the silver vehicle cannot readily be demonstrated in the DVN Workshop static setting as they would require road driving demonstrations:
• Crystal Rugged (high performance computer for ADAS/AD development)
• NIRA Dynamics (embedded software solution for measuring dynamic road surface friction vital for ADAS/AD applications)
• Trimble RTX (positioning device using RTX correction signals to improve the absolute positioning of a vehicle)

• Ushr (high definition maps to improve the performance of ADAS/AD)
It will be a great opportunity to better know these companies and what they bring to AV and lighting.