from DVN Study team
DVN Studies, Reports, Workshops and Conferences have focused mainly on the technical elements of automotive lighting and lidar applications. Concentration on engineering achievements, technology perspectives, futuristic design ideas, safety and regulatory aspects, dominantly covered the scene.
With this new study, DVN is adding another dimension to its repertoire by contemplating how a new car model is created and the role of lighting within this framework! This study focusses on the OEM perspective of the vehicle creation process.
A group of senior experts in the field of car lighting; (Carsten Befelein, Salomon Berner, Geoff Draper, Hector Fratty, Wolfgang Huhn, Leo Metzemaekers, Jean Paul Ravier, Ralf Schäfer) have analysed how a new car model is created and the roles of the different functions, especially with respect to creating the lighting functions. Not unexpectedly, during the discussions it became obvious that several conflicts exist between the targets of the three key functions of Design, Marketing, and Lighting-engineering. Additionally, regulations as an "external force" have to be followed for a successful homologation of a vehicle.
On the basis of these preliminary discussions, DVN decided to launch a study with the title:
Lighting under Pressure?
Leveraging tensions between Design, Marketing and Engineering.
As with former studies, a key element of information gathering was interviews with a number of key representatives from Design, Marketing and Lighting-engineering at OEMs and T1s. In a next step, a thorough analysis, discussion and consolidation within the team, took place.
The study starts by describing the main demands of the three key functions, including the influence of the homologation process. The study concludes by outlining the upcoming tensions during the development of a vehicle, and how to deal with them in a constructive manner.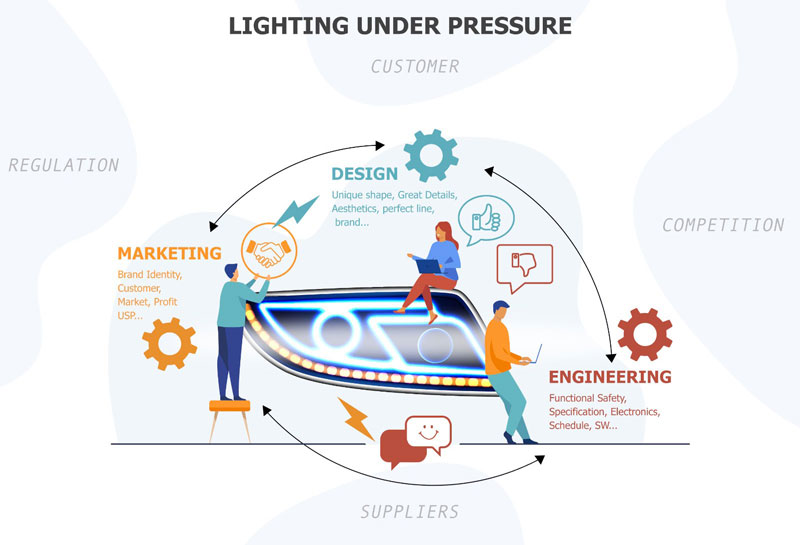 Design and Lighting-engineering are functions which have specific influence on the lighting system installed on a vehicle. Opposite this, the Marketing function has to consider the overall impression of the new car model, including brand identity, all its features to make it attractive for the car buyer, price positioning, and after sale services. In this context, lighting is only one segment in competition with other features of a car like infotainment, seats, wheels etc. and Marketing has to find an optimum mix of the different elements.
As part of the program for the development and launch of a new vehicle model range, homologation is a significant contributor to the tensions that can occur between Marketing, Design and Engineering departments. Engineering is responsible for ensuring that all legal requirements are satisfied before the lighting installation(s) can be signed off as part of the complete vehicle homologation. This is a key point in the overall vehicle launch program. Engineering is also responsible for supporting activities to amend regulations, to allow new functions that cannot currently be installed on the vehicle.
Tensions during the Vehicle Creation Process
Vehicle creation is a very competitive activity. Evaluation of the external competition, by benchmarking similar vehicles in the same segment of other brands, is essential. But equally, internal competition for budgets between different functions, especially in the early phase of the vehicle development process is significant. Tension results from the different demands of the OEM functions. Data such as target cost, size, general packaging, target weight and environmental aspects have to be defined. Once decisions are taken by the Program Management and agreed by the Board of Directors, there is a high hurdle to be overcome for arguments requesting a change.
This new DVN study will shine light on such tensions with some examples; especially the role of Lighting-engineering in its relations to Marketing, Design and Regulation will be highlighted.
Leveraging Tensions to create a Win-Win situation
Internal tensions in a company or project are not a negative sign. This is a natural phenomenon, if various faculties with conflicting targets are brought together. A key element is, how to constructively moderate and combine the tensions and find a superior solution? With some examples, the study will explain methods and joint ways forward under conflicting interests.
Target group and publication
The authors of this study have the strong belief, that the content and insights are a helpful reference for OEM engineers, Tier-1 marketing and engineering managers, and Tier-1 specialists. For Tier-2s, the study will strongly contribute to a deeper understanding of the decision making processes, during the development of a new car model. Leveraging this knowledge, in day-to-day as well as critical business decisions, is a strong tool for business growth.
The study will be ready for publication and sale at the end of September 2021.