In the report, DVN first presents the 10 main takeaways of the DVN Shanghai workshop:
– ADB and the technologies behind, Matrix, DLP, MicroLEDs and even dynamic laser.
– New functions as guiding lines, projection of symbols, light around the car, functional and for styling effect
– Software and simulation, the two skills we must develop
– CASIC will increase the communication between the Chinese SC21, and the UNECE-GRE, with an important role for GTB and DVN; a MUST to open worldwide regulations to new functions and technologies."
– Styling differentiation mainly in RCL as OLED or "like OLED",
– Sensors integrated in the HL/RL
– New generation of displays, HMI, and interior lighting for higher level of safety and user experience
– LED light source and light shaping industry is embracing the opportunities of digital lighting with performance related innovative concepts and products to move the market forward.
– Growing importance of specialist companies providing solutions to make the new advanced lighting systems possible.
– High level of innovations shown in the exhibition booths
Then we summarise the lectures of the 35 speakers, present highlights of the Q&A sessions, and describe the innovative systems and components presented at the exhibition booths.

The first session was dedicated to the achievements and the needs of automakers to improve safety and style, within the constraints of regulations.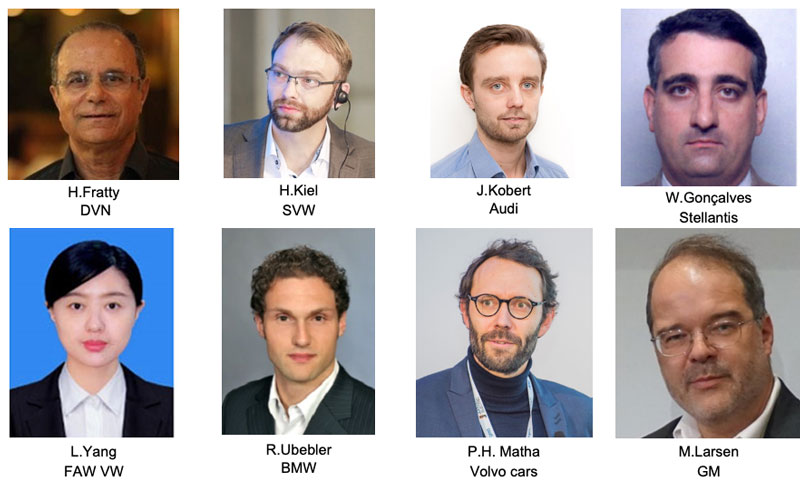 SVW's Dr. Henning Kiel talked about advantages and challenges of new exterior lighting technologies, with personalised welcome communication and lit logos, and also with new interior lighting providing information for comfort and safety functions.
Audi's Jonas Kobbert detailed two surveys showing dynamic light functions don't cause distraction and do improve safety.
Stellantis' Whilk Gonçalves presented the challenges of communication by light, then explained how his group will use three kinds of lighting communication: guiding lines, projection of symbols, and light around the car.
FAW VW's Lili Yang developed her lecture around matrix technology, showing the benefit of 11 segments against 32 segments in performance vs cost and later the benefit of microLED with 20 kilopixels.
BMW's Rene Übler presented the BMW ADB concept using dynamic laser matrix beam adding few words on the innovative rear lights of the BMW 5 series.Volvo's Paul-Henri Matha talked about the Volvo plans to be fully electric by 2030 and its impact for exterior lighting. "Range decrease by ADB is not an issue in an SUV but could be an issue in a city car".
GM's Michael Larsen detailed the long, 10-year uphill climb to still-not-yet-legalised ADB in the USA.
The second session was dedicated to technical offerings of setmakers to improve safety and style.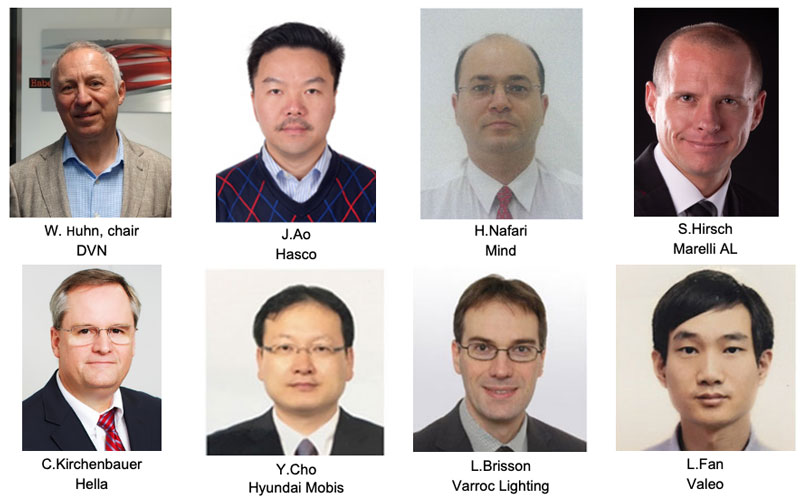 Jinlong Ao, Hasco Vision showed his clear future vision with a broad lighting system approach including sensors, electronics and software.
Hossein Nafari from Mind Optoelectronics made one of the best presentations, in which he announced the serial introduction of a 10-kilopixel ADB system for Q1- 2022, and 100-kilopixel µLED module in 2025. Sebastian Hirsch from Marelli AL saidsensors, mainly lidars, will be integrated into the headlamps, but not before 2024-2025.
Hella's Chris Kirchenbauer said theirnew Flatlight technology for signal with 5-mm thickness and floating appearance is effectively giving style very similar to OLED, but with a reduced cost. first SOP in early 2023.
Hyundai Mobis' Cho Yeonggi presented lighting and ADAS developments, with an ADAS sensor integrated in the ADB system.

Luc Brisson of Varroc and Ralf Muenster from SiLC showed us object tracking with 4D+ imaging using lidar sensors with advanced dimensions.
Valeo's Lei Fan described Valeo's monolithic microLED technology for making ADB.
The third session was devoted to vehicle interior topics.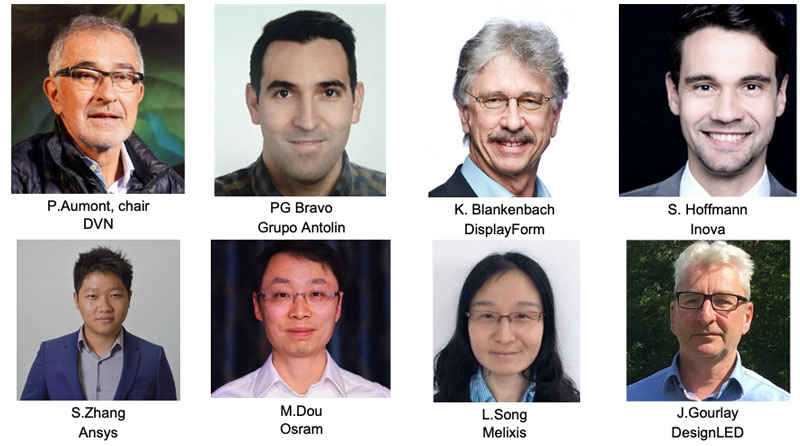 Professor Dr. Blankenbach from Pforzheim University explained the new display technology, the system approach with new shapes, higher pixels, holograms, augmented reality and even emotion.Inova's Stefan Hoffman explained his company's new lighting network, with the hardware and software structure behind the screen.
Ansys' Sen Zhang talked about interior optical design workflow with that company's development tools. Osram-ARM and Melexis jointly presented about fusion of safety display functions with ambient light.
J. Gourlay from DesignLED talked about interior personalisation becoming more and more important, from the standpoint of integrated lighting with very thin backlight.
Novem R&D head Dominique Heilborn addressed how combining physical and digital for seamless user experience, putting together new functions in premium materials, such as wood, aluminum or carbon, anywhere in the interior, and how it will influence automaker/supplier relationship.
Dr. Wolfgang Clemens from PolyIC explained how the combination of decoration and light, using capacitive touch sensors with haptic feedback, creates the new generation of HMI.
The 4th session is the 18th in the series of DVN regulatory sessions, bringing together worldwide regulators.

Wang Wei from SMVIC presented a very interesting report on the progress of SAC/TC114/SC21 to update GB Standards.
Zhu Caiping from Xingyu Lighting presented a very detailed report on some hot topics in the drafting process of new GB Regulations on light signalling devices.
Varroc's Rainer Neuman provided the latest status on research projects sponsored by the GTB Scientific Working Group (SVP).
Davide Puglisi, GTB Secretary General gave a progress report on the main GTB activities at the UN-GRE in Geneva.
Xie Dongming from CATARC explained the CASIC organisation and its objectives.
The 5th session was dedicated to four leading light source suppliers who gave their view on the future development of LED front lighting technology.

Keanu Ma from Lumileds gave insights into leading-edge standard LED technology in combination with microLED applications.
Osram's Carsten Setzer described the combination of visible light with infrared sources which will take an increasing area of interest for vehicle safety through direct obstacle detection.
Terry Yuan of Texas Instruments addresses a bucket of new digital lighting opportunities.
Everlights' Norman Hung gave insights about the market introduction of matrix technology.

In the 6th session, specialist companies described their solutions to make the new advanced lighting systems possible.

Dian Hong from AML Systems demonstrated how to improve: precision, cycle time and accessibility of headlamp aiming.
Andy Zhang from Covestro showed the latest material trends for automotive exterior lighting.
NXP's Victor Wang proposed considerations and solutions for matrix headlighting.
Pengyuan Lu from Ansys explained why future complex headlamp systems will be impossible to design without use of simulation tools.
Tani Gu, on behalf of Ningbo Sunny Automotive, explained the importance of optics in headlamp imaging applications.
An important part of the report is focused on the products, systems, components, devices presented by the exhibitors. These exhibitions were a central anchor point of the Workshop.
And the final part of the report presents the main information from the Paris VISION congress which was held last month, with the Q&A sessions highlighted in detail.