Marelli AL's Latest Innovations
• A whole library of modules from basic matrix with 24 segments, through 84-pixel matrix, to the novel high-resolution microLED "h-Digi" module with >20 kilopixels
• Lighting ECU portfolio from basic to HD solutions
• ADB with intelligent 84-pixel matrix module
• Lamp-integrated radar, well protected from dirt and with optimal field of view. Gives styling freedom and cost reduction via simpler assembly and testing in one step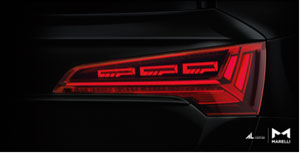 • Audi Q5 digital OLED rear lamp with impressive 3D effects whether lit or unlit.Each OLED panel has 6 segments, allowing a variety of dynamic lighting scenarios.
• Lidar modules in conjunction with Xenomatix, using mature VCSEL and CMOS technologies, from standalone lidar units to modules embedded into lamps (SmartCorner™) to achieve short-, mid- and long-range sensing
AMS-Osram's New High Power Multichips
In 2020, AMS-Osram launched their OBF-S automotive high power multichip product family. At the DVN Shanghai Workshop, they showed the newest OBF-S products with improved optical efficiency, flux, and surface luminance.

Of note is the no-heatsink headlamp concept, which uses only the aluminum PCB for heat dissipation. This means headlamp mass, bulk, and cost can all be reduced.
AML's Gore-Powered Condensation Killer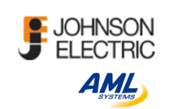 AML Systems and W. L. Gore showed their clever technology to actively prevent condensation and the problems it causes in headlamps.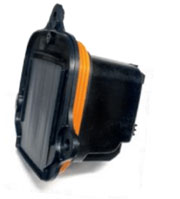 AML's Condensation Management Device uses Gore technology, electrical power, and regenerative desiccants to actively remove recurring moisture from within headlamps. The CMD is installed on the headlamp housing. Equipped with a breathable membrane and a radial seal, the CMD allows the headlamp to remain completely sealed, yet it also provides pressure equalization and ingress protection.
Mind's Innovation Products


Lumileds shows latest innovations
Micro LED solution: LUXEON Mosaic is a 20k pixel monolithic light source designed for high-resolution direct-imaging projection systems with ultracompact built-in depth. Along with the ability to generate an infinite number of customized light distributions, it offers superior contrast for perfect road projection and sharp cut-off lines.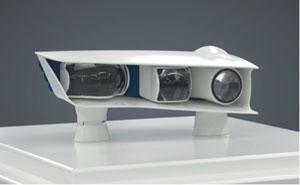 High-performance low beam and adaptive driving beam in a slim design with LUXEON Altilon Intense Gen2
High-performance low and high beam in a slim design with LUXEON Altilon Intense. Four modules provide low and high beam in a slim headlamp format. Each module utilizes reflector-based projection optics with 12 mm lens height.
Entry-level matrix system utilizing direct imaging of a single row of LUXEON NeoExact 1.0 mm² and high-end high-resolution matrix system with simple optics and LUXEON NeoExact 0.5 mm²
Standard LED headlight source (LUXEON Go) for mainstream car segments to reduce system complexity and cost: one demo for reflector system; the other demo for projection system.
LUXEON Versat portfolio for versatility of rear lighting.
Covestro's All-PC Headlamp Concept
Multi-shot molding of Covestro's Makrolon TC thermally-conductive and Makrolon DS dimensionally-stable polycarbonates, along with a molded-in-place design strategy, enables the low-and high-beam LED modules and their corresponding reflectors to be produced less expensively through elimination of added heat sinks, attachments, and other components.
The Makrolon bezel uses multi-shot moulding to consolidate the turn signal and DRL while hiding sensors behind a lidar-transparent, visually-opaque mask. This cuts complexity and cost, simplifies assembly, saves space, and reduces headlamp mass—all of which go toward better fuel mileage and lower emissions or increased battery range.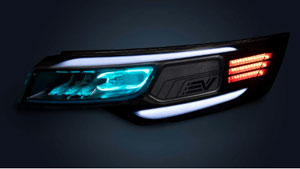 The LED headlamp system uses only four different materials: Makrolon (polycarbonate); Bayblend (polycarbonate/ABS mix), a scratch-resistant coating (outer lens cover) and metallisation (reflectors).
Key Benefits:
 Improved production efficiencies and smart headlamp design reduces parts count;
 Lightweight polycarbonate provides high performance with low mass
 Integrated electronics (lidar, radar, cameras…)
 Greater design freedom broadens possibilities for æsthetics and progressive styling
 Reduced mass, parts count, and materials contribute to eco-friendliness

Covestro are focusing on front end design with a forward lighting demonstrator and front grille concept. EVs require less cooling air than combustion-engine vehicles, which means the open front grille design can be closed and the resultant surface used for signature light, 3D patterns, message displays, and colour effects on a transparent, impact-resistant polycarbonate panel.

Yejia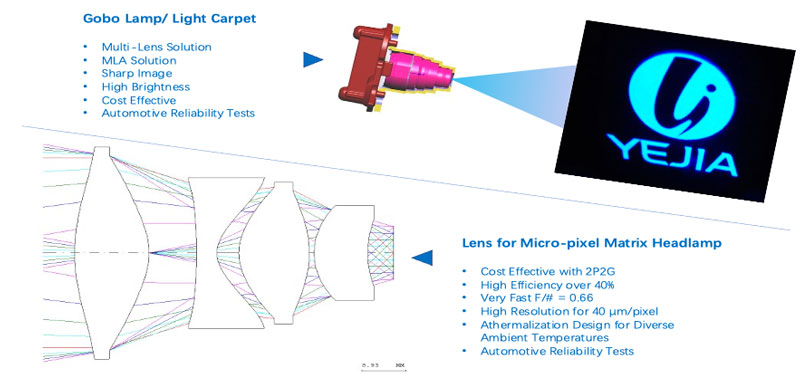 Bicom Optics' Car Light Cornucopia
• LED headlamp module provides low and high beam.It's a two-part product: headlamp controller and LED headlamp module with lens. The module meets UN requirements, while the headlamp controller can drive two LED strings for low beam and high beam. The whole package meets the electrical, environmental, EMC, and material requirements.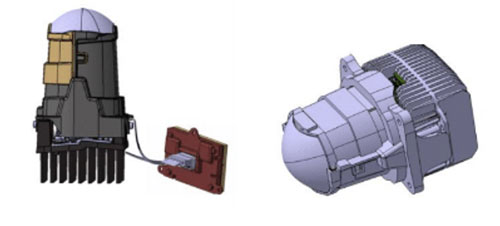 • Multicolour smart angel wings: the design concept is from BMW's radiant blanket lamp. Upgraded now from monochrome to multicolour, the smart light can switch freely.


• Ambient light divided into two parts, LED driver and lightguide. The LED driver is a module which can drive RGB LEDs according to the LIN signal. All inputs are from LIN Bus. LDF file contains address information, luminance information, light color information