Today the DVN Monthly Report is published. This month's edition presents the latest models launched over the last four months. While autoshows are cancelled on account of the pandemic, the new report is your key to following the newest lighting. Here are our nine takeaways to summarise lighting trends on the newest models.
DVN's 9 Hot Takes From Recent Auto Launches
•1•
Lamps and lighting increasingly amplify style and design; brand signature, and technology differentiation.
Aerodynamics, pedestrian protection, crashworthiness, and benchmarking all exert homogenising constraints on what a vehicle is shaped like, so the identity, design, and technology content of cars like the Audi e-Tron GT, DS4, and BMW iX are expressed largely through the front and rear lights.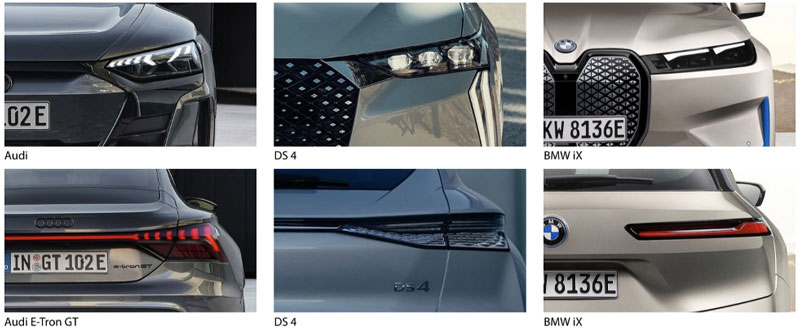 •2•
Rear lamps with full-width light lines are a hot trend.
The Audi e-Tron GT, Mercedes EQA, Nio ET 7, and Nissan Arima are among the increasing number of models with rear light bands spanning the whole width. This brings new possibilities for vehicle design and style, animated light effects, and augments the vehicle's perceived size and presence, while also providing lit area that would otherwise be missing due to the next trend, № 3.

•3•
Rear lamps are growing slimmer and slimmer.
The BMW iX, the DS4, and the Jaguar GT Vision are just a few examples of vehicles with rear lamps in fine-line designs.

•4•
Headlamps are growing slimmer and slimmer, too.
Stylists are insisting on ultra small headlamps, forcing engineers to find solutions for sufficient light performance. LED and laser light sources and new optical techniques unlocked by new materials are making it possible for headlamps to be vanishingly thin. Examples include the Acura, BMW iX, DS4 , Genesis GV70, Infiniti QX55, and Nissan Ariya (optic modules just 2 cm high!)

•5•
DRLs, as well, are on a reducing diet.
The Jaguar GT Vision and the Nio ET7 have fine-line DRL designs. And Renault's 5 concept, too, with edge-emitting light guides looped into square shapes to evoke the under-bumper rectangular fog lamps of years past.

•6•
DRLs are increasingly a central anchor point for brand signature.
The Jaguar GT Vision, the Nio ET 7, and the Dacia Bigster concept are far from the only ones, but take a look at these three models and the trend is clear: automakers are piggybacking brand and model identity on the presence-advertising technical function of the daytime running light. It's not just "I'm here", it's "I'm here and I'm an electric BMW" (for example).

•7•
Segmented taillights are popular right now.
The Infiniti QX55 with its "digital piano-keys" taillights, Audi's e-tron GT, and the Renault 5 Concept are a few of many examples. Very few vehicles have OLED rear lighting (yet?), but other technologies and techniques are also providing attractive new designs—we like the triangular "fish scales" effect on the DS4. Which technology will transform the rear lamps into rear end communication displays?

•8•
Modularisation is well under way.
We see it heavily in the Kia Sorento, Land Rover Discovery, Mini Cooper, and Nissan Ariya; clearly the industry is finding a sweet spot, balanced between the cost savings of modular componentry and the exuberance of new lightstyles.

•9•
Welcome and farewelldisplays are proliferating.
Shortly ago these kinds of dancing-light shows were just a functional test of the rear lamps. Now they become a "look what we can do!" fun party trick, as it seems. Clearly lighting animations are helping buyers bond with and appreciate their cars, so these kinds of displays appear to be in it for the long haul, not just a passing fad. But there might be some pushback coming; regulatory authorities in some countries are not happy with this trend.