During session 6, the last of this workshop, a mixture of topics were addressed comprising control electronics, aiming and levelling, measurement systems and last but not least new materials.
Advances in Intelligent Automotive Exterior Lighting
• Prem Sharma, NXP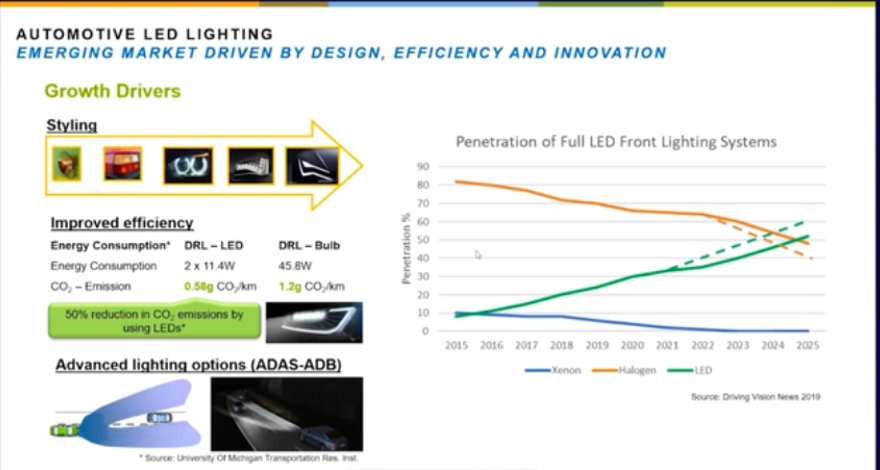 The first speaker was Prem Sharma,focussing especially on the control of matrix and pixelated lighting systems. For long term sustainable and cost effective systems it is mandatory for the semiconductor industry to supply flexible and scalable solutions targeting to allow platform designs. Technology wise, diagnostics of multi-pixel assemblies, signal processing and interrelation to vehicle networks become key and will require new architectures. As outlined in the presentation, NXP has developed a number of building blocks like LED drivers, Matrix controllers, SBC and Micro controllers to face this challenge of industry.
Considerations for Dynamic Rear Light LED using bus based semiconductor architectures
• Jatin Thaker, Elmos Semiconductors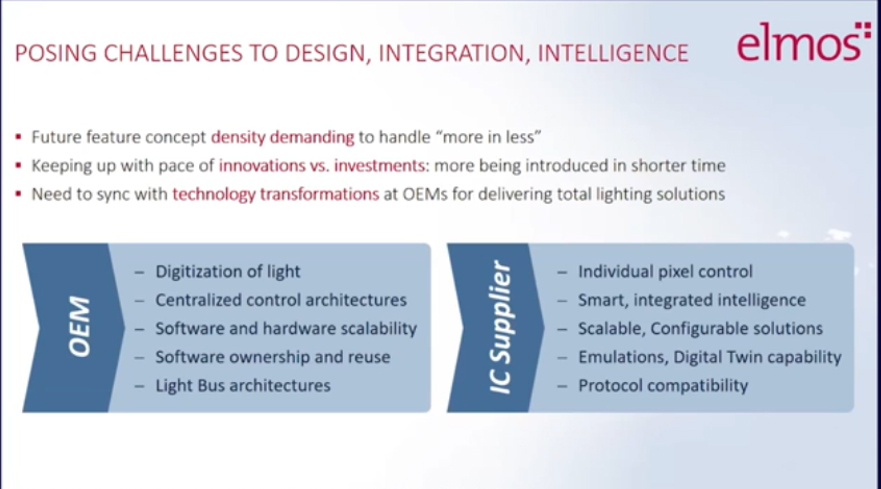 Jatin Thaker gave the next presentation. Main elements of his talk addressed the topic of scalability and configurability as well as intelligent IC integration for this type of application. He emphasised that product ranges should focus on building a family based on same technology to serve high end performance for premium as well as affordability for main stream cars. A key element to penetrate further on this way has to be a close co-operation of the industry partners, but also involving end users. A further promising aspect is that this technology could also be used for interior applications.
When levelling and aiming merge into digital Headlamp Setting
• Ludovic Toulisse, AML Systems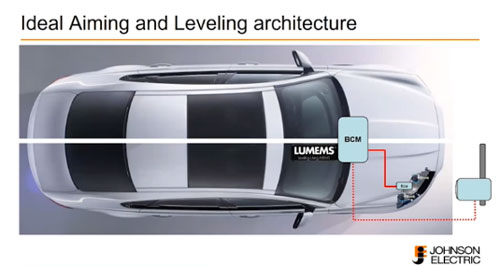 Ludovic Toulisse addressed the hot topic of vehicle light aiming. His contribution was driven by the overall target to create a common solution for headlamp aiming and merging it with digital technologies developed for levelling. He explained the concept of a Hardware/Software module called LUMENS to improve the aiming at vehicle maker production lines.
Methods to measure the luminous colour of white and coloured LEDs
• Hassan Gargouri, Instrument Systems.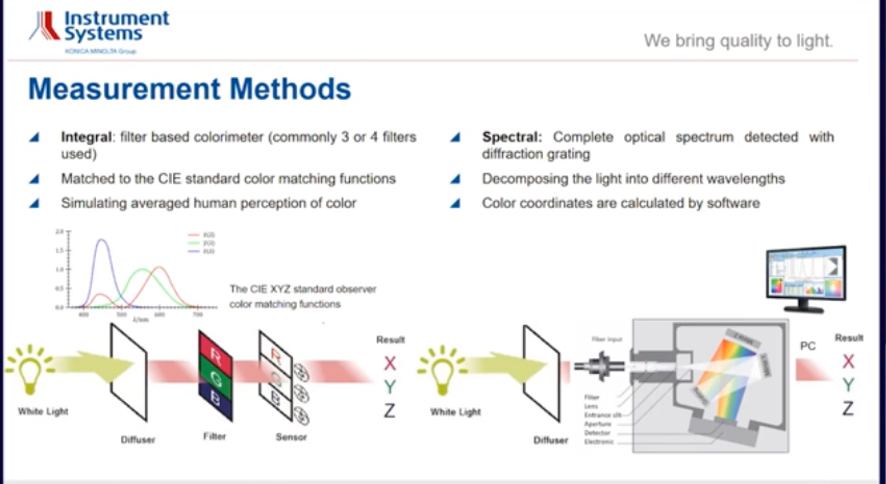 During his talk, Hassan presented new equipment and process for beam measurements. The system is based on beam measurements enabled by a new camera. All relevant components are integrated into one system and thus allow superior system development and control. The set-up of the system has lasted quite some time and is front running other solutions. Especially the accuracy of colour measurements of white and RGB LEDs is outstanding with an accuracy of colour coordinate measurements of 0.001, compared to the allowed deviation of 0.005 compared to certified institutes. Another key element of this measurement is the outlook on its duration of only "few seconds", a key element for industrial application.
"Driving Ahead of the curve: Visionary Headlamp Concept with Polycarbonates".
Paul Platte and Jim Lorenzo, Covestro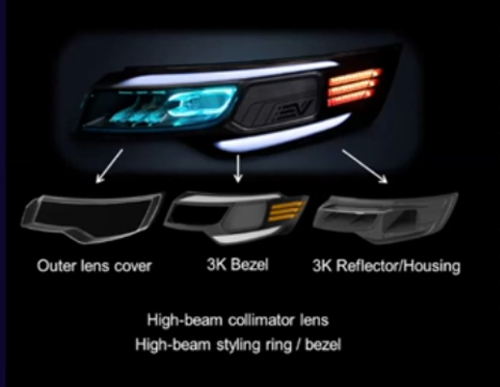 In the last presentation of this session, Paul Platte and Jim Lorenzo, from Covestro introduced the audience to an innovative material family of Polycarbonate materials called Macrolon TC and Macrolon DS801 and based on this material development they presented a visionary headlamp design incorporating not only lights but also sensors. The main advantages of using Macrolon TC and DS801 can result in
Significant weight reduction of the headlamp contributing to sustainability
Considerable reduction of components also contributing to sustainability
Shorter headlamp design saving space under the motor hood
More styling flexibilty
Better optical performance
As a total result, the application of these new materials are expected to facilitate performance improvements combined with cost savings. First OEM applications are on the brink to go to market. Nevertheless the competition with established, well-known materials like aluminium will still need due time before a considerable change will occur.