High-Resolution Active Pixel-LED
• Stefan Grötsch, Osram
The presentation was titled: Future Lighting Technologies and Demo of a High -Resolution Active Pixel-LED. Grötsch gave a detailed presentation of Osram's second generation active LED pixel device named Eviyos 2.0. This device has 25,600 active, singly-addressable micro LEDs, and is Osram's technology response to support future high-resolution head lamp applications. Osram also made a demonstrator which contained 2 Eviyos devices per headlamp.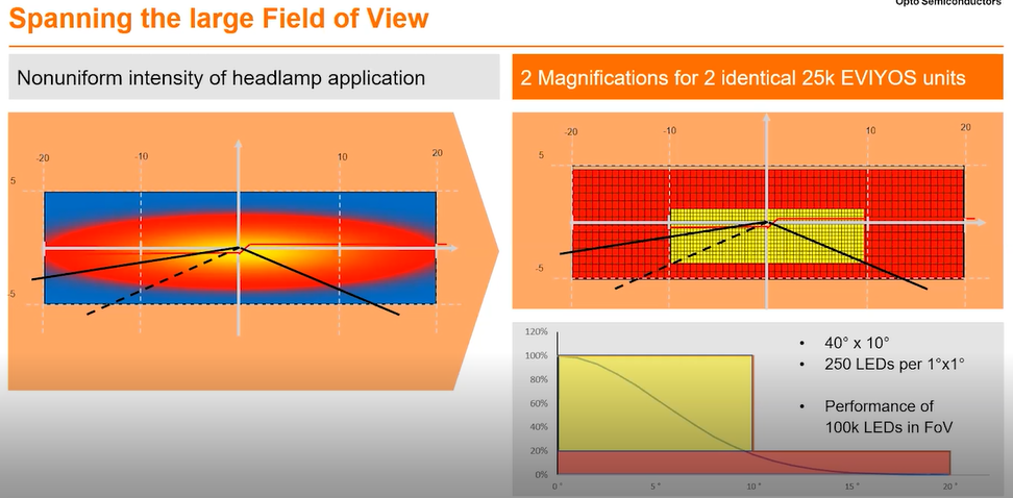 This to find the best compromise between a high-resolution centre zone and a large zone outside the center with a lower resolution. This enabling technology will enhance safety and comfort for future headlights with the following features: swivelling HB, bending light, ADB, lane marking, symbol projection.
Digital Headlighting: Enabling Light Source Solutions
• Norbert Lesch, Lumileds
Norbert Lesch shared Lumileds market view on the global adoption for ADB.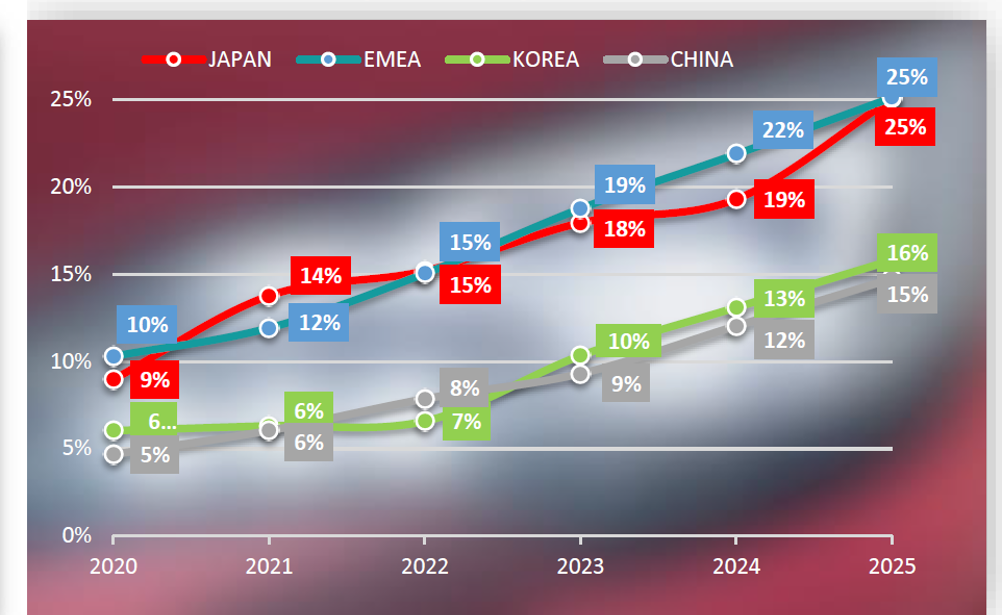 In the next 5 years it is expected that the adoption of ADB will increase up to 16% to 25% per region. With the usual exception of the USA, where the situation remains unclear due to regulatory delays.
Lumileds' response is to develop enabling light source technologies: discrete small LEDs which allow very narrow spacing and which have very narrow tolerances for basic ADB functionality with single and multi row LED spacing. Typically, these applications will use about 12 (single row) to 100 (multiple row) LEDs per headlamp.
For advanced high-resolution headlight applications, Lumileds announced their development of a high-resolution microLED light source device. This is a technology like that shown by Osram in the first presentation of this session.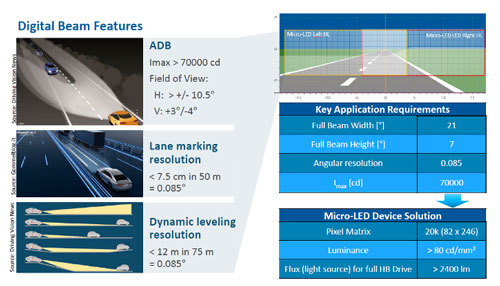 Future of Digital Lighting Technology Starts with Nichia
• H.Kuroda, and K. Ichikawa, Nichia
Nichia shared their enabling light source technologies to support future applications. These applications are in the interior: high luminance coloured LED and laser technology to support HUD projections on the windscreen, including augmented reality (AR). AR will even support a seamless transition between the interior (lighting) and exterior of the car.
For exterior, Nichia will also develop further white laser technology: light on light projection with ultra-high luminance laser light. And Nichia are also developing their own active pixel LED device with 16,384 pixels. It's being designed in partnership with Infineon. Full automotive qualification is currently in process, market introduction is expected in 2023-24.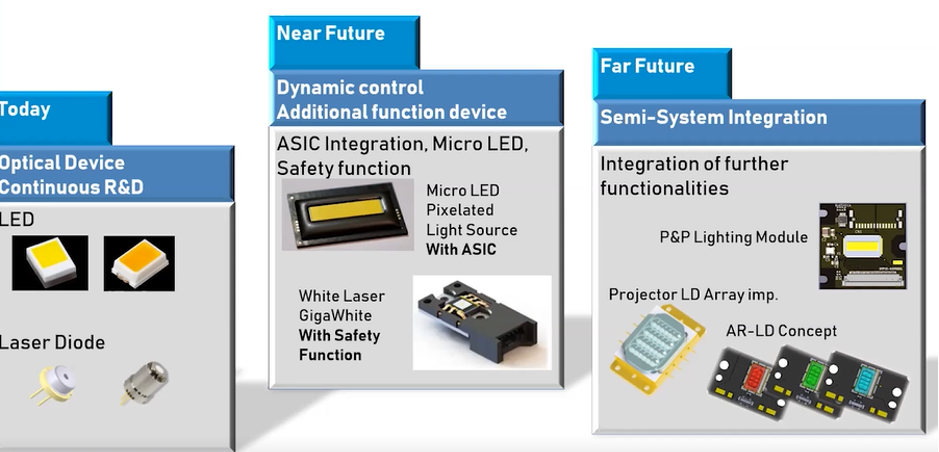 Sensor Fusion for HD Lighting
• M. Austerer, Osram-Continental and D. Spiesswinkel, Elektrobit
The ambition of the coöperation between Osram-Continental and Elektrobit is to bring high-definition exterior light to the next level. We have seen from Osram, Lumileds and Nichia that they are all working on the concept of high-resolution active pixel LEDs. The idea of Osram Continental and Elektrobit is to control those micro LEDs in the most intelligent, fastest, most precise way. This is done by using all sensors available: cameras, radar, lidar but also GPS and map data. A proper working system will allow a good overall system architecture (role of Osram-Continental) and software including sensor fusion (role of Elektrobit). The result is an ultra-fast and precise high-resolution digital pixel driving beam, including augmented reality, 360 degrees round the car.