Digital Light in the new Mercedes S-Class
• Markus Maier, Daimler-Benz
Markus Maier explained how the previously optional Multibeam LED is now the standard headlamp for the S-Class. The optical system includes a low-resolution 84-Pixel Multibeam and a high-resolution DMD module with a 7° × 14° field.

The DMD module is positioned to drive AFS and ADB and to provide symbol projection with the 3 targets performance, assistance, and communication.
Mercedes' "Digital Light" is made by the DMD module with three extremely powerful LEDs whose light is refracted and directed by 1.3 million micro-mirrors. It is a technology widely employed in video projectors.

With the help of intelligent headlamps, the S-Class can display digital light functions including:
• Stop warnings: A backwards pointing arrow with concave sides to warn the driver to stop—in case the driver misses a stop sign, a red light, a wrong-way sign, or suchlike;
• Roadwork warning and guidance lines with symbols to warn the driver when approaching roadwork, guiding lines are indicating the width of the vehicle during the roadworks, or supporting the driver to centre the vehicle in their lane.
The lighting innovations are not only in the front…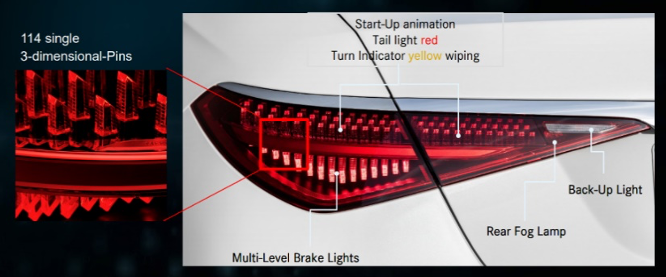 To be retained: The two main messages from Markus Maier are
– Now, the lighting has three functions : Performance, Assistance, Communication
– It is very important for a wide industrial success of high resolution systems to have a solid frame for projections like the proposal for amendments to UN Regulations № 48 and 149.
Lighting concepts in the BMW 5 Series
• René Uebler & Thomas Priller, BMW
The front and rear lighting are presented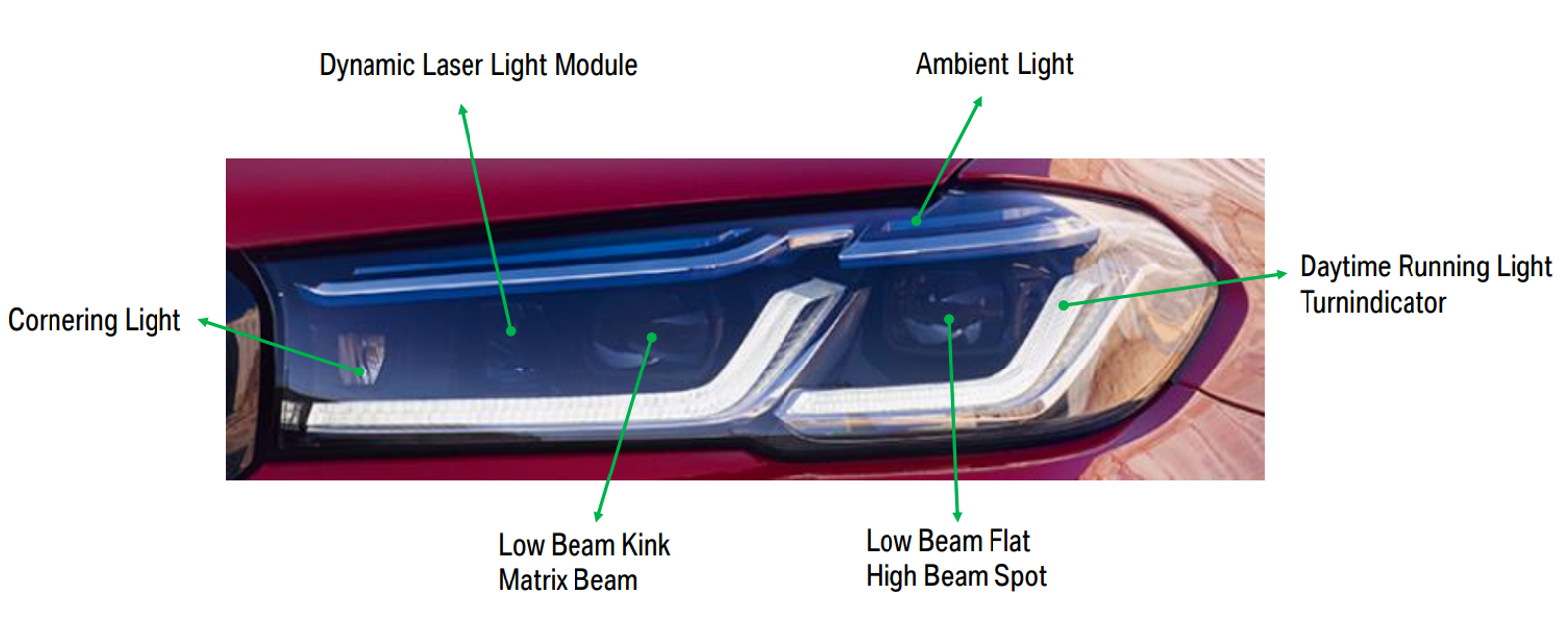 The front light uses for the ADB, a 12 segments/side matrix beam with a dynamic laser booster. No DMD to increase the resolution, but there are swiveling modules to make the Dynamic Laser Matrix Beam.


BMW 5 series presents several innovations, improving the styling differentiation
• Sculptural styling—rear lamp with highly 3D aesthetics
• No insight through outer lens, thanks to microöptics in the outer lens hiding the technlogy inside
• Tail and stop from one signature, implemented as bifunction
• High level of homogeneity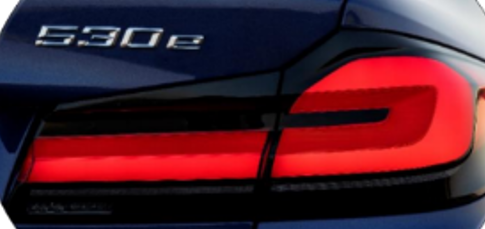 To be retained: BMW developshere a different concept for ADB, no DMD or microLED but swiveling laser module, with vertical cutoff.
Volvo's Sustainable Digital Lighting
• Paul-Henri Matha, Volvo Cars
Volvo's is one of the most ambitious climate plans in the whole of the automotive industry and the lighting teams want to be part of the task. Paul-Henri Matha proposes two ways to reduce the general consumption of lighting systems:

• Greater usage of digital light to improve safety, but within the constraint of a power consumption limit, seeking to decrease each contributor as DRL, Low beam, high beam, and ADB. This will require high resolution with the digital support.
• To propose to regulators a reduction of main beam specifications in case of cities with street lights, platooning, Traffic jam. Digital light could be used to put light just where we need (danger, object, …) and will help to reduce power consumption.
See for example, result of a study from TU Darmstadt: "when luminance of the road in enough, no need (or less need) to have low beam on the ground".
To be retained: Interesting lecture which shows that the new lighting technologies are increasing energy consumption and we must decrease this consumption. Two ways are proposed, one technical, one on regulation. An average reduction of more than 1g/km CO2 seems possible.
IQ.Light—Volkswagen's New Light Vision
• Ricardo Plöger, VW
Ricardo Plöger started the lecture explaining how VW is working on the democratisation of lighting about technologies and functions from the high level range to lower range. One of the presented examples is the process from Touareg in 2018 (128 LEDs; 1,150 Lm low beam; 2,150 Lm high beam) to Tiguan in 2020 with 47 LEDs, 900 Lm low beam, and 1900 Lm high beam, both with matrix.

Same in rear lighting with VW's "clic-clac" function (different segments light up for stop vs. tail mode, augmenting the conspicuity of the stop lamps).
The second part of his lecture is dedicated to DRL power consumption and the VW work to reduce it. Two surprise numbers were presented: 44 and 1.
44W per side used in the ID3 DRL to have 1W from the light, because of styling losses, ECU losses, dissipation losses, and optical system losses. A lot of losses have to be avoided which should correspond to 1g/km CO2 (equivalent to 50W).
Plöger presented in his third part an interesting concept for the lower range: providing ADB from only one side of the car.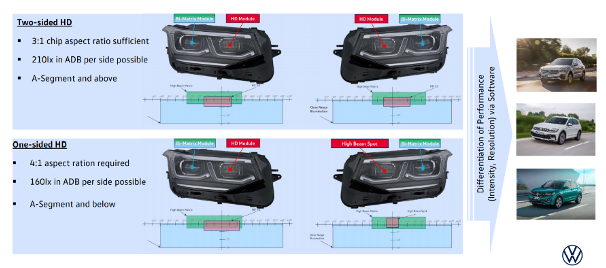 To be retained: This meaty lecture demonstrated that
• democratisation is the strategy of Volkswagen: for safety reasons, lower range cars have to benefit from innovations of higher range, perhaps with minor changes.
• all lighting players, optics, thermics, electronics, materials, have to work on reduction of losses of LED components and mainly DRL which is integrated in the WLTP (consumption in homologation cycle).
What Means Digital Lighting for Renault
• F. Bedu, Renault
François Bedu started by the subject on the number of segments. Renault have made an internal study to evaluate different parameters of an ADB system by simulation done on 57 persons. 3-segment solutions were not perceived as real ADB, and no real difference noticed between 5 and 7 segments. His conclusion is that ADB can be acceptable with 5 segments in order to propose the function to a large number of customers. But for low number of segments, smooth transition is mandatory to maintain a sensation of comfort.
Bedu made an interesting explanation to prove that a fully dynamic road projection will require 70 to 100 kilopixels. For Renault, the road projection is a new function with safety benefit and must have a regulation frame which allows to implement it in all lighting functions. The road projectuin has to be available not only in ADB but in all other lighting functions as in low beam, high beam, or AFS.
He congratulates GTB for its great job to demonstrate the benefit of road projection for customer safety. He said that regulations must be technologically neutral and performance-based. Road projection must be a part of all lighting functions to give a large access to its safety benefit.
In the interior lighting, a new category of functions appears in cockpit for HMI:.
"Infolight" is a new group of functions with real customer value and will probably become a part of carmaker brand identity.The domain of application is new and large with AD intention, ADAS alert, A.I. incarnation, communication, Infotainment, EV charging and well-being. A dynamic light effect will lead to digital light implementation.
To be retained: Intersting presentation on the Matrix ADB with the optimisation of 5 segments and on the ADB high resolution with road marking and the needed 70 kilopixels! Interesting remark that the road projection has to be available not only in ADB but in all other lighting functions.
Useful message on Infolight and its real customer value.