For over 30 years, Instrument Systems' premium German quality and profound application-oriented expertise in light measurement has been the foundation of the company's speciality in high-quality spectroradiometers, imaging colourimeters, and innovative display measurement systems.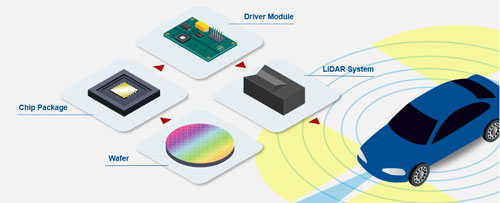 To meet customer and safety requirements for lidar systems, a variety of highly precise, highly accurate optical tests have to be performed at several stages along the production value chain.
Instrument Systems, who specialise in light measurement technology, offer customised solutions for absolutely factory-calibrated and traceable optical measurement results for all lidar production stages. This includes wafer level or chip package characterisation as well as testing of driver modules and integrated lidar.
Testing scenarios range from nanosecond pulse testing of individual laser diodes or VCSEL arrays up to comprehensive far-field radiation pattern analysis of integrated devices. The Instrument Systems VTC 4000 is a camera-based system specially designed for near-field analysis of VCSELs; it enables fast and accurate 2D characterisation of a VCSEL array at wafer or chip level with respect to radiant power, positions, divergence, and peak wavelength for each individual emitter.

And their screen-based VTC 2400 far-field camera analyses the 3D radiant intensity distribution as well as the emission characteristics of a VCSEL array or laser chip. In addition, the far-field emission characteristics of chips or lidar systems can be investigated with LGS- and AMS-series high-performance goniometers. Driving and testing of VCSEL packages with pulse durations down to a single nanosecond is possible with their PVT, which can quantify absolute power, optical spectrum, and LIV (light-current-voltage) characteristics for a large range of pulse durations and duty cycles.