IMS (Integrated Mechanization Solutions), based in Almelo, Netherlands, develop and supply high-accuracy production systems. They wield particular expertise in building automated assembly lines and process automation for small, complex products and assemblies; IMS feel comfortable in the sub-micron range. The typical customer is an automaker or a tier-1 supplier in automotive, medical, photonics, and smart devices.

IMS serve with 20 years' experience in processes like gluing, cleaning, curing, active alignment, testing, laser processing (welding, cutting, engraving…), and pressing. Customers' production facilities worldwide can be readily served by IMS.
Application: Lidar
Automated manufacturing of lidar great expertise in active alignment of products including optics. The quality of the assembly, based on this active alignment, contributes to the quality of the complete lidar system.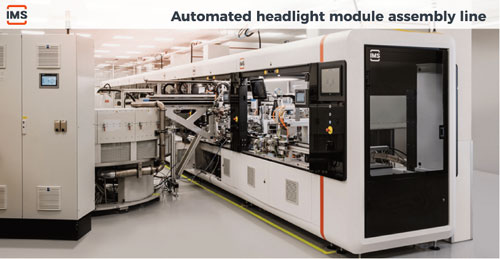 Application: Light Modules
The newest headlamps need the newest light modules, so the industry needs the newest assembly technology. IMS develops and builds automated assembly lines for matrix, microLED, and DMD light modules.
Application: Camera
IMS developed their own 6 Degrees Of Freedom Active Aligning station (6DOF – AA). This is not meant as a standalone station, but forms a key station in their balanced assembly line concept called AION for true one-stop shopping. Furthermore, IMS have a new patent-pending way to split the alignment step from the curing step—this allows for much shorter cycle times and can widen the options in glue types, for example.
Application: Camera Lenses
Hundreds of million of camera lenses are already assembled on assembly machines from IMS; they know how to assemble lenses in high volume. Their core technology in this application is based on optical alignment or active alignment, with quality checks based on (p.e.) MTF per lens or per objective.