The last decade was very rich in innovation for vehicle lighting with the ADB breakthrough, quickly followed by more refined matrix versions; the democratisation of LED lighting, new laser and OLED light sources as well as ever-improving LEDs and associated optics and electronics, and the emergence of ambient interior lighting.
In parallel, the automotive industry as a whole has been undergoing fundamental changes with a focus on four new technology areas known in shorthand as ACES, for autonomous, connected, shared, and electric vehicles.

In this context, the question arises of how lighting can support and profit from these trends. Therefore R&D in vehicle lighting in recent years has explored new functions with digitalised lighting through high definition systems and road projections. Examples of other areas are display-type exterior lighting as well as new interior lighting functions.
On top of above major changes, the automotive industry has had to cope with the covid-19 pandemic. In case of a realistic scenario of an estimated 30% drop in global vehicle sales for 2020, the value for the 2020 global automotive lighting market would drop to around €22bn. There will be severe tension between an extraordinarily strong management of scarce resources by vehicle makers and big opportunities for adding new lighting functions and research for additional lighting breakthroughs.
The DVN Study
Under these circumstances, the DVN team decided to launch a study on the opportunities and risks the automotive lighting community could face in the decade 2020-2030. The study, entitled New Lighting Functions 2020-2030, will cover all important areas of interior and exterior vehicle lighting technology and market developments. More information about price in the brochure.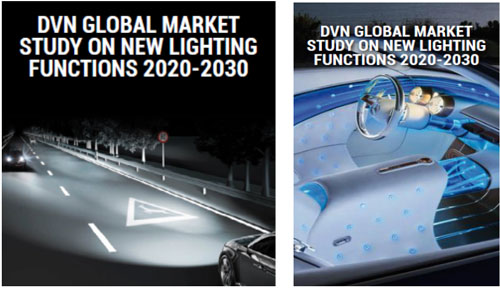 Just a few of the topics investigated are improved safety by dint of of new exterior lighting functions for communication by light; new styling approaches, and new user experience with interior lighting central to connected and cocooning passenger cabins. We've made this study to provide insight into major innovations to come— evaluating their interest, risks, chances to succeed, and regulatory implications. As a main topic, of course, the business challenges and opportunities and market trends are evaluated in context of the social and industrial changes wrought by the pandemic.
To create the study, DVN applied our established methodology:
Focussed discussions with key industry stakeholders
Input from leading research institutes
Literature review
Analysis of the gathered information
Sanity-reality checks with experts in the field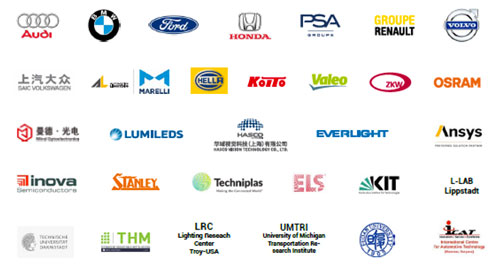 The process was directed and driven by eight senior vehicle lighting experts, greatly aided by numerous companies and institutes shown here.
As a general outlook of the study, we see a bright future for the vehicle lighting market despite the challenges of the pandemic. Of course cancellation and delay of projects will occur in next couple of years, but the industry has plenty of new ideas and technologies under development to catch up afterwards and resume advancing and improving safety and style. Digitalisation of light will carry on, with new business models partly based on recurring revenues. Additionally, invisible light (IR and UV) as new application areas can offer attractive business opportunities for pioneering specialists in these sectors.
The intent of the study is to set out a yardstick for a view on development and market introduction of new vehicle lighting functions in the coming decade. A main target is to give the vehicle lighting and vision community a framework and foundation for discussing future prospects. The study will serve decisionmakers and experts along the automotive lighting value chain as a valuable resource for making well-informed strategic decisions about market and business approaches, technology choices, resource allocation and investments.