In the decade 2030–2040, the global car market will be shaken up by the rise of autonomous vehicles, which greatly reduces the need for private car ownership. Within this scenario, it is electric cars which will remain a beacon of growth, satisfying both the governmental drive to clean air in cities and the steady rise of autonomous vehicle technology.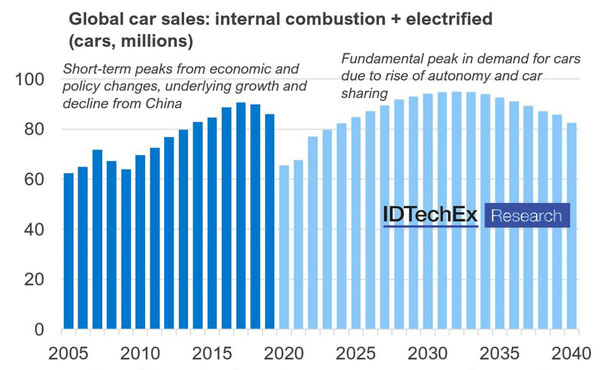 First invented in the 19th century, EVs lost the initial battle to the internal combustion engine; batteries were unable to compete with the energy density of gasoline. Over a century later, the Li-ion battery is enabling the meteoric rise of the EV as a solution for reducing local emissions and
greenhouse gases.
Today electric cars with barely 15 years of development offer cutting-edge automotive technology and performance, including autonomous driving functionality and solar bodywork.
The new IDTechEx report, "Advanced Electric Cars 2020-2040", provides a long-term outlook for the car market and enabling technologies in the wake of COVID-19.