ZKW's new StripeZ LED light module has won the German Design Award 2020 in the Auto Parts and Accessories category. The jury liked the unusually compact design of the lighting element. The ZKW design team strove to use an LED module to turn the subject of light into the shape of an eye and thereby make it the centre of attention. The StripeZ modules are already being used in series production of headlamps for premium vehicles..
The StripeZ module range offers low lens height and an integrated cooling element. Compared to conventional LED elements, the technology has significantly smaller dimensions with the same light performance, which allows new design options for the main headlamps and front end of the vehicle. ZKW CEO Oliver Schubert says "The award is very important to us, as the topic of design is becoming increasingly important in automotive lighting and sensor systems. Car manufacturers have increasingly higher requirements with regards to appearance, which is why we have to develop trend-setting designs".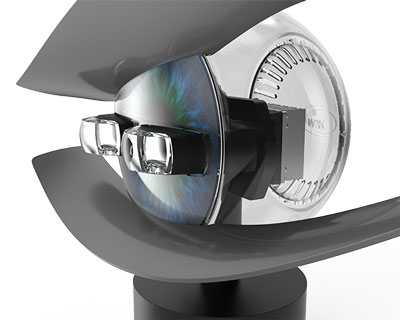 The StripeZ modules all feature exceptionally slim design, a consistent design language, and a multitude of design options. The technology also creates additional space in the headlamp housing due to the reduced space requirement, which can be used, for example, for the integration of sensors. "This aspect is particularly important for autonomous driving," says Schubert
Despite its compact design, the StripeZ modules give performance comparable to larger LED light modules. Depending on the version, the optical lens is only 22 to 30 mm high and thus considerably smaller than conventional systems with a height of around 50 mm. StripeZ technology allows the task of producing different light functions (e.g., low beam and high beam) to be split into several modules. Depending on the desired appearance, one can choose whether all headlamps are to light up simultaneously or not. This creates an even wider range of design options for each headlamp.

The German Design Awards honour innovative products and projects, as well as their manufacturers and designers, who are pioneers in the German and international design landscape. Award winners are chosen by a top-class international jury.
In addition to its design, which differentiates the StripeZ significantly from other products, its consistently high lighting performance and the design freedom it offers (thanks to its smaller size) also play an important role. The stripeZ product family includes three different categories, which are divided into individual module types. These each have different functions, and all of the products in the entire family are able to offer full light power despite their greatly reduced size. modules are an excellent choice for use in flat front headlamps.