The sun, the beach, and a droptop car traditionally fit well together for summer leisure in sunny tourist resorts—See Pininfarina's fresh interpretation of the idea in this week's Newsletter. And even though this year has been rough and rocky in a lot of ways, take heart: today's convertibles are as safe as closed models; a recent report from the Insurance Institute for Highway Safety confirms it!
Unfortunately for sun-worshippers (and those who appreciate car design), cabriolet market share continues to drop; it's now at 0.8% according to LMC. Even less than that for SUV-based convertibles like the VW T-Roc Cabriolet, a real niche within a niche. Why? Well, automotive climate control has gotten better and better, while climate change is bringing us hotter and hotter summers, plus there's the security factor, and automakers like BMW are offering high-versatility remote-start systems capable of pre-cooling the interior. Convertibles are harder for buyers to justify, and so whether it be a sedan or a crossover or an SUV, most buyers choose to have a cabin and a roof.
And a roof is a surface ready for design and content upgrades. Luminous headliners are making a lot of sense to provide the feeling of space, reinforcing a vehicle's premium lineage and signature with thoughtfully designed and coordinated interior celling lights. And that's just one example; take a look at this week's in-depth article on interior lighting, confirming BMW's prediction of a tenfold car interior market growth in the near future.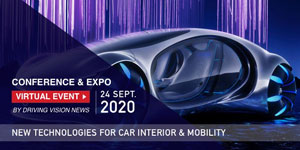 Interior lighting is one of the numerous topic we'll address at the inaugural DVN-I Smart Interior Conference and Expo to be held online this coming 24 September, providing an ideal opportunity to go deeper into these topics. Sign up here, see the docket here, and find a video teaser here.
This week's Newsletter also brings you new chapters in our onrunning series: lighting integration, trajectories, mobile signature.
We hope you find this Newsletter interesting and informative. Have you not yet subscribed? Here's your link!
Sincerely yours,