Bentley, Porsche, Volvo, and MG increased sales in June in a market that was down 25% for the month. The overall market's decline, however, was a vast improvement on the 57% drop in May and the 74% collapse in April.
Bentley's June sales rose 11%, Porsche was up 9% and Volvo gained 3%, but the big winner was Chinese-owned MG, which grew 146%, according to figures from market researcher JATO Dynamics.
The other brands that beat the market, but were not in positive territory for the month, included Lexus at -2%, Rolls-Royce at -6%, Mercedes-Benz at -12%.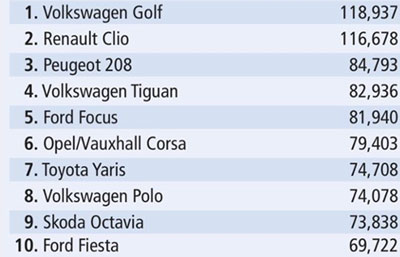 The Renault Clio was Europe's № 1 seller for the second consecutive month in June with a volume of 36,000, achieving its third monthly victory this year over the Volkswagen Golf, which is at risk of losing its overall lead to the French car.
The Clio and the Peugeot 208 were the only models in Europe's top 10 to increase sales in June. The 208 was the best performer in the top 10 with an increase of 11% compared with June 2019.