The ELS (Embedded Lighting Systems) academic program was founded in 2014, from the collaboration and the joint efforts of the two major car makers in France—PSA and Renault—as well as major lighting suppliers Valeo and Automotive Lighting, with the help of three major engineering schools ESTACA, Institut d'Optique Graduate School, and Strate Ecole de Design.
The target was to develop a research and teaching structure to prepare new engineers skilled in this crucial and complex field of engineering. The action field of the ELS is now also evolving towards research and technological support, as a federating entity extending to the industrial network and establishing important links to equivalent research structures long established in Germany and other countries.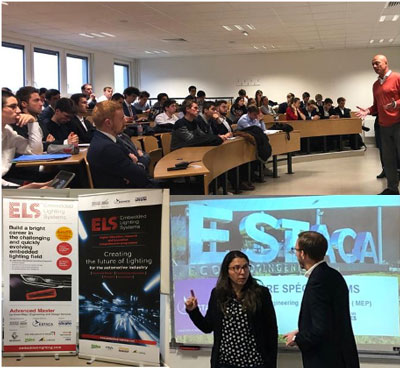 ELS benefits from academic and industrial expertise in transverse fields related to vehicle lighting: optics, electronics, photonics, embedded systems, design, software, and automotive regulations. It offers an education program in the field of lighting systems, based on both an international Advanced Master's Degree and on-demand continuing education. The training program has been engineered and is delivered by academic and industrial faculty members selected for their knowledge and expertise in various fields related to vehicle lighting.
Since 2017, ELS has also provided a research program based on industry-oriented topics. Beyond R&D investments of industries in new technologies, ELS aims to answer questions arising from future applications dedicated to digital lighting, light communication (V2V, V2X…), ADAS, and other suchlike. In close collaboration with international research institutes, ELS research is dedicated to providing further knowledge on such advanced lighting features to increase traffic safety, comfort, convenience, and acceptance, and to devise recommendations and lighting requirements, with the goal of a simplified and harmonised regulation.

As an example, ELS has successfully achieved a study commissioned by the GTB, in collaboration with KIT (Karlsruhe Institute of Technology) , to address the question of the relevance and safety impact of an advanced function based on road projection. Through two theses funded and supervised by both academic and industrial partners, ELS has also provided a framework allowing to address research needs about lighting and signalling for autonomous cars, using expertise and knowledge of all partners involved.
Furthermore, ELS provides an innovation program aiming to think about the new trends and use-cases in automotive lighting (autonomous vehicles, urban mobility, shared mobility, smart cities…), based on joint programs with ESTACA'Lab and with Institut d'Optique Graduate School Technology Venture Program, which has proved its performance for years.
After just five years, ELS has exceeded most of the objectives set by its founding members, by providing a favourable and facilitating environment for tailor-made training to suit industry needs and expectations and by promoting attractiveness of the automotive industry. This is done by showcasing the various fields, trends, and challenges in vehicle lighting to students and, hence, to potential future recruits.

ELS has also allowed to build for the automotive industry a new capacity for neutral research and innovation in the favorable environment of Paris-Saclay, a research-intensive and innovation cluster, where most French innovative companies have their R&D centres.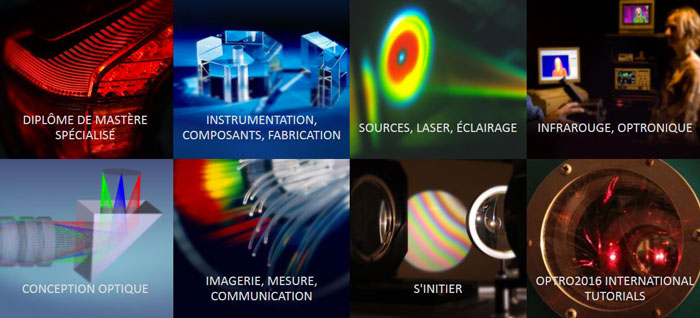 The one-year programme as a whole, as well as each of its 12 academic sessions are made available either as an Advanced Master's Degree or in separate sessions:
1. Fundamentals of optics for lighting
Learning outcomes: Description and analysis of optical lighting systems using ray optics, physical optics, and basic notions of light sources.
2. Fundamentals of photometry for lighting
Learning outcomes: Photometry of optical lighting systems, photometric measurement equipment.
3. Systems Engineering: models and functional security
Learning outcomes: systems in the automotive context, including modelling and functional reliability according to the ISO 2626-2 standards.
4. Fundamentals of mechatronic modelling of lighting systems
Learning outcomes: mechatronic systems, description with industrial modelling tools. Ability to make and describe the assumptions of the model, to program it, to validate it, to give a physical interpretation of its results.
5. Creative design of optical systems for the car industry
Learning outcomes: Ability to relate the imperatives of both design and technology, to understand the point of view of the designer, to understand the origins of the constraints generated by the design and to be able to propose technical recommendations to meet the design specifications.
6. Light sources: properties and performances, integration, reliability
Learning outcomes: light source selection according to technical specifications under constraints.
7. Computer aided photometric design of illumination systems
Learning outcomes: broad knowledge of the main optical components and sub systems used in lighting and signalling. Ability to design and optimise the photometry of a lighting systems using dedicated software.
8. Integration of the physical system environment and production constraints
Learning outcomes: ability to understand the diverse technical environments, to size the system with the fabrication process constraints.
9. Mechatronic modelling and simulation of an embedded lighting systems
Learning outcomes: ability to model the mechatronic systems, to program them and to validate them with simulations or prototypes.
10. Embedded information systems
Learning outcomes: ability to program an electronic board, to describe the information path necessary for its control, to correctly send and receive a network message.
11. Characterisation of surfaces and of their aspect, advanced photometric simulation of surfaces
Learning outcomes: ability to use advanced tools for realistic simulation of photometric and visual aspect of a lighting system. Ability to relate the characteristics of surfaces to their expected and observed visual aspect and to use the relevant characterisation tools.
12. Physically realistic and real time rendering of appearance, visual and cognitive aspects in relation with design
Learning outcomes: understanding the relationship between the physical reality and the perceived aspect. Ability to specify the needs in terms of real time rendering by virtual or augmented reality as well as by valid images through the filters of vision and cognition
Testimonials
Whilk Gonçalves, PSA – Expert on Lighting and Head of Innovation
"It is in the strategic interest of the PSA Group to continue its support to the ELS to reach a self-sustainable level and to adapt to the new challenges in the fields of lighting, keeping its target to reach excellence levels".
Hervé Fayard, Renault – Head of lighting system engineering group
"The ELS Chair allows to have access to a very high-level training for students and for our engineers. We hire three new engineers, immediately operational with a high level in optics, systems and mechatronic. We have proposed to our high potential engineers coming from all local technical centres (Brazil, India, Romania…) to participate in the complete training and participate to the skill-building improvement in the local technical centre for lighting features.
Christophe Le Ligné, CTO Valeo Visibility System
"ELS Chair is addressing a critical need for the upskilling of our technical project managers. With the tremendous increase of electronic content and system complexity, we need to have technical project managers able to develop a system vision, encompassing the constraints of embedded systems, optical rules and mechatronics environment. Thanks to the ELS program, we can upskill internally and hire externally engineers that are directly able to take the job. We are counting on the ELS master to increase the number of students according to our global footprint

Dr. Rainer Neumann, GTB Chair WG SVP
"As the chairman of the research group in GTB, where we collaborate with many research institutes and universities in order to get objective and reliable results of the upcoming new technologies in vehicle lighting we have developed very good relationship to ELS and Dr. Sheherazade Azouigui with our project: parking and deparking signals in automotive traffic.
The results were clear and have been worked out with high accuracy."
Prof. Dr. Cornelius Neumann, Optische Technologien, LKI
"The Light Technology Institute of the Karlsruhe Institute of Technology (KIT) collaborates with ELS on automotive lighting communication projects. We successfully started with three subject studies for the Groupe de Travail Bruxelles (GTB) on safety aspects of projected lighting symbols. We actually plan a joint project about Communicative Light (CoLi) and applied for a French-German founding by the Deutsche Forschungsgemeinschaft (DFG) and the Agence National de la Recherche (ANR)."
Wojciech Fujarski, Poland – Student
"When I reflect on my year in the ELS, I conclude that the experience not only made me a better engineer, but also prepared me in unpredictable ways for my career. Through projects with incredibly supportive classmates, and professors who were nothing short of champions, I was challenged to do a project on a headlamp and tail lamp with all the technical assumptions which I never did before. That project played a central role in my work, as designing is vital to thinking, to planning, to imagination, to communication, and to engagement.
Harpreet Singh, India – Student
"ELS got my attention because of its course in vehicle lighting as it was exactly what I was looking for to improve my competence. Here I was trained in three different schools from where I gained the knowledge of automotive lighting design, optics and electronics. Having been shaped in part by the collegial and creative, rigorous environment at ELS, I found myself able to communicate, innovate, and collaborate in ways that enabled me to become a successful engineer and eventually to find a rewarding career in a big enterprise. In my current role, I draw every day on the dispositions I developed during my time at ELS. It was a wonderful time in my life, and the best educational experience I have ever had."
Amada Vieira-Fernandes, Brazil – Student
"For me, the ELS Master was an opportunity to learn more about the field I was going to start working with after the end of the master. A great part of my decision to join the ELS was being able to sink in knowledge I may even already had from my previous studies as well as to acquire experience on such a specific application field as embedded lighting can be. Learning methods are intense but still based on the best way of learning, which is by practising: from the benchmarking study to the applied transversal project, all design, mechanical and electrical bases were covered by all team members"
Cameron Betz, Spain – Student
"I think the ELS Master helped me to have a broad, transversal scope of our worldwide automotive industry and vehicle lighting design. I understand better the challenges faced by my colleagues from the mechanics and optics departments, as well as the ability to anticipate the wants and needs from our customers. The ELS Master has certainly benefited my career in the automotive lighting industry. Following the ELS Master, I have been promoted from System engineer to Electronic Design Leader (EDL) and now to EDL team leader."