Last month we presented a new rating system which—for the first time—facilitates qualitative evaluation of glare-free high beam (ADB) systems. Now we bring you more information. TU-Darmstadt's Professor Khanh, leader of the project to develop the rating system, says "The main point of this new rating system is to keep the principle of CIE TC 4-45 and to expand the evaluation to the ADB context based on weighting the use frequency of ADB. This new rating system has been validated with 17 different headlamps types. Before the VISION congress where the rating system will be presented, a number of automakers and setmakers will hold task force meetings in Darmstadt to optimise the evaluation by collecting headlamp luminous intensity curves, and to validate this evaluation by real test drives in August-September."
And team member Rainer Neumann says "The new rating system takes into account the safety-relevant photometric data to be able to detect objects [so drivers can] react accordingly in time and avoid accidents in nighttime driving. It takes into account for the first time the important adaptive driving beam system (ADB), which works automatically and results in an optimised illumination of the road ahead without glaring other road users. The first publication by TUD was just published in ATZ, a German auto R&D online magazine. Additionally, we also need to communicate and involve automotive journals in the public our new rating system to get support and to create awareness and acceptance."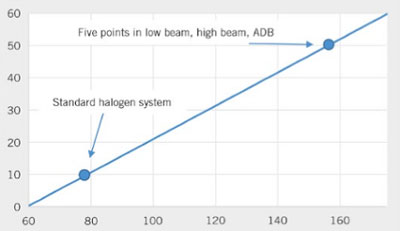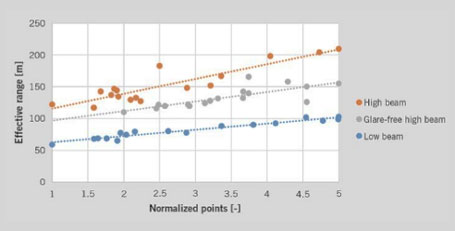 The evaluation points of all eight ADB criteria are summed up to determine the total score. It is possible to grade the safety-relevance of the individual criteria by weighting the criteria with different factors before summing them up. Due to the different areas of application for low beam, high beam, and ADB and the resulting different criteria, a standardisation of the evaluation points of the individual functions is necessary for an overall evaluation of the headlamp functions.
The method based on laboratory measurements thus leads to representative results that enable a direct and objective comparison of different headlamp systems. The method presented is based on the recognised evaluation principles from the CIE standard TC 4-45 and the legal requirements according to UN R123.
Furthermore, the evaluation is based on a comprehensive database of a wide range of headlamp systems and test series, so that in conjunction with the extensive ADB database developed, reliable results are achieved for all systems. In order to present the individual safety performance of a headlamp system in an easily understandable way, it is classified in performance: Standard, Good, Advanced, Excellent, Premium, or Premium+.
The authors of the study, led by Prof. Khanh from TU Darmstadt, are Audi's Dr. Michael Hamm; Marelli Automotive Lighting's Dr. Ernst-Olaf Rosenhahn, Felix Freytag, and Gerd Langhammer; and Varroc Lighting Systems' Dr. Rainer Neumann.