EPIC is an organisation assembling around 550 companies involved in photonics. At DVN, we are convinced of the mutual benefit for the vehicle lighting and photonics communities to work together: the lighting industry offers a high-volume market of eager customers for a wide array of new technologies coming from the photonics community.
And so last week, with DVN's help, EPIC held an online technology meeting—their first dedicated to vehicle lighting. There's a 2½-hour video of the meeting, and everyone really ought to see it.
Of course, there were things missing by dint of the meeting's online venue. No in-person networking, no dinner or coffee break conversation, and no visits to expo booths, but it was nevertheless quite productive.

Though each lecture was only 10 minutes long, they were all packed with high-level content. Here we present summaries of the presentations by speakers DVN invited to the event, along with an interview with each speaker.
Audi's Berlitz: µLEDs for Light Communication
In the first part of his lecture, Audi head of lighting innovation Stephan Berlitz presented the use cases in front, side, and rear vehicle lighting communication:
• In the front: Communication with VRU (pedestrians and cyclists) mainly in crosswalk situations; communication with other cars (warnings, planning information, etc)
• In the Interior: Security advantages through higher visibility from the side, like design integration of side markers; communications as described for the front, and special displays
• In the Rear: Display of symbols for warning other road users.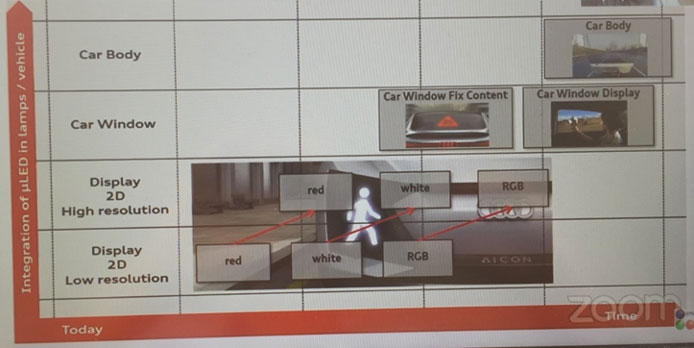 Then Berlitz talked about the possible roadmap for integration of µLEDs starting now with 2D display with different colours of LEDs and low resolution, to RGB, car window pictures/video, then the same in car body installations.
Volvo's Matha: Lighting and Sustainability
Carmakers are focusing on sustainability, as climate realities and regulations are making it one of the main pivotal axes for the coming years. There are new challenges in Europe from this year with the new WLTP homologation cycle's tough 95 g/km CO2 limit, with steep €100 per car per gram above the limit. The WLTP cycle integrates only the DRL mode (daytime) which has a large range of consumption: as few as 10 watts for an LED reflector; as many as 60 watts for a multipart light guide. Higher wattage drives higher CO2 and lower autonomy— with a combustion engine, 1 g of CO2 is equivalent to 50 watts' power consumption. And with a hybrid powertrain, the battery size is for 10-15 kW/h while in EV, size is for 50-80 kW/h. Styling increases consumption, and so we need efficient optical systems to reduce consumption.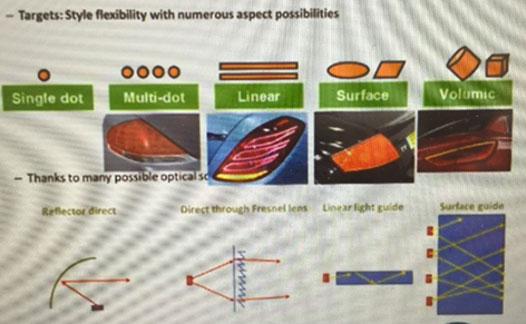 The great opportunity for the photonic community is to find optical, electronic, and software solutions to increase the lumens per watt and decrease the cost per watt. So automakers could use slim headlamps and very homogeneous lighting signatures.
Renault's Bedu: Progress in Deployment of LED, ADB
Renault achieved an economical breakthrough to achieve the full adoption of LED technologies with simplification, integration, and standardisation.
Now Renault want to do the same with ADB systems which have huge value for motorists and everyone in traffic with them. For that they need a cost reduction for large adoption of the system, developping a standard µLED solution for full application with 20 to 100 kilopixels.
François Bedu concluded his presentation by naming two actions he considers mandatory to succeed, including interior lighting and signalling: simplification, integration, and standardisation of all components, from drivers to primary optics; and new architecture with software, development of µLEDs able to address the full horizontal field of view with good resolution, and low power consumption.
Marelli AL's Stella: Trends to Technology
Andrea Stella, Marelli AL's R&D Vice-President, talked about two important items: the company's portfolio, and trends in exterior vehicle lighting.
About Marelli AL Portfolio:
• In headlamps: full LED, ADB with matrix and pixels, laser light, digital light
• In rear lamps: full LED, adaptive and dynamic rear lamp systems, OLED, LED
• In electronics: standard LED drivers to control full LED headlamps, tailored drivers for matrix and laser solutions, drivers for HD DLP and multi chips LED modules, LED printed circuit board assembly and electronic control units
About trends in exterior automotive lighting
• Style vs performance: front and rear lights are heavily styling driven but performance is an important safety feature with legal specification
• New functions
• Sensors for ADAS and sensor integration in lighting systems
• Smaller and lighter, more efficient and more complex
• Digitalization with heavy increase in software content
Osram Continental's Allgeier: Intelligent Lighting
Intelligent lighting integrates front and interior lighting, light control units, projection solutions, and sensor fusion.
The 10 fields of intelligent lighting are hardware, software and algorithms, thermal management, optical design, sensor fusion, system integration, testing and validation, advanced surface mount technology, and Studio design.
What do Osram Continental look for?:
• General interests: new technologies with new solutions, improved performance, and reduced cost; high quality with zero failures, environmental robustness, and affordable cost.
• Technology-specific interests: light modulators for HD ADB and projections; µLED for HD and for µlens arrays; smart RGB LEDs, and extension to mid-high power.
DVN asked three questions to the speakers. See below the main answers:
Question 1: How do you think of technical session by video? were you able to follow all the 2.5h virtual meeting?
– Technical session was very well organized. We can follow the presentation and understand. – For Q&A I think it would be better to have every 3-4 presentation and not after each one. And also a small coffee break every hour could be great.
– The only weak point is that there is no break during the 2.5h
– I have followed the whole time and I liked a lot the way the meeting was moderated. What is missing is the collateral interaction that in physical meeting events like DVN is possible in between the different sessions.
– I think technical sessions by video are an interesting concept and helpful, not only in the "COVID-19 days". It does allow to get a quick overview and exchange about many potentially interesting topics, with a limited effort and saves cost. It is possible to get easy and fast answers to questions, and connect afterwards further, if one looks for a deeper understanding. I could follow the whole 2.5 h meeting without any problems.
– As 6 minutes speaking time is quite short, every speaker seems to talk quite fast to get the information across, which would probably make a meeting more than 2.5h exhausting.
Question 2: Did you know EPIC and do you think possible to have a win-win relationship between automotive lighting and EPIC community ?
– I didn't know EPIC before but I know photonic 21. EPIC community is quite far from OEM.
– It is always good to have meeting with some tier 3 suppliers to explain our OEM visions and needs. For example I am quite sure that they were aware of our problems about power consumption in lighting.
– No, I didn't know EPIC before. Some opportunities can be done. One limitation of the meeting was link to the companies connected directly to the meeting. There were mainly known by automotive lighting industries. I expected more innovative companies, start-ups. Some companies have contacted me in private. We will see in the following weeks the opportunities.
– I did not know EPIC before, but I think it will be beneficial to link the 2 communities. Many technologies we apply in our automotive lighting devices today are originally coming from other industry fields and so it will be in the future.
Question 3: What are the fields: optics, thermics, electronics, systems, software, materials where suppliers or start-ups could help you ?
– LEDs are in the middle of the triangle optic, thermic and electronic. And it is the core business of photonic. System and SW are also needed but it seems to be another field of skills.
– Advanced optics, electronics, software and system integration are the most important areas.
– The 3 main topics where challenges are important to solve are: Optics for better efficiency and better homogeneity, Electronics for µLEDs and integrated circuit with cost reduction, Software for suppliers able to propose coded functionalities.
– We are looking for new technologies helping to improve performance and cost.
– In the area of photonics we are interested in light modulators or µmatrix LEDs generating high resolution, µoptics like MLAs and the extension of Smart RGB LEDs to the mid and high power range.