Editorial from EPIC by Carlos Lee, director general
« In this month's editorial, I would like to introduce a very active network: Driving Vision News. I talked with Hector Fratty, CEO and general editor. Hector has dedicated his entire career to automotive lighting. From 1995 to 2006, he was Valeo Lighting Systems' chief of R&D, managing a staff of 650 engineers and technicians..
What is DVN – Driving Vision News?
 DVN is the automotive lighting and ADAS industry's journal of record, dedicated to keeping the community informed and communicating about the latest progress and developments.
What is the purpose of DVN?
There are three main objectives :
1. Technological watch on emerging technologies through the weekly electronic newsletter, and monthly technical reports focused on lighting and ADAS, company profiles, motor show reports, and so on;
2. Networking with high level decision-makers to forge new business through two workshops per year held in the USA, Europe, China, Japan, India and Korea, gathering more than 300 participants.
3. Promotion of innovations towards the 150 member companies of DVN, getting in touch through our personal intervention, enabling the building of new relationships through 'DVN Community' to forge new business worldwide.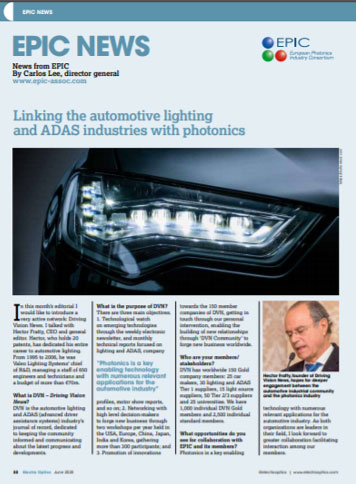 Who are your members/ stakeholders?
DVN has worldwide 150 Gold company members: 25 car makers, 30 lighting and ADAS Tier 1 suppliers, 15 light source suppliers, 50 Tier 2/3 suppliers and 25 universities. We have 1,000 individual DVN Gold members and 2,500 individual standard members.
What opportunities do you see for collaboration with EPIC and its members? Photonics is a key enabling technology with numerous relevant applications for the automotive industry. As both organisations are leaders in their field, I look forward to greater collaboration facilitating interaction among our members.