Marelli Automotive Lighting have won a Pace award for their innovation h-Digi lighting module. It's the first of its kind, incorporating a chip containing 1.3 million micro-mirrors that provide glare-free high beam and image projection on the road.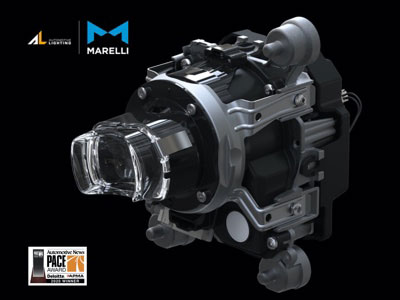 h-Digi® improves safety and comfort, can leverage vehicle-to-everything (V2X) communication technology. Future-state image projections could include speed limit warnings, weather and road condition advisories, vehicle-width guidelines, construction alerts and more
Four questions to Sylvain Dubois, EVP Marelli and AL CEO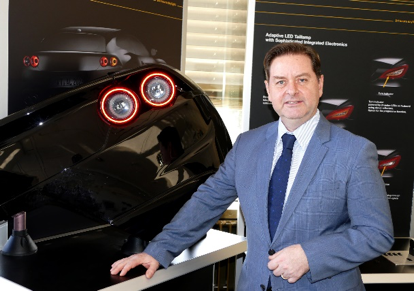 DVN: Congratulations! After the Mercedes Maybach, have you had more orders for this technology?
Sylvain Dubois: We were first to market using this technology with Mercedes-Benz. And we are also producing for Audi on the E-Tron. We have also received other orders which are currently under development.
DVN: How do you see road communication to help tomorrow's drivers? Construction guidance lines, warnings, and that kind of thing.
S.D.: Every time we talk about lighting, we talk about a system that is a key contributor to driver safety. This new lighting technology, which allows the driver to receive information projected on the road, in his field of view, is clearly a step forward. I am convinced that this and other high resolution technologies will develop broadly in the coming years.
DVN: How do you assess the DMD technology with the thousands µLEDs?
S.D.: DMD technology is the high end of light digitalization with 1.3 megapixel. It cannot be afforded by the mainstream OEMs. However, we are currently developing a more affordable solution in the range of 30 kilopixels for generalists, so called µLEDs. We are convinced that our new development will allow the democratisation of this safety feature.
DVN: The vehicle lighting field was going in a wonderful direction toward a bright future before the crisis. How do you see the effect of the crisis on lighting innovations?
S.D.: Before the crisis, megatrends such as electrification, autonomous driving, and car connectivity were pushing carmakers to invest a lot in innovation, sometimes making choices not to spend in other areas like lighting. The COVID crisis, whose magnitude is still difficult to evaluate, is already having some impact on innovation where in some cases, OEMs have decided to delay or stop some programs. So for sure innovation will be affected and a slowdown is expected, not specifically for lighting, but in general.
See Pace award event video with Sylvain Dubois's part between  26'08'' à 27'30''