16 point outperformance in Q1-2020, acceleration in all geographic areas and Business Groups consolidated sales came in at €4,5 billion down 8%.
All Business Groups outperformed the market, spurred by production start-ups and ramp-ups on numerous hightech innovations, including cameras and other ADAS-related products, and LED lighting systems.
In China, since March, production has gradually resumed at all 34 Group plants.
In Europe and North America, Valeo has adjusted production levels in line with stoppages decided by automaker customers.
Valeo will continue to maintain strict control over costs when operations resume.
€2.3 billion available in undrawn credit lines Valeo has negotiated credit lines for an additional 1 billion euros with its main banks, and therefore currently has €2.3 billio in undrawn credit lines, enabling it to withstand any prolongation of the current crisis.
Jacques Aschenbroich, Valeo's Chairman and CEO, commented: "During the Covid-19 pandemic, my absolute priority is to protect the health of our employees from the moment operations resume at our plants. We have also implemented drastic cost-cutting and cash preservation measures, and we have sufficient liquidity to withstand any further prolongation of the current crisis."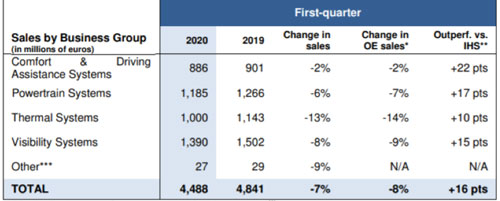 Visibility Systems Business Groups recorded an outperformance in original equipment sales in line with the Group as a whole, driven by LED lighting systems.