Investigations from Audi's Michael Hamm, Christian Hinterwaelder
Audi have been scrutinising the potential for safety improvements by dint of a new lighting function: projections on the road surface from a vehicle making a nearside turn (a right turn in right-traffic countries, or a left turn in left-traffic countries) to inform cyclists their path is about to be intersected. About 63% of accidents are nearside-turn ones.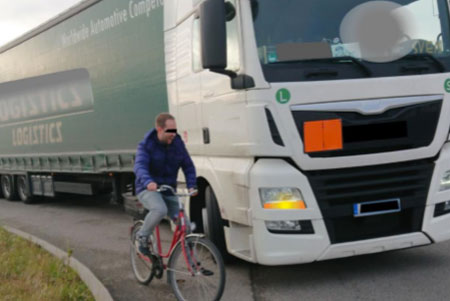 How the projected turn signal could help avoid crashes
Turn signal projections could enable bicyclists to react faster and more accurately. Even though passive safety structures are applied to trucks, and turn indicators and side repeaters are operating, accidents still occur—and it's been a problem for a very long time all over the world, as illustrated by this 1975 movie.

The idea is that projected turn signals' additional visual stimuli right in the driving path of cyclists, skaters, and e-scooter riders could effectively decrease the number of accidents in turning situations.
The investigation found that any projection was better than none at all. But presenation of arrows and animating the chevrons delivers about 1 second quicker reaction compared to a spot of light on the road. The results also show that high contrasts and dynamic effects are most effective. The presented solution could definitely increase the safety for vulnerable traffic participants.
In the meantime, here's a Q&A with Michael Hamm & Christian Hinterwaelder: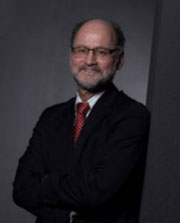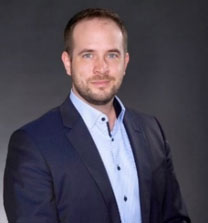 DVN: I very much like this function because every day on my bicycle to go to work, I often find myself in this bad situation. Do you think this function will be easy and affordable enough to commercialise?
Michael Hamm: Easy?, No. There is limited geometrical position possible for such street projection. It must be somewhere around the corners of the car. In this area are usually the headlamps. Also there is limited space, but it is not impossible.
And your question implies there would be many persons feeling better if such technology exists. We think this could be an affordable functional enhancement.
DVN: Do you think possible to combine this new lighting function with the turn indicator?
Christian Hinterwaelder: Activation should be synchronised to avoid flickering effects. Whether it could use the same exit aperture, that depends on the implemented technology.
DVN: This function is rarely visible for the driver, but as you found, quite effective. How do you imagine promoting it?
Michael Hamm: This is a safety function predominantly for vulnerable traffic participants, right. But everybody outside the car will see this function. It will bring light to a normally unlit area and thus it creates awareness. So it is a safety and car2others communication function which is easily visible and understandable. This will contribute to a positive marketing push.