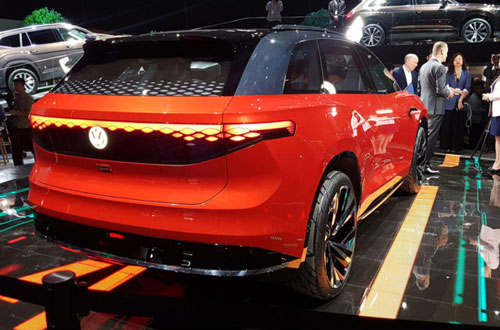 EVs and AVs mean changes in the design of tomorrow's cars, and the same applies for lighting. For example, consider VW's futuristic ID.ROOMZZ.
This SUV prototype is the latest addition to the ID family of EVs and can be driven either in manual or autonomous "ID.Pilot" mode. ID.ROOMZZ is set to be released in China as early as next year, and will then go into series production worldwide.
The front and rear lights both extend across the entire width of the vehicle as horizontal lines. Illuminated touch-sensitive panels for opening and closing the doors function as a visual link between the front and rear of the car. "Light is the new chrome" is the memorable catchphrase of Volkswagen's Chief Designer, Klaus Bischoff. The distinctively contoured lights at the front end of the ID.ROOMZZ demonstrate exactly what this means: A double horizontal line with the illuminated Volkswagen emblem at its centre forms the striking signature light, with the top line enclosing the LED headlamps.
The rear of the ID.ROOMZZ also surprises with its innovative light design: the "ID.Honeycomb" shape, which represents sustainable mobility within the ID family, extends across the entire width of the car like a signal-red LED strip and provides all lighting functions. "This full tail lighting, in which a single component combines both taillights, is a trend in the automotive industry," says Siamak Djafarian, Head of the Molding Compounds business unit at Röhm, who supply the Plexiglas™ material used for the rear lighting setup. "It increases design freedom, as automobile manufacturers can use complex forms and additional materials here to create eye-catching effects".
For the first time, VW are presenting a concept car with a signature taillight that can be customised using a smartphone app. "The smaller, individually controllable ID.Honeycomb elements in the taillight can form three different signature lights", as VW exterior designer Nicolas Ruhault describes it.