More than 600 cars from 60 manufacturers and 23 global launches are being presented until August 3, on show at the British International Motor Show which will feature launches, world premieres and concept vehicles.
The 2008 year's British International Motor Show highlights the initiatives the world's major manufacturers are undertaking to meet the threats the industry faces, specifically, emphasizing pleasure in motoring and environmental concern.
The star of the motor show is the Opel/Vauxhall Insignia aiming to meet the standards of luxury car.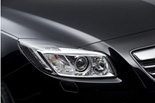 Major launches at the show include the final unveiling of, the new Fiesta (12 million Fiestas have been sold around the world since 1976), the new Lotus Evora and the major premieres with the new Mito of Alfa Romeo.

Some other cars already presented at Geneva 2008 or Detroit 2008 like Citroen C-Cactus, Honda CR-Z Kia Kee, Land Rover LRX, Lexus LF-A, Peugeot RCZ, Renault Laguna Coupe, Toyota iQ and Honda CR-Z topless below

GM Vice chairman Bob Lutz said at the London motor show "GM has made a complete total global commitment to a massive onslaught of new products in the next 24 months".Referring to GM's announcement in the US last week of moves intended to boost its liquidity by about US$10bn, Lutz said: "Those announcements were a clear acknowledgement of the challenges we face, particularly in North America, and a revelation of the decisive actions we're taking."