The Opel Eye is a new camera that helps drivers with Traffic Sign Recognition (TSR) and Lane Departure Warning (LDW).
The wide-angle, high-resolution camera and processors were jointly developed by Opel engineers and specialists from supplier Hella. The TSR function reads speed limit and no-passing signs and displays them on the instrument panel. LDW alerts drivers when they unintentionally veer out of their lane. Together, these two systems improve driving safety,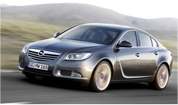 reduce stress and can even prevent costly speeding tickets. They give drivers information, but they do not intervene. The camera, located between the windshield and the rear-view mirror, detects road signs and lane markings.
Opel Eye will be available as an option in the new Opel Insignia. In 2003, Opel was the first automaker to introduce the innovative Adaptive Forward Lighting system with dynamic curve lighting and 90-degree cornering light to the mid-size car class.