At the SAE Congress, 4 papers were presented on LED technology. The 4 papers covered the large range of LED development strategies: distinctive style, functions to be realised with LED, performance targets, and engineering factors related to optics, assembly, thermics, condensation, and electronics.
– Koito presented the LED headlamp of the Lexus LS600.
It is the first LED low beam. LEDs are sourced from Nichia.
– Low beam with 3 projector modules: one for hot spot, one medium width, one wide and a reflector for very wide light.
– Thermics: Fans are not used because of reliability risks. Koito developed 2 heat sinks (one moving, one fixed) and a heat pipe to evacuate the heat from hot areas to colder areas.
– Assembly: The 3 projector modules are adjusted with a challenging process to align the cutoffs from the multiple optic elements.
– Hella presented the LED headlamp of the Cadillac Escalade Platinium.
It is the first LED low beam/high beam in production. LEDs are sourced from Osram.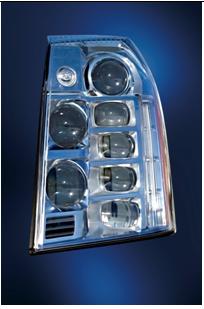 Sales expected at 10,000 units.
Low beam and High beam with LED.
– The headlamp provides a vertical illumination that contributes to the car maker's visual signature. The functions are powered by 7 Ostar LEDs , 5 for the low beam and 2 additional for the high beam. DRL is provided by dimming the low beam.
– Side marker lights are created using yellow Power TopLEDs.
Lights include active cooling with a fan.
– Automotive Lighting presented the LED headlamp of the Audi R8
It is the first Full LED headlamp. LED are sourced from Philips Lumiled.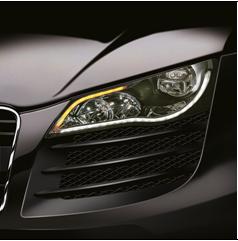 All functions — low and high beam, DRL, position lamp and directional indicator — are performed by LEDs.
Low Beam from one upper and one lower reflector with 2 × 4 LED for spread and one central projector with 3 × 4 LED for hot spot. Appearance with a high-tech effect.
High Beam from 2 reflectors with 2 × 4 LED. No technical problem except alignment.
DRL with 24 LED, 15 lumen each.
D.I. with 8 LED.
In thermics, fans to decrease hot areas and control condensation and to avoid high weight.
– Valeo presented a XLED prototype
AFS managed with LED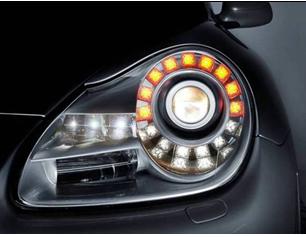 Low beam and High beam with Xenon but all functions including AFS realised with LED.
– Bending light is obtained from 3 LED. Progressive Bending light PBL modules used to give a dynamic movement depending of the curve radius.
– Motorway light is obtained from a reflector which gives a thin vertical spread beam complementing the upper part of the cut-off.
This technology provides AFS technology without any of the moving parts.
Headlamps using LED are moving from concept to reality.
The recent production firsts do not lessen the huge challenges of the next 10 years.