Martin Enders studied electrical engineering and electro mechanics at Technischule Darmstadt and obtained a PhD in Electrical Engineering and Lighting.
After spending 3 years with Osram automotive Lighting, he joined BMW in 2000, when Dr Huhn went to head-up Audi's lighting efforts. Under Enders' leadership, BMW has presented numerous front and rear lighting innovations: Neon on the Z8, Xenon with the 7 series, BiXenon and Dynamic bending light, "Angel Eye" light guide rings for front lamps and linear light guides at the rear.
Until October 2007, and before joining the head of Electronics, Electronics of MINI, Dr Enders has been working all the time in lighting which he has been in love with during 20 years: "Light gives smile and energy and the diamond aspect of the headlamps and rear lamps amplifies the happiness".
In an exclusive interview with DrivingVisionNews, Enders presents his vision of automotive lighting's future:
"The market penetration of xenon lighting will carry on increasing, because the technology still is not fully mature and improvement prospects remain ahead.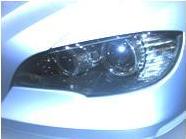 It will take considerable time and money to produce LED headlamps with the same performance as BiXenon Bending light, because of the many constraints involved with LED (thermics, styling, optics, electronics and assembly issues).
The best possibility for LED to overtake xenon is Pixel light to produce a high beam without glaring other drivers. The market is now ready and the technologies are on the field. I think we will see Pixel light technologies on car in the next 5 years."
At a question about the advices he could give to lighting suppliers, Martin Enders suggests searching more standardization and alliance on electronic components which technologies have changed rapidly this last couple of years, even if this effort of standardisation seems difficult versus car manufacturers' specific requirements about style signature and equipment compactness.
The entire Enders interview will be published in the BMW report on www.drivingvisionnews.com