Microrelleus are a family-owned company based in Barcelona since 1983, offering high-quality industrial engraving—with a particular speciality in micro-engraving for moulds and tools.

In 2013 they acquired a five-axis nanosecond laser machine to expand and complement their services, then in 2016 they became world pioneers offering a femtosecond five-axis laser service called cold laser ablation. It involves ultra-short laser pulses—a femtosecond is 10−15 second, that is one quadrillionth of a second, or 0.000,000,000,000,001 second. The characteristics of this cold laser ablation unlock new possibilities in prototyping: microstructuring, texturing and engraving on almost any material. With conventional technology it is not possible to obtain very high quality, performance, and detail in prototypes, but Microrelleus' femtosecond laser ablation provides absolutely burr-free microstructuring with very sharp edges and high-quality surface finish.
So, Microrelleus are microstructuring and texturing PMMA and PC prototypes, both for functional and design purposes.
In addition, they offer innovative mold and tool microstructuring. Before the advent of their technology there was a big gap in the level and fidelity of engraving detail and micro shapes between conventional technologies—milling machines, die-sinking EDM, etc—and lithography and other nanotechnology processes; there was no real solution with micron-scale resolution.
Now, Microrelleus can create microstructuring for lighting purposes such as diffracting, spreading, or diffusing light with attractive surface patterns, concentrating light for greater intensity, and creating micro-optics. The five-axis capability of their machinery allows all these new possibilities to be applied over any 3D shape.
Their technology was presented in an exhibition booth at ISAL this past September. These next images are photomicrographs of microstructures on a 3D mould insert, and micro-optics on steel (at 90× magnification):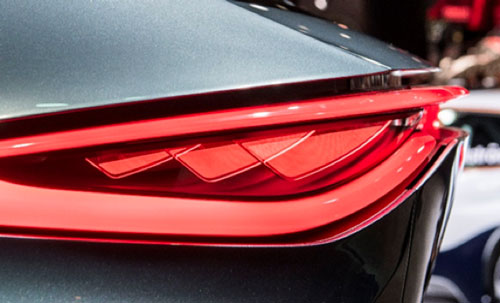 SEAT's Cupra Tavascan concept has Microrelleus' microstructures in the tail light lenses to promote homogeneity of the lit appearance.
We asked four questions of SEAT Lighting Manager Carlos Elvira: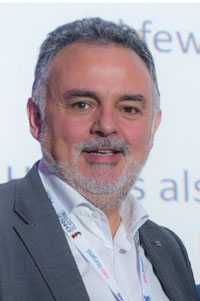 DVN : What is the feedback on the wonderful rear lamps of the Cupra Tavascan unveiled at the 2019 Frankfort auto show ?
Carlos Elvira: The general comment was about an innovative design that takes advantage of the technological opportunity offered by the femtosecond laser to create 3D forms very difficult to present with other technologies.
DVN: What does this technology bring in the styling of rear lamps, compared with your already nice rear lamp?
C.E.: It allows us to evolve from uniform lines that characterise our current designs to uniform surfaces that provide our designs the opportunity to work in three dimensions.
DVN : Do you think this technology is mature to be used production ?
C.E.: It is a mature technology to make prototypes on plastics of all kinds. For production it is a mature technology within the dimension of microstructures. If for optical reasons we need to make moulds with nanostructures, then it is necessary to do more durability tests. But for today's needs it is a very reliable technology
DVN: Do you expect using the technology in the next rear lamps you are developing at SEAT? C.E.: As I said before it is a possibility in the hands of our designers to work in another dimension with the light of our models and I am sure they will take advantage of as we have always done in our models previously with the technologies at our disposal.