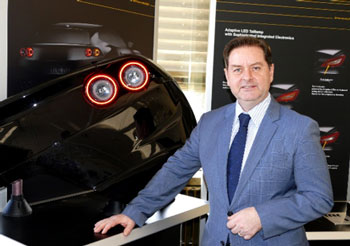 French national Sylvain Dubois earned a degree in Mechanical Engineering in 1991 from the University of Technology of Compiegne (UTC) in France. He also holds an MBA from Sorbonne Business School (IAE) in Paris, and a Master of Science from Cranfield University, UK. He attended the Advanced Management program (AMP) and International Directors Program (IDP-C) from INSEAD, a graduate business school with locations in Europe, Asia, the Middle East, and North America. His career has included important roles in companies in the automotive industry around the world, including as Ferrari's Chief Purchasing Officer. Since 2011 he has been holding Managing Director positions of growing importance and last May, he became CEO of Marelli Automotive Lighting. He graciously spoke with us, and now we present this interview:
DVN: What can you tell us about the new Marelli?
Sylvain Dubois: Marelli is born from the merger between Calsonic Kansei and Magneti Marelli, creating one of the world's top ten independent automotive tier-one suppliers. Marelli has a well-balanced global footprint and products portfolio including thermal solutions, cabin comfort and interior experience, electric and conventional powertrain, green technology and ride dynamics, electronics and lighting, and motorsport. Marelli records a sales revenue of €14.6bn with 62,000 employees in 170 locations around the world.
DVN: Will there be big changes soon?
S.D.: Change is already underway, with a new leadership team in place from day one (May 2019), moving forward with the integration of the new Marelli; defining strategic direction for the group, and managing the synergies that you can expect from such a merger as just two major objectives. At Automotive Lighting, we are already working on how to be more present with Japanese OEMs for an example of the numerous initiatives that we have launched since the merger.
DVN: What are AL's strengths and challenges?
S.D.: Marelli Automotive Lighting is a well-established lighting supplier with the critical size, a global footprint, a well-balanced customer portfolio, a diverse leadership team and we are at the vanguard of lighting technology. These are all qualities that make up our strength. Our challenges are to adapt continuously to changing environments, increasing competition and strategic positioning on the new technologies such as mass market full LED solutions, democratisation of ADB, and development of DLP and laser for high end applications. In addition, we are positioning ourselves in the sensing area, investing in lidar, and not only that, to contribute to ADAS development. Our primary target is ADAS Level 2+/3, where I believe the market is going to grow significantly in the next years.
DVN: 2019 was difficult for tier-1s partly because the decreasing of volume of cars mainly in China. How do you see the next 12 months for the automotive suppliers?
S.D.: As you mentioned, the downturn in the automotive industry does not spare any tier-1. We expect 2020 to be equally tough across the global industry, where not only China, but also the rest of the world, continues to be impacted by the external environment. In this situation, we will continue to focus on what we can control, which includes working on our cost base and investing in key growth areas to make sure we are well prepared for the future. This is what we are doing at Marelli Automotive Lighting.
DVN: ADB is a wonderful technology to greatly improve night-driving safety. What can lighting suppliers do to convince drivers to buy it?
S.D.: Most deadly car accidents happen at night, and OEMs and lighting suppliers know how crucial light is in helping to avoid accidents. In this regard ADB is a new step in improving safety thanks to better distribution of light towards where it is needed, hence securing a no-glaring system. As a Tier 1, our interlocutor is the OEM and we have few occasions to have direct access to the final users. Nevertheless, every time we have access to the public, like during motor shows, we take the opportunity to promote ADB. In addition, we realise that car dealers do not always know about lighting technology and ADB. Therefore, we offer our customers support, providing lighting training for their sales people. However, it is in the OEMs' hands to convince the end customers and it is noticeable that lighting technology is getting increasing attention in OEMs' ads and events.
Andrea Stella, Marelli Automotive Lighting R&D VP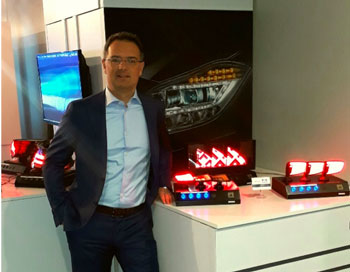 Of Italian nationality, Andrea Stella has a degree in Industrial Engineering from the University of Udine, Italy. He's been with AL since 2003, and was Program Manager and then R&D Manager for tail lamps at AL's Tolmezzo plant until September 2011, then he took the position of R&D Director of AL's North American operations from their offices in Auburn Hills, Michigan. In 2015 he moved to the AL headquarters in Reutlingen, Germany to take up the position of Headlamp R&D Director, and last September he became the R&D Vice President at Marelli Automotive Lighting. He was kind enough to share his thoughts with us here.
DVN: ADB is spreading from premium cars to the mid-range. How can lighting suppliers convince generalist car makers to accelerate this shift?
Andrea Stella: We are convinced that driving down the cost of ADB will be the best way to make this technology popular, allowing generalist OEMs to use it, and it is already happening. In order to make them accelerate the shift to ADB, we offer cost convenient and scalable ADB systems for example with our standard LED modules. ADB requires a more complex architecture referring to camera or electronic control unit. So, to speed up the process of "ADBzation" we additionally offer to the OEMs entire system integration to fill some technological gaps.
DVN: With the arrival of communication functions—V2drivers, V2pedestrians—and the need of styling differentiation, all lighting suppliers are working on them, right? What's your strategy here?
A.S : We have taken a lead at introducing first on the market communication with light: our digital light is able to project assisting and warning symbols on the road.  With this high-resolution system, we go into the next generation for a new market launch. Our animated signal functions are available in front and rear lights. Another promising communication opportunity for V2V is the LiFi technology currently integrated into our Smart Corner concept. We are also working on displays to enable communication vehicle-to-pedestrians or to other drivers in future.

Speaking of styling differentiation, we have to mention our Folia LED, a cost-optimised OLED alternative. Very robust, very long lasting, efficient and, in combination with dedicated software, extremely flexible in terms of design. Here we can use software features to realise different animations and signatures. In all these fields, software is the key.
DVN: Laser technology is used for long visibility distance and now for ADB scanning and communication. Do you see a future of this laser technology in comparison with DMD, LCD, LCoS?
A.S: Laser technology is one of our strengths. Starting with the first laser headlamp in 2014, we now have volume projects with our 3rd-generation laser, capable of ADB. We will continue to work on this technology, though we need to develop more cost-optimised solutions. Regarding the use of laser for ADB scanning, we must keep in consideration that all systems dealing with laser light sources require multiple and redundant safety features.
DVN: OLED is not perceived as an established light source because of cost, durability, and reliability. Do you see a future for this technology?
A.S: OLED is still a remarkable technology allowing for light surface segmentation—which provides a unique aspect for styling possibilities. Therefore, we are still working on it for interested carmakers and have good projects in development. However, since the reliability of OLED in general is still not comparable with LED, we have also developed a very attractive alternative solution called Folia LED. With an appearance very similar to OLED, it offers plenty of benefits in terms of reliability, lifetime and finally, cost as mentioned previously.